Sick of Big Tech Lock-In? Here are the top six Gmail Alternatives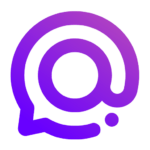 By
Spike Team
,
Updated on December 04, 2022, 8 min read
Since its launch in 2004 as an invite-only email service provider, Google's email solution Gmail has become the dominant provider for most consumers. As it moved into business solutions with Google Apps for your domain (which would eventually become Google Workspace), many businesses began to switch to it for email and collaboration tools. Does it make sense to trust Google with your personal and business email today? What are the top Gmail alternatives for person and business email? What providers should be considered, and what features should be on your radar? Let's dive into the top 6 Gmail alternatives for those who avoid big-tech lock-in and data mining.
Why are People Looking for Gmail Alternatives?
Gmail alternatives have become a popular topic for consumers as they've become more aware of the role big tech companies play in controlling the world. Consumers have figured out that Google showed Gmail ads based on the content of their emails. Businesses are looking for more solutions rather than the traditional Google Workspace experience. Before you look to upgrade just your email service provider, you should also look to upgrade your complete email app experience, though.
Upgrade Your Email Client with Spike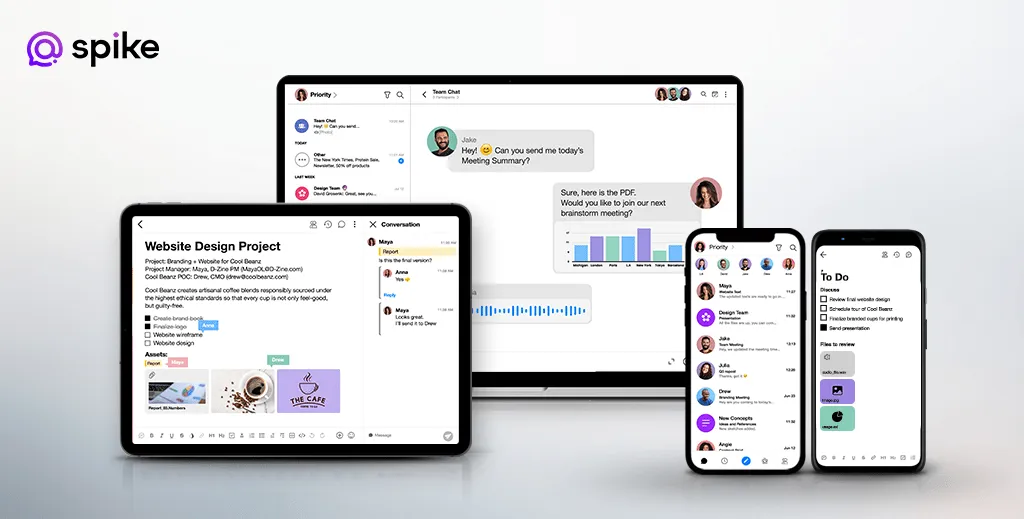 Having a better experience with your email might involve getting a new email service, but you should start by upgrading your email client with Spike. If you don't like the Gmail interface and are looking for a Gmail alternative – consider Spike as your new Gmail alternative. You can log in with your Gmail account and get an immediate upgrade.
Spike brings an easy-to-use combination of email and messaging that takes your workflow to new heights. Endless threads are simplified, messages appear in a chat-like format, and distracting headers and signatures are a thing of the past. You'll have real-time online conversations with a human feel. As the closest thing to a face-to-face conversation, Spike users can view online activity, experience real-time awareness, and see read indicators (even if the recipient isn't a Spike user). Collaboration has never been easier regardless of where you and your team members are.
Are you drowning in emails? It's time to learn how to organize your Inbox. And we don't mean delete a bunch of emails, create some folders, tag your messages, or any other of those old-school email management tips. Spike unlocks a killer feature called Priority Inbox.
Get rid of clutter in your Inbox. Lose the endless social media notifications. Forget the annoying Door Dash receipts. Spike's Priority alerts sort all your less critical emails, such as newsletters, coupons, and random invites, into another Inbox, called 'Other' where you can sort through them when you have more time (and patience).
Spike isn't just for Gmail, though. Spike brings all your email accounts together. Easily toggle between your accounts instead of switching between multiple tabs or apps. Spike supports Gmail, Outlook, Yahoo, Hotmail, iCloud, Office/Outlook 365, IONOS mail, GoDaddy email, Exchange, AOL, and IMAP mail accounts. If you miss Google Inbox, Spike is the closest you'll find in a modern solution.
We've got the Gmail alternative for you. Use chat-like format instead of endless threads
What are the top six Gmail alternatives?
After upgrading your email client for a better experience, you might still be on the lookout for a Gmail alternative with better pricing, features, or even just the desire for a new email address. In the following section, we will discuss the top Gmail alternatives, the pros, cons, and the pricing.
1. iCloud
If you love Apple products, you might be tempted to look to iCloud for your personal email solution. As a Gmail alternative, iCloud offers deep integration with Macs, iPads, and iPhones with automatic login integration with the system setup experience. Apple offers free iCloud email addresses with up to 5 GB of storage. Paid iCloud+ plans offer up to 2TB of storage and the option to use a custom domain name. The custom domain name is not meant as a business solution but rather for a family email address.
Pros
Deep iOS and macOS integration
No ads or data mining
Free up to 5GB of storage
Cons
Challenging setup on Android
Outlook for Mac or PC doesn't work with iCloud Calendar
Basic business support
Limited feature set compared to other Gmail alternatives
Outlook.com initially began as Hotmail in 1996. Microsoft acquired it in 1997 for an estimated $400 million and rebranded it as Hotmail. Years late, Microsoft rebranded Hotmail to Windows Live Hotmail as part of the Windows Live suite of products. In 2012, Windows Live Hotmail became known as Outlook.com taking on the branding of Microsoft's popular email client. Today, it remains one of the most popular personal email services with deep integration into Windows 11 email applications.
Many people look to Outlook.com on Windows as an alternative to using Gmail on the web. Check out our guide for the best Gmail client for Windows.
Pros
Deep Windows 11 integration
Native Outlook app integration with email, calendar, and tasks
Integrated Task Management
Cons
Still part of a big tech ecosystem similar to Gmail
Ad free requires a paid upgrade to Microsoft 365
3. Yahoo Email
Yahoo email has been around for about as long as Outlook email as one of the early free email services that still exist today. While not as popular as a Gmail alternative as iCloud or Outlook, Yahoo still has millions of customers. Although it's primarily used as a web-based email client, it's compatible with most traditional email clients. Yahoo is free and is supported via ads, but you can pay a simple monthly fee to opt-out of ads and add some additional features like disposable email addresses, 24/7 technical support, 500 GB of storage, and more.
Pros
Yahoo Mail + is only $5/month
Compatible with many email clients like Spike
Yahoo is brand name people trust
Cons
Limited access to simple @yahoo address due to two+ decades of customers
The brand name isn't as strong as iCloud or Google
Lack of business email solutions
4. Fastmail
Fastmail is a popular email hosting service for those looking for independent email providers and moving away from big tech providers. However, for those looking at a pure email hosting service as a Gmail alternative, Fastmail makes a great choice. It's compatible with all IMAP standards, so it's usable by almost all email clients, old and new.
Fastmail brings a nice web interface with many solutions that pro users love. The major downside of the desktop is the lack of a native app. Fastmail as a software solution offers a dedicated iPhone and Android app, but is only focused on the web interface. It offers many bells and whistles that compare to Gmail's advanced filtering and search capabilities. Fastmail's search isn't as robust as Spike's Super Search, though.
Pros
Against big tech
Fair monthly starting at $3/month and up if you want more features
Offers business plans as independent business email hosting product
Cons
Company isn't as well known as Google or Apple
More complicated device setup as Apple and Google don't have as deep integration on macOS, iOS, or Android
5. ProtonMail
ProtonMail aims to be the world's largest secure email service. It offers end-to-end encryption and other robust security features to keep your email private. Even the company hosting your emails has no way of reading them as they are encrypted, so you can rest assured that no one can read them but the person that is supposed to read them.
ProtonMail is designed to focus on security first, then ease of use while offering power-user features like a built-in calendar, open-source code, and a modern design. So for those looking for the highest level of security on a free email solution, consider ProtonMail. You'll likely find that you need to upgrade to a paid account, though. ProtonMail is based in Switzerland.
Pros
Strong privacy
Strong features on the free plan
Cons
Free plan only includes 500MB of storage
Complicated integration with traditional email applications
6. Hey Email
Hey is an email service from the team at Basecamp. Hey is part app and email service combined into one. Hey offers several nice features, but many of them are already built into apps like Spike, and it works with your existing email address so you don't have to completely uproot your life for a new account.
Hey offers an 'Imbox' that only shows you the essential messages and filters less critical messages for you to work on later. The Imbox is similar to Spike's Priority Inbox that sorts all your less important emails such as newsletters, promotional offers, and random invites into another Inbox, called 'Other' for when you have more time to look through them.
Pros
Next-generation features aimed to break the noise of email
Focused on moving away from big tech control
Cons
Only works with the Hey email app
@hey.com addresses cannot be used with normal SMTP or IMAP protocols
No calendar support in the Hey app
$99/year price point might turn away some users
Summary: Best Gmail Alternatives
As you search for the best alternatives to Gmail, consult our list to see which options work best for your needs. Any provider that works with IMAP will work great with Spike. After you download Spike, start with an easy, quick start guide for connecting your new email solution the best email app for Mac, PC, Windows, Android, or iOS.
FAQ
iCloud offers many free features, and when paired with the Spike email app, it's a robust combination.
Spike offers a chat-like email solution using your Gmail account.
You may also like