The Best Productivity Extension on Chrome — 2022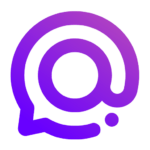 By
Spike Team
,
Updated on June 01, 2022, 7 min read
As of late 2021, Chrome had more than 66% of the global market share for desktop internet browsers – which equates to nearly three and a half billion people using Chrome every day! One of the major reasons that Google's browser is so popular is the array of simple-yet-powerful extensions and add-ons that allow for customization.
You can find extensions for almost anything, including boosting your productivity! To help you find the best tools, we've compiled a list of the 10 best productivity extensions on Chrome that you can try today, including their biggest pros and cons.
1. OneTab
When working on a project, researching, or referencing, you'll quickly find yourself with dozens of tabs open in your browser. Having all these open tabs can become confusing and, more importantly, requires a significant amount of computer memory.
OneTab is a single-button solution that you tap whenever you find yourself with too many tabs. The extension converts your tabs into a list that you can reference and restore. This simple tool claims to save up to 95% of memory use.
OneTab Pros
Saves RAM, speeding up your workflow and creating space for other apps.
Allows you to "save" and cancel down tabs for one project before moving on to something else so you don't context switch.
A simple drag-and-drop system for organizing makes for a great user experience.
OneTab Cons
Reopening tabs from OneTab doesn't bring back the browsing history, so you can't tap back through previous articles.
Opening a tab from the list deletes it from OneTab, meaning keeping track of what's open can be confusing.
2. Google Keep
Google Keep is a note-taking extension for Chrome and is part of the web-based Google Docs Editors suite, which also includes Docs, Sheets, and Slides. It is a simple system for quickly taking plain-text notes, which can then be organized and shared.
If you're somebody that regularly needs to jot things down while working online, Google Keep could certainly be a great productivity extension for you.
Google Keep Pros
Google's reputation means that you can trust that your important data won't be suddenly lost due to an extension going down.
Very simple and thus easy to use.
Collaborative tools make it great for people working in close teams.
Google Keep Cons
A lack of formatting options can make reading back over notes confusing and unpleasant.
There are some data privacy concerns regarding user information being mined and shared.
3. Save to Pocket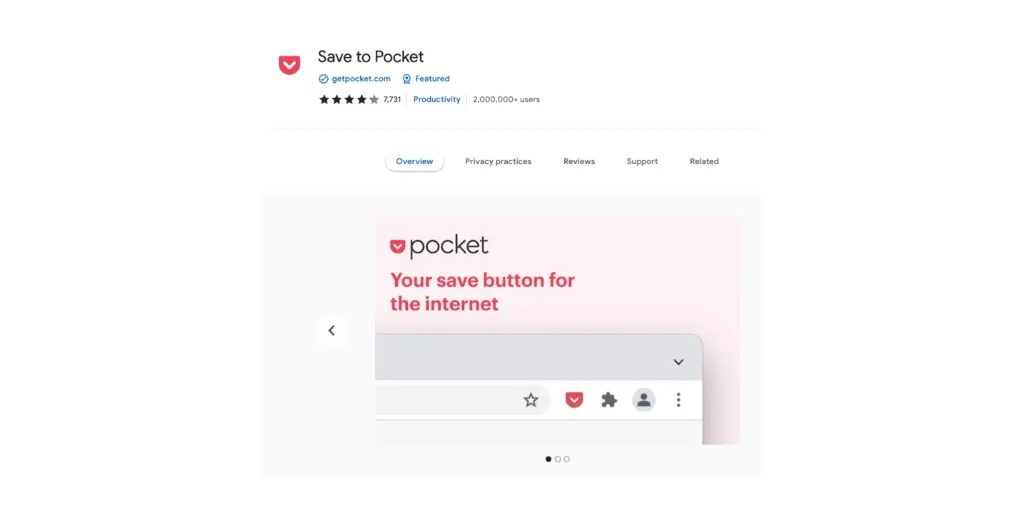 The Save to Pocket Chrome extension allows users to capture articles, videos, images, and anything else they find while browsing. With one click, any content you come across is collected in your "pocket" – a clutter-free environment in which to view content at your leisure.
This is a great tool for people who are frequently browsing, and finding interesting content but are wary of falling down the rabbit hole and getting distracted.
Save to Pocket Pros
You can create tags within Save to Pocket to organize your saved content.
There are numerous ways to save content to Pocket, including a keyboard shortcut and an easily-accessed browser button.
Offline access – access web content without the web!
Save to Pocket Cons
Formatting can get messed up when saving – text articles can appear strange, making them difficult to read.
Images are sometimes rendered poorly, especially those that are data-heavy.
4. Timewarp
Getting distracted is easy, but getting back on track is hard. That's where Timewarp comes in – a handy extension that prompts you to stop procrastinating! Using the extension, you can set up "wormholes" which recognize when you're on a site you've designated as distracting (such as a social media page), and respond with one of three things:
Redirecting you to a more productive site (which you choose)
Showing you a motivating quote
Displays the amount of time you've spent on that site today
By setting up these wormholes, Timewarp helps you stay on track and productive.
Timewarp Pros
Timewarp is customizable – you choose the sites that distract you and the action Timewarp should take.
A simple toolbar interface makes Timewarp easy to toggle on and off.
Timewarp Cons
Extensions don't run in Chrome's Incognito Mode, meaning that Timewarp becomes useless depending on your browsing habits.
You have to build your own blacklist, which is time-consuming and open to error.
5. Marinara: Pomodoro® Assistant
This extension is a tool to assist you with the productivity technique called The Pomodoro Method, whereby you break down your work into short chunks – normally 25 minutes – with small breaks in between. Each block of work is known as a "Pomodoro", after the Italian word for tomato, the shape of the kitchen timer originally used.
Marinara: Pomodoro® Assistant is a configurable Chrome-based timer, which has the added benefit of allowing you to track your Pomodoro history and stats so you can improve your productivity.
Marinara: Pomodoro® Assistant Pros
Customizable set-up so you can find lengths of time that suit you.
Audio notifications so you don't have to keep checking the time.
Open-source software for greater transparency.
Marinara: Pomodoro® Assistant Cons
This is a single-purpose extension, which might not be worth the RAM it uses compared to a traditional timer.
If the Pomodoro method doesn't help your productivity, neither will this Chrome extension.
6. AdBlock
Possibly one of the best-known Chrome extensions out there, AdBlock boasts over 60 million users. The extension works by blocking ads and pop-ups on YouTube, Facebook, and any other site you browse.
This can help your productivity by speeding up your browsing time as well as removing distractions. If you're working online, being continually bombarded by ads designed to get your attention is sure to distract you from the task at hand.
AdBlock Pros
Participates in the Acceptable Ads program so you can opt to support websites that follow those guidelines.
Can improve load times since your browser isn't loading all those ads.
AdBlock Cons
If you work creating ads, on Facebook, for example, AdBlock will stop you from being able to preview them.
Can sometimes affect some online applications and websites, such as Google Drive.
7. LastPass
Find yourself wasting time trying to remember all those different passwords when browsing the web? Or, worse, do you use the same password for everything you do? Either way, LastPass will help kick those bad habits and save you time by storing all your encrypted passwords in one place.
This password manager is cross-platform, including a handy Chrome extension, meaning that you can boost your productivity regardless of the device you're working from.
LastPass Pros
Cross-platform design means you can take your passwords with you wherever you go.
Identifies weak passwords so you can change them, making you more secure on the web.
Offers various packages for individuals, businesses, etc.
LastPass Cons
Changing passwords in LastPass can be laborious.
Sometimes you will find yourself re-entering your master password over and over, which can be tiresome.
8. BlockSite
BlockSite is another Chrome extension designed to battle procrastination and keeps you productive by blocking sites that distract you. It is cross-platform and offers numerous, more advanced, features such as a schedule when you can and can't access the sites as well as a "work mode" that is similar to the Pomodoro method, allowing you to work in blocks.
BlockSite Pros
With BlockSite you can sync multiple devices so you only need one master blocklist for Chrome on any device.
In addition to the Chrome extension, BlockSite offers the ability to block apps on your phone.
BlockSite Cons
Password protection of settings can be frustrating.
Lack of notifications for the "work mode" can be an issue for some users.
9. Vimium
Vimium is a Chrome extension that allows users to browse the web with keyboard shortcuts. It is built in the spirit of Vim – an open-source text editor program – and aims to allow people to navigate at lightning-fast speeds.
For those who favor keyboard shortcuts, Vimium could help boost productivity by significantly decreasing the amount of time it takes for you to navigate the web.
Vimium Pros
Uses the same navigating foundation as Vim, meaning anyone familiar with the text editor will have a short learning curve.
Super-fast navigation so you can focus on the task at hand, not browsing the web.
Vimium Cons
Some of the shortcut implementations can be hit or miss, especially during page loading.
There is a very steep learning curve if you have no experience with shortcuts.
10. Cite This for Me: Web Citer
Particularly useful for students, this extension allows you to automatically create website citations in the style of APA, MLA, Chicago, or Harvard referencing systems. You can also manually add other references via their dedicated site.
For students, academics, or anyone who must cite their work, this one-button productivity extension could save hours of manual citation writing.
Cite This for Me: Web Citer Pros
The range of citation styles means that this single extension can be used for any paper or project.
The simple, one-button system makes it super easy to start citing!
Automated features, such as the bibliography generator, save even more time.
Cite This for Me: Web Citer Cons
If the information on the website is wrong, then an incorrect citation will be generated.
The website is poor with too many advertisements to be useful
Chrome is a powerful and easy-to-use web browser and paired with some of the best productivity extensions out there, can be great as part of your Work OS. Of course, extensions can only take you so far, which is why a dedicated productivity suite is so important. But by combining, testing, and using a variety of tools you can take your work to the next level.
You may also like