The Best Free Evernote Alternative for 2020?
By
Spike Team
,
July 20, 2020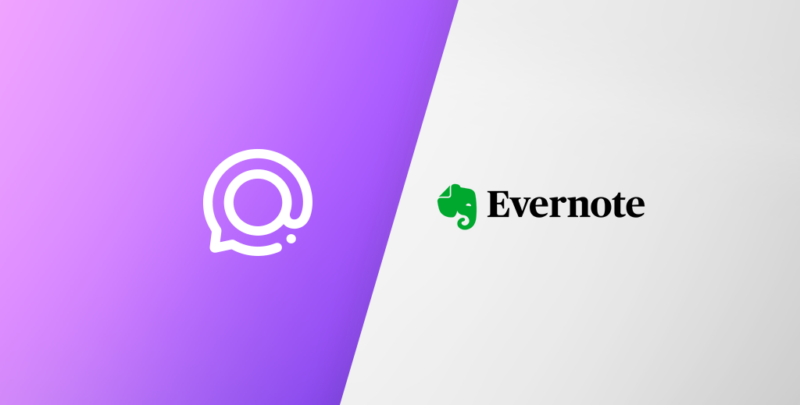 The mountain of information we face every day is growing, and while you're no doubt kickass enough to tackle any task thrown your way, dealing with projects, plans and ideas can quickly become overwhelming—particularly when you're trying to fit it all into your busy schedule.
However, breaking down your work into manageable chunks (before they break you down into an unmanageable mess!) is a great way to get on top of things. But how do you do this? Well, using digital notes, to-do lists, and collaborative tasks management tools are a good place to start, bringing a welcome dash of organization and helping to keep things structured and your workflow….well…..flowing.
There's plenty of popular platforms out there, and no doubt you've used a few. However, technology, and the way we work, have fundamentally changed since many of those platforms were released, and we know you're sick of switching between multiple platforms to get things done.
Take Evernote for example. Released back in 2008, it has become a popular platform for note taking and a bunch of other tasks. However, for some people, there's just a little something missing, and when it comes to minimizing the app switching, it's not much help at all.
People are looking to streamline their workflow, find more efficient ways to work, and keep projects, plans and ideas front and center. Luckily for you, we've got exactly what you're looking for.
Spike delivers all the features you need for Notes, to dos, and tasks management alongside your email and calendar! It's not only a real alternative to Evernote, but a step beyond—including native features that would otherwise require add-ons, plugins and multiple applications. Read on to discover why Spike is the best free alternative to Evernote around.
Notes and Tasks Make Spike MORE than an
Evernote Alternative
Everyone's workflow is different, but there are some key features that every avid notetaker needs to get the creative juices flowing. To kick off, let's lay out these features side by side to see what makes Spike a real alternative to Evernote in 2020.
Feature

Spike

Evernote

Note Cloud Storage

With a free account you have up to 5 GB of

cloud storage for those all-important Notes.

Maximum 60 MB of cloud note storage a month.

Cross-Device Syncing

Write on one platform then read on another!

And another, and another… With Spike

available on iOS, Android, Windows, MacOS

and web browsers you can quickly switch

devices while you work on Notes.

Only two devices on free accounts with cross-platform support.

Collaboration

Spike already makes it easy to work with

your team by having email, chat, calls and

more in one place. Notes are no different

and can be shared with others for a truly collaborative experience!

Notes can be shared with other collaborators.

Email Integration

Email integration? How about

everything

integration. Notes, Tasks and To-Do lists

can all be edited, viewed, shared and more

right from within Spike's email interface.

Need different add-ons for both Gmail and Outlook.

Calendar Integration

We weren't lying and

everything

integration also includes your Calendar,

allowing you to keep your deadlines wherever

you are!

Need a third-party app to link to your calendar.

Search

A single search lets you check Notes,

Tasks, emails, attached documents, tags

and more—right out the box!

Only searches notes, with an upgrade required for attached files.
Why is Spike the Best Alternative to Evernote in 2020?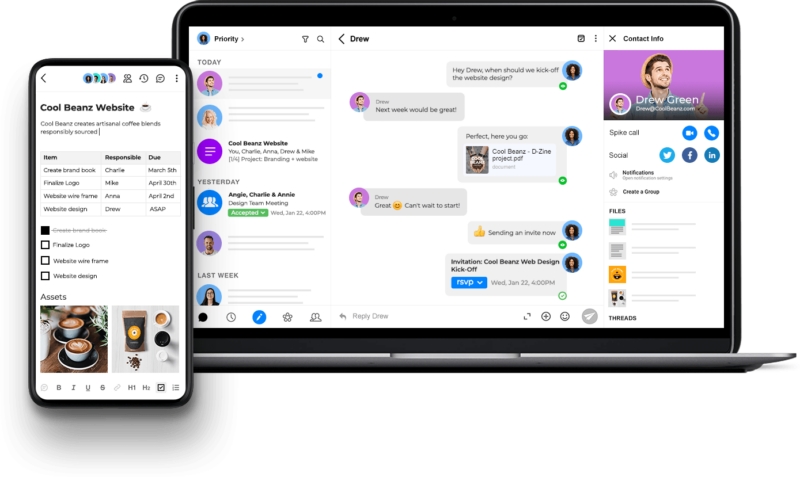 Image: Spike
There are several features that are a must for digital productivity tools, with workflows regularly blending text-based notes, images, cloud storage, multi-device syncing and more. Let's break down how these features look in Spike and what makes it a real alternative to Evernote?
Evernote Alternative
for Note Cloud Storage and Syncing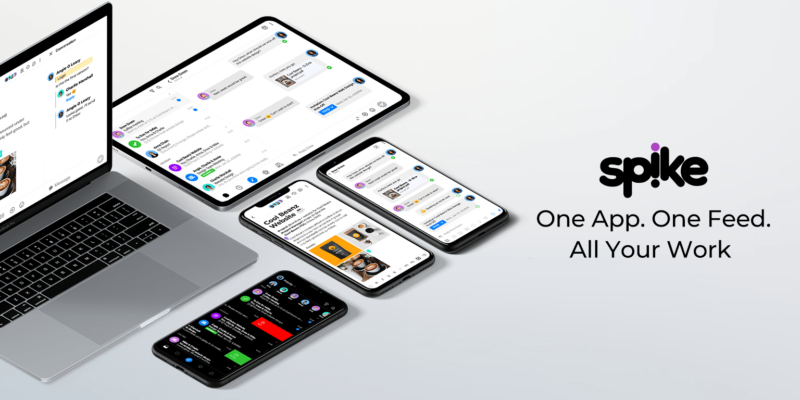 Let's start with cloud storage and multi-platform syncing.
Evernote's free offering boasts the ability to "Save everything," which actually translates into being able to store your notes and their attachments up to a limit of 60 MB a month. This might be fine if you're only jotting text-based notes, but who isn't sharing images, GIFs, files and more these days? Spike's Evernote Alternative gives you more!
When you're working with others and need to get projects done quickly, you don't want to have to worry about going over the data limit, which is why even Spike's cost-free option gives users 5GB of storage for Notes (and more). Attach those GIFs to your heart's content!
Syncing allows you to create your Notes, to-do lists, or Tasks on one device and have them show up on another. Evernote syncing takes care of this on just two devices when using a free account, while Spike lets you jot down, read, share and pick up notes across iOS, Android, Windows and MacOS, as well as being able to log in via the Spike web browser for a truly synced up experience.
Collaborate and Share Notes with Spike
Collaboration is key in today's world, whether that means keeping a project well managed with a shared set of tasks or creating a grocery list that you and your partner can both top up—you'll never forget the TP (or that important team meeting) ever again!
Evernote allows you to share notes, but Spike really brings your team onto the same page with collaborative Notes, Tasks, and To-Do lists. What's more, these are already integrated into your email and Calendar, meaning you can quickly exchange ideas, files, folders and tick off those tasks with shared satisfaction. It's the ultimate alternative to Evernote whenever you're working together.
Seek and You Shall Find – Spike's Super Search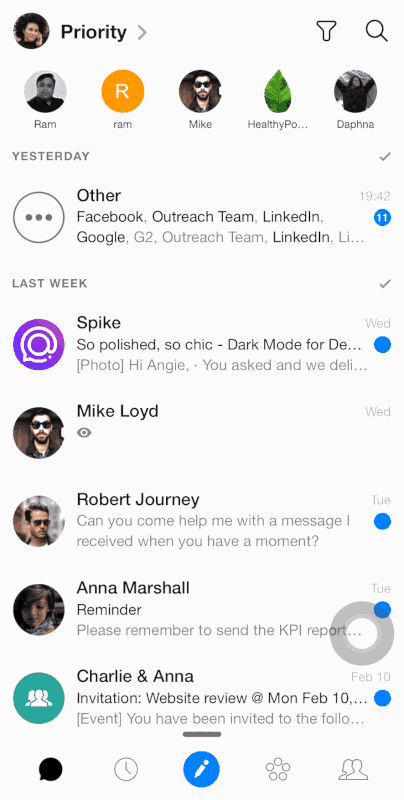 Evernote's search function lets you sift through your notes. Just your notes. We've all had that moment when we've not only lost a doc, but we've also forgotten where we lost it – was it attached to that note you left yourself? Or in that email chain from three weeks ago?
When searching with Spike, this no longer matters because a single search will check everywhere, meaning no more jumping from platform to platform. Also, you'll have to shell out for Evernote's premium or business plans to search within docs, whereas if you type a term into Spike, it will pull up all emails, attached documents, Notes and Tasks related to that term.
Searching can be made easier using Evernote's tagging system, but again this is limited to notes. Spike integrates tags with all of its other productivity tools, meaning you can use the tags you created for your emails on…well…EVERYTHING!
It's All About Integration
It's not a bug, it's a feature. Evernote touts its integrations as a good thing, but what it actually means is way more steps to achieve what Spike does in one place. This is most noticeable when it comes to calendars and email. You'll need an add-on for Gmail to get it hooked up with Evernote, whereas with Spike, it's already there.
And if you use more than one account? You need another integration. Our alternative to Evernote, on the other hand, lets you add multiple email accounts, so everything is in one place. And the Evernote calendar? Well you'll require a third-party platform to get Evernote synced up. Spike Calendar is already in the same place and meeting deadlines is as simple as checking your email.
Just like having a stack of post-it notes, a rolodex and a filing cabinet is no longer people's preferred choice for organization, digital productivity systems can no longer be single-solution systems. Evernote allows you to take notes, but that's all it allows. Spike brings powerful integration of email, Notes, Tasks, To-Do lists, Group Chats and more to any platform, making it the best free alternative to Evernote for users on any OS!
Spike is reimagining what productivity means, and now with everything integrated into one platform, your workflow will be smoother than ever. Let us know how you use Spike Notes @SpikeNowHQ or check out more articles on boosting your productivity on the blog.