How to Introduce Yourself in an Email
Learning how to introduce yourself via email professionally is always a useful tool to have in your arsenal. Email is still the number one way to communicate in the digital world, and a good introduction is just as important here as it is in real life.
When you want to strike up a conversation, begin a collaboration, or get access to important information, the trick is to nail the introduction. You want to engage the reader and get directly to the point. Your introduction is basically your digital foot in the door. And you know what people say about first impressions.
Here, we take a look at how to write the perfect introduction email whenever you need to crank up the professionalism and take your email writing to the next level.
In this guide, we will deal with how to formally introduce yourself via email. If you need to introduce yourself more casually, then you can use many of the same steps, however, you can also tone down the formal language and get a little more creative. Don't be afraid to let your personality shine!
How to Introduce Yourself in Email – Checklist
Write a Killer Subject Line

Write to a Real Person

Use a Formal Greeting

Mention Your Connections

Be Succinct

Use a Professional Closing

Proofread (twice)
How to Introduce Yourself in an Email – Key Elements
There's a wealth of conflicting information available online on how to write an introduction email, but we've condensed the most important points down for you, so you can dive right in. Following each step logically and methodically will help you develop a foundation from which you can build the perfect introductory email for a range of applications, and from here, you can begin to refine your content to your specific requirements.
Write a killer subject line
This is the first thing your recipient will see, so it's got to grab their attention. However, don't be tempted to drift into the shady world of spam subject lines. You need to concentrate on concrete information detailing what your email contains, while ensuring it is succinct.
The first question you should consider when asking how to introduce yourself via email, is who am I writing to? In a world where finding someone's name is as simple as a minute or two on Google, there's really no excuse for falling back on "to whom it may concern". If you can get a little information on who you are writing to and address your intro email directly to them, it will help you tailor the content and make for a more compelling read.
When asking how to introduce yourself in an email professionally, then a formal greeting is key. Formality is important as it provides a neutral way to say "hi" without assuming the receptiveness of your recipient. Even in today's world of instant messaging and casual communication, formality still has a place when introducing yourself.
Name drop your connections
If you are contacting someone for the first time through a mutual friend or colleague, then make sure you mention them in the email. Referrals are among the best ways to get your foot in the door and get a quick reply, and the ideal way to introduce yourself in an email.
Get straight to the point
Today, people are busier than ever—in both their professional and personal lives. No one has time for long and rambling emails, so make sure you get to your point straight away. Increasingly, people tend to skim emails to get the gist, so don't be afraid to bold your most important points and use bullet points when introducing yourself in email.
Write a professional closing
When learning how to write an introduction email, you've got your formal greeting and your professional closing. These are the two bookends to your content, and they underpin a professional first impression.
It should go without saying that spelling mistakes and typos are a big no-no. This is your chance to make a good first impression, so proofreading your message at least twice is the absolute minimum when introducing yourself in email.
How to Write an Introductory Email – Samples
Now that we've covered the core concepts of how to introduce yourself in an email, here's a few samples you can use as inspiration. Remember, keep it concise and friendly without being too casual, and pay attention to the opening and closing greetings.
How to Introduce Yourself via Email — Sample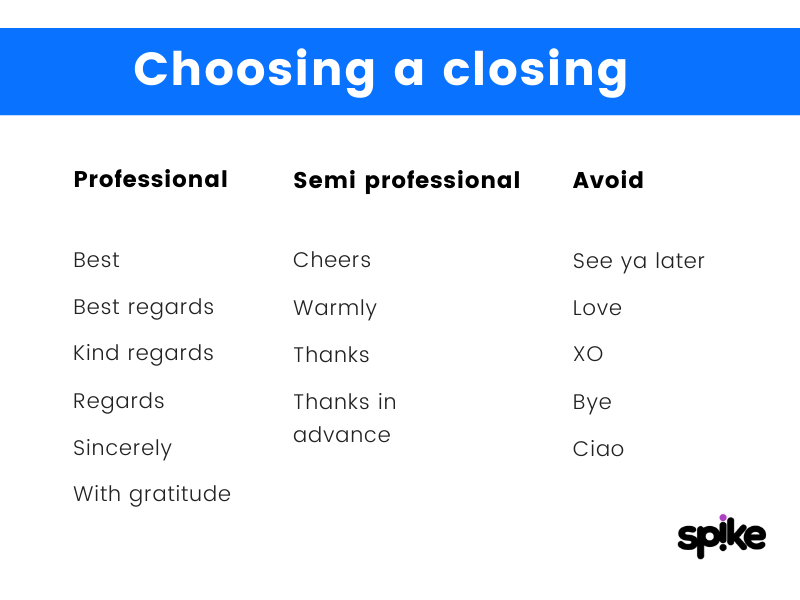 Dear Mr./Ms. Smith,
I am writing to introduce myself as the new Brand Manager at Acme Company. Having recently taken over the position, I am excited to meet all everyone here and discuss how we can work together towards our continued success in the future. Should you have any questions then I'd be happy to answer them over email or sit down and discuss them face to face. Please, don't hesitate to get in touch.
Thanks
-your name-

How to Introduce Yourself to a Potential Employer via Email — Sample
Dear Mr./Ms. Smith,
It was with great interest that I read your job posting for Brand Manager at Acme Company. I believe my skills and experience are a strong match for the position detailed, and I'm pleased to submit my application for the position.
Pleased find attached my resume. Additionally, you can take a look at my portfolio here. If you would like to discuss the position and my current experience, then please feel free to give me a call on 555-555-5555.
Kind Regards,
-your name-
How to Introduce Two People via Email — Sample
Dear Leanne,
I hope you are well. I'd like to introduce Sarah Smith. We recently spoke about how you were searching for an effective Brand Manager and I feel that Sarah has the skills and expertise you are looking for. Sarah and I have worked together multiple times in the past and I have always been very impressed with her level of commitment and the high-quality work she has produced.
I have CC'd Sarah in this email so please feel free to connect. Alternatively, you can take a look at her portfolio here or reach out to Sarah on 555-555-5555.
Feel free to get in touch with me if you have any questions.
Best Regards,
-your name-
How to Introduce Your Company via Email — Sample
Dear Mr./Ms. Smith,
On behalf of the Acme Company, I would like to take this opportunity to tell you about our products/services. Our company specializes in providing innovative Brand Management services that I feel your company may benefit from.
Our head office is currently located in New York, with five further branches located around the country. We are currently expanding our services in your location and we feel that a partnership between our companies could be mutually beneficial.
If you would like to discuss a potential partnership further, then please feel free to contact me at 555-555-5555. Additionally, you can find more information on our products/services here. I look forward to speaking to you in the near future.
Sincerely,
-your name-
Whatever the reasons you want to learn how to write email introductions, we think you can do it better with Spike. Check out all our time saving and productivity-enhancing tools and learn about the future of email here.
Create a new email from anywhere and get that collaboration flowing in a snap. Check out Spike and discover a whole new way to communicate.
If you want to learn even more and polish up on your knowledge of everything from email management to mindfulness, check out Spike's Blog and discover how to rock your best self and push your team to new heights.