Meet Your Conversational Email
We've simplified your inbox. It's like instant messaging. But better.
It's Conversational Email!
Spike lets you chat just like you do in a messaging app. No need for headers, signatures or endless message threads. It clears the clutter. It's easier to talk. It puts real conversation at the heart of your communications.
Conversational Email helps you to be more creative, more productive, and less stressed. Both in the office and out of it. Threads are clunky and confusing, old inboxes are messy, repetitive email signatures are unnecessary. Ditch the conventional email clients and discover a new approach to email that puts people first.
Your Inbox, Organized by People
All your emails and threads are found under the contact. So, if you need to speak to Anna, just click her contact icon. You'll see all your communications, past and present. Spike automatically consolidates threads and displays each of your sent and received emails in an easily recognizable instant messenger format. Its quick, clear and intuitive.

Conventional email clients are done. Conversational email is what you've been missing. Talk to the people who matter most, and have a real conversation, not an email exchange. Whether you need a dynamic team chat app or a better way to keep up with friends—Spike puts people first!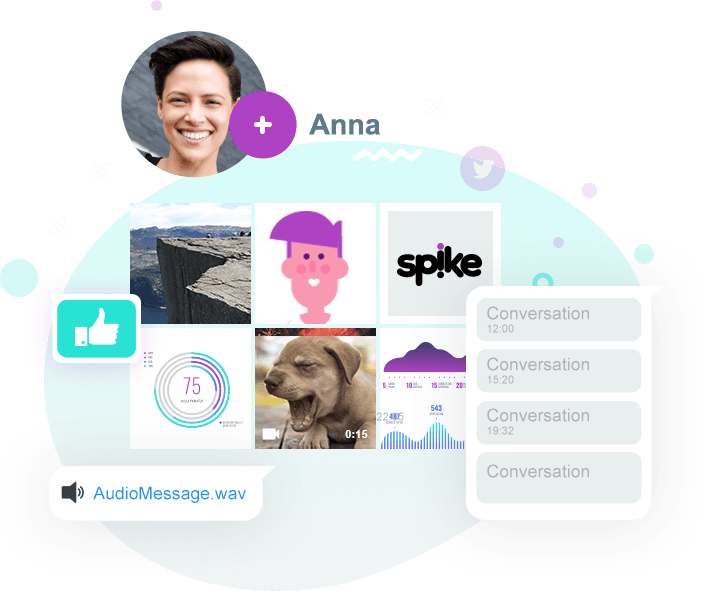 Spike's People Mode lets you speak quickly and seamlessly with everyone—just like instant messaging. Whether you're talking to clients, customers, or colleagues. It's the perfect team chat app (and it's great for staying in touch with your closest friends too).

All the relevant information for the person you're talking to is provided right where you need it: every conversation, file, social profile, attachments and more. You can identify people at-a-glance by their photo, see when they are online, and even check if and when they read your message.

Don't like People Mode? Switch back to the regular inbox mode and explore how Spike works best for you! Up with people, down with threads!