Looking for a New Email Address? Here are the Top Free Email Providers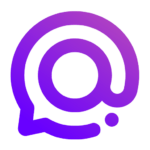 By
Spike Team
,
Updated on November 22, 2021, 12 min read
Your email address is your digital identity online. It's an open network to create and manage that identity across a host of websites. An email address is the first thing you need when getting online for the first time because you'll need it to register for shopping sites, games, movie reviews, research options, and more. Without one, you won't be to sign up for new services. To help you pick the best one that fits your needs, we've compiled a comprehensive list of the top ten best email providers.
There are countless email providers on the market, though. Some are free while others are paid options. When looking at the popular free email providers, we used the following criteria to determine the top email provider options.
Reputation

When you choose an email provider, you invest a lot of time in setting up your account and connecting it to other platforms. If something happened with the service itself that would require you to change all of a sudden, it would take hours upon hours to change all of your logins for all your website accounts. Therefore, we consider the reputation of the company offering the free email service to be very important.

Security

When people use email, they consider it to be private communication. However, when looking at various free email providers, what security protections are in place? For example, do they offer multi-factor authentication? What other security measures are taken?

Support

A challenge for free email providers is offering support. People expect technical support for paid email providers, but free email providers also should offer support to users who get locked out of their account or need help using the service.

Integration

Email is a platform for handling your work, but integrating with external services and applications can be incredibly useful. So when we searched for the best mail providers, we looked at the kinds of integrations that were included.

Storage capacity

Gmail pioneered a large storage capacity in 2004 with 1GB when the typical account before that was 25 MB. Since then, large email storage capacities have become the default. Some free email solutions have paid upgrade options as well.

Spam filtering

In a deeply divided world, everyone can agree that they hate spam email. However, modern solutions have gotten much better about keeping inboxes clean and free of spam. Some handle it better than others, though.

Ease of use

For the best free email address, finding one that's easy to use is crucial. Some people prefer a web application while others prefer local desktop mail apps. We will look at all the options for ease of use.

Interface

Building upon the ease of use – the best free mail providers will have an interface that's inviting for new users as well as being flexible for power users.
Of course, once you find your best email address option – look for the best email app. Spike offers a desktop email client on Mac and PC with mobile apps for iOS and Android. When you need it – there is a free webmail client as well for personal users.
Gmail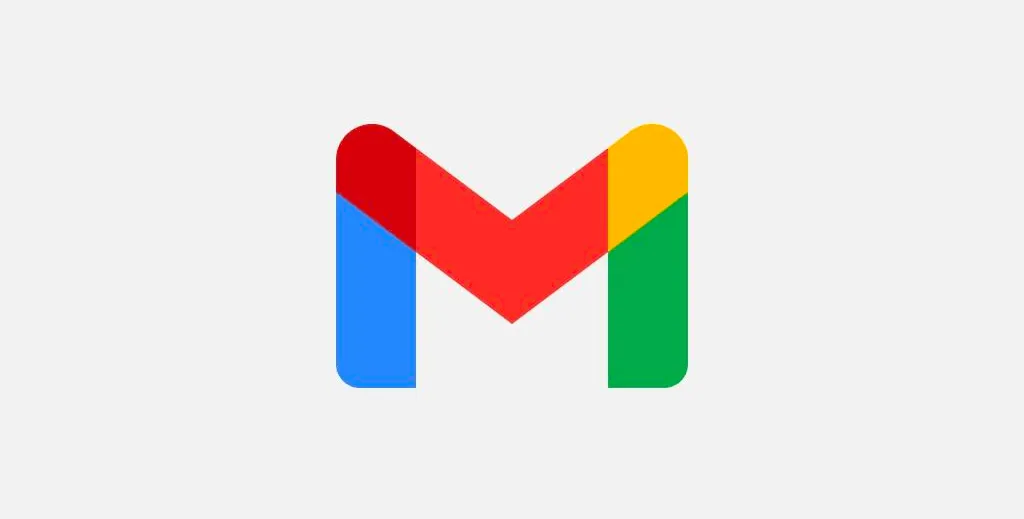 Max sending attachment size: 25 MB
Max receiving attachment size: 50 MB
Gmail is a free mail service from Google. It supports web access, IMAP, and mobile access. It's one of the most popular email services with millions of users around the world. It originally launched in 2004 and pioneered features like labels, archiving by default, and a robust search.
Since Google offers Gmail as a free email service, and it's one of the largest companies in the world, it can be considered a reputable email service provider when looking to open a free account. Furthermore, Google includes an easy-to-use web interface that works great for novice users and power users alike. In addition, because Google is one of the largest free email providers, they have the best spam filtering and protection options available.
Storage-wise, Google offers all free accounts 15GB of email storage that is shared across Gmail, Google Drive, and Google Photos. This span means if you have 13GB of photos and videos in Google Photos, you'll only have 2GB of free storage for email messages.
Security-wise, Google goes through great effort to help secure your account and recommends that all users enable multi-factor authentication using Google Authenticator or SMS.
Pros:
Fast search
Large attachment limit
Fast web interface
Cons:
Advertising in free solution based on email content
Popular features are proprietary to the web interface and often don't work on IMAP with email apps
ProtonMail
Max attachment size: 25MB
ProtonMail prides itself on being the world's largest secure email service. It offers end-to-end encryption and many other strong security features to keep your email private. Even the company hosting your emails has no way of reading them as they are encrypted, so you can rest assured that they can't be read by anyone but the person that is supposed to read it.
ProtonMail is designed to focus on security first, then ease of use while offering power-user features like a built-in calendar, open-source code, and a modern design. So for those looking for the highest level of security on a free email solution, consider ProtonMail. You'll likely find that you need to upgrade to a paid account, though.
Pros:
Strong security
Fast web interface
Open Source
Cons:
Free accounts limited to 500MB storage
No option to host data in the US
Requires complicated bridge software to use most email apps to retain security
GMX Email
Max attachment size: 50 MB
65 GB mailbox for free
GMX email is one of the "under the radar" options for free email solutions, but it's well known as being the email provider of the creator(s) of Bitcoin. For example, in the Bitcoin Whitepaper, the email is listed as satoshin@gmx.com. Considering this person/group created an asset that is a 100 billion dollar industry, it's safe to say that Satoshi is the most famous user in all of GMX email history.
GMX's free email solution includes 65GB of storage for free, so it's the most generous when it comes to free space. It also includes a 50GB attachment limit on sending and receiving, so it's incredibly generous with that feature as well.
Security-wise, it includes built-in virus protection, multi-factor authentication, spam filtering, and PGP support for enhanced security. GMX also lets you create and manage 10 free email alias addresses any time and manage them from one central inbox.
GMX aims to offer more than just email, though. It also includes file storage, a contact manager, online office file editing, and an online calendar.
Pros:
Plenty of free storage
High attachment limit
Unique email address options
Cons:
Lack of paid plan options
Webmail isn't as easy to use as Gmail
Yahoo! Email
Attachment size limit: 25MB
Yahoo! is one of the oldest free email account providers dating back to 1997. It, along with Hotmail (turned into Outlook) has been around since the early days of the world wide web for consumers.
From a feature standpoint, it provides all the basic bells and whistles you'd need from a free mail service. You can send and receive email on the web in a slick web interface as well as access it using mobile and desktop email clients.
Security-wise, Yahoo! supports multi-factor authentication as the recommended way to secure your account from hackers. In addition, like all free email accounts in the modern world, it supports SSL and TLs encryption to help secure your messages while in transit.
Yahoo! is very generous when it comes to the email storage size included with its free accounts – 1TB – so you have room for decades of storage without needing to worry about deleting anything. Additionally, a $5/month upgrade to Yahoo! Pro will unlock 24/7 support as well as remove advertising.
Pros:
Free accounts offer 1TB of storage
25MB incoming and outgoing attachment limit
Pro upgrade option is affordable
Cons:
Lack of short email address names available since the platform is 20+ years old
Web interface isn't as easy to use as other options
Zoho Mail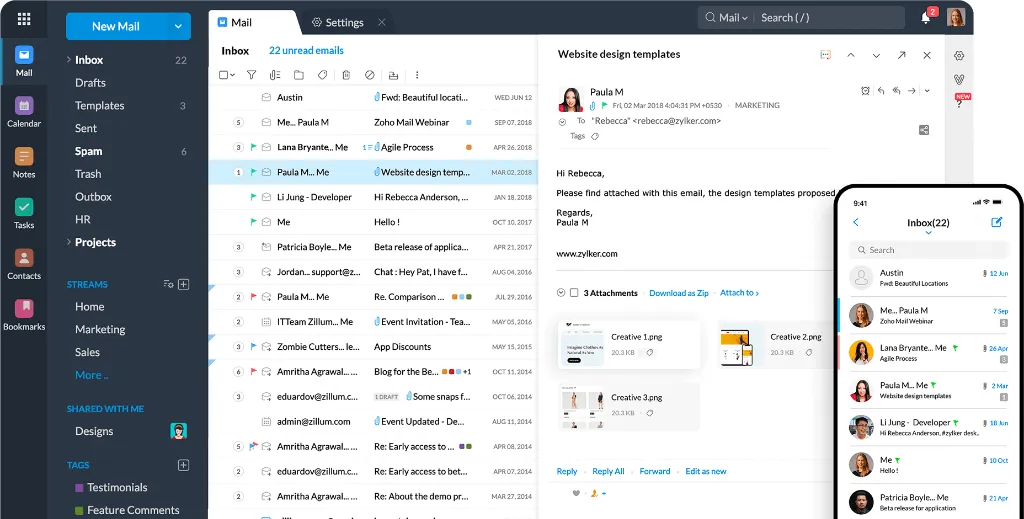 Attachment limit of 25 MB
Zoho Mail is best known for its enterprise software, but many people don't realize there is a free email plan as well. Zoho isn't nearly as competitive on its free mail offerings as companies like Apple and Google, however.
In Zoho's free email plan, you get 25MB of attachment storage, 5GB of overall storage, and free web and mobile app access using Zoho's apps. Zoho Mail's free option does not include IMAP or POP3 access, but it does allow you to connect your own domain, so it makes it one of the only providers to provide this capability.
Pros:
Connect custom domains on the free plan
5GB of free storage
Cons:
Free account does not have IMAP access
Web interface is hard to use
Outlook
As with Yahoo, Outlook has been a mainstay in the free email market for over 20 years. It was originally launched as Hotmail then purchased by Microsoft in the late 1990s. In recent years, Microsoft merged the Hotmail branding into Outlook.com and refreshed the entire user interface. Today, Outlook.com has over 400 million registered users making it one of the largest free email providers..
Using Outlook as your free email provider, you can create @outlook.com email addresses, but still log in to older @hotmail.com email addresses in the same portal. This is because Microsoft has merged them in much the same way Apple allows you to log in to @mac.com or @me.com email address with @icloud.com. The main difference is that @outlook and @hotmail accounts are unique addresses where Apple merged Mac/Me/iCloud accounts into aliases of each other.
One unique aspect of Outlook email over Gmail is that it doesn't scan the contents of your email account in order to improve advertising effectiveness. This aspect alone makes Outlook more ideal for privacy-concerned users.
The best feature of Outlook.com email is its Focused Inbox. When it's used, Outlook uses machine learning (ML) to analyze incoming email messages and rank them according to their importance so the key items are in the focused tab where everything else is in the other tab. Spike's Priority Inbox offers a similar experience if you like this feature but want to use another email provider.
Pros:
Ads are based on email content
Large attachment limit
Robust web experience
Cons:
Spam filtering isn't as good as Gmail, but it's better than Yahoo
iCloud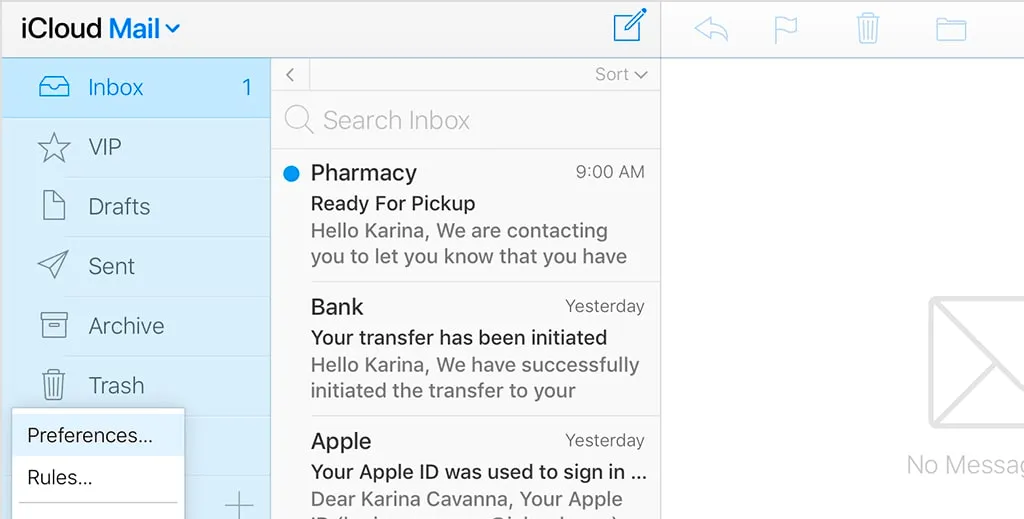 20MB attachment limit, 5GB when using iCloud Mail Drop
iCloud, as we know it today, was launched in 2011, but it went through a few evolutionary stages first. Before morphing into its final form, the service originally began as .Mac email in the early 2000s, and then became MobileMe in 2008. Users who signed up with .Mac and MobileMe can still use their old email addresses as well as @icloud.com addresses. New users get 5GB for free, and there are paid options up to 2TB, but that storage covers all iCloud usage including iCloud Photos and iCloud Drive.
Feature-wise, iCloud email is very friendly as a free email mailbox to use if you're using Apple devices. It's tightly integrated with macOS and iOS. If you're using Android, it's not quite as easy to integrate with the email and calendar function.
The web interface tries to mimic the macOS email experience, but it ends up being hard to use. As a result, we only recommend iCloud as a free solution for email if you're using Apple products with desktop applications.
Pros:
Ad-free experience even with the free plan
Integrated with macOS and iOS at the system level
Cons:
Difficult to use on Android
Web interface leaves a lot to be desired
AOL Email
"You've Got Mail" is a phrase that anyone over 35 years old can remember with ease. AOL was the most popular dial-up email service in the 1990s, and it was many people's first email experience. The phrase even went on to spawn a movie with Tom Hanks and Meg Ryan. That was then, and this is now, though. AOL Email is still around and offers a lot of great features as a free email service.
The main benefit of AOL Email is it includes unlimited email storage for free, so you don't need to worry about ever running out of space. AOL includes IMAP, POP3, and SMTP access to let you use the email client of your choice if you don't like the web interface.
AOL's spam and virus protection are mature and offer a lot of benefits to users. However, the web interface is easy to use, but it contains a lot of ads, so it may turn away privacy concerned users.
Pros:
Unlimited storage
One of the oldest providers, so will be around for years to come
Cons:
Web interface is full of ads
Stigma around using AOL.com email addresses with business people
OnMail
Attachment limit: 100MB limit on free plans, up to 5GB on paid plans
OnMail is a new email service and iPhone app combo from the team behind Edison. One of the benefits of OnMail is that it's an integrated experience of email service and app provider. OnMail email can only be used within the OnMail email app or using the Edison email app. The OnMail email app isn't available on desktop yet, so there's no way to have a uniform experience across desktop and mobile.
Pros:
Option to approve senders
Integrated app experience
Cons:
Not compatible with other email apps
Known for consumer research API
Mail.com
Mail.com, as a free email service, includes a clean desktop interface for a webmail application. The free version includes unlimited storage for email, up to 50GB attachments, and you can use Mail.com with your other email accounts, including Yahoo! email, Gmail, and Outlook.com email.
In the paid version of Mail.com, you get IMAP and SMTP access. The free version requires using the Mail.com webmail interface. One of the major complaints about Mail.com is there is no support for encrypting your email messages or managing remote images on a per sender basis. Loading images from all senders can lead to additional email spam.
Pros:
High attachment size limits on free plan
Fast webmail interface
Cons:
No IMAP access on free plan
No smart folder support on the server-side
FAQ
If you're using Apple devices, iCloud mail is the best free alternative to Gmail as it has no ads and is tightly integrated with your devices. If you're using Windows, Outlook.com is the best Gmail alternative.
It depends on your idea of "safe". If you want a solution that keeps your account protected and secure, an iCloud account with multi-factor authentication is turned on. If you want to keep the contents of your messages secure, look to ProtonMail.
Gmail offers a lot of nice features, but if you are trying to avoid using Google services for privacy reasons, you should consider using another free email service.
You may also like