Top Secure Email Providers That Protect Your Privacy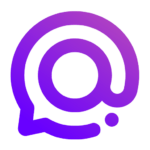 By
Spike Team
,
Updated on February 19, 2023, 8 min read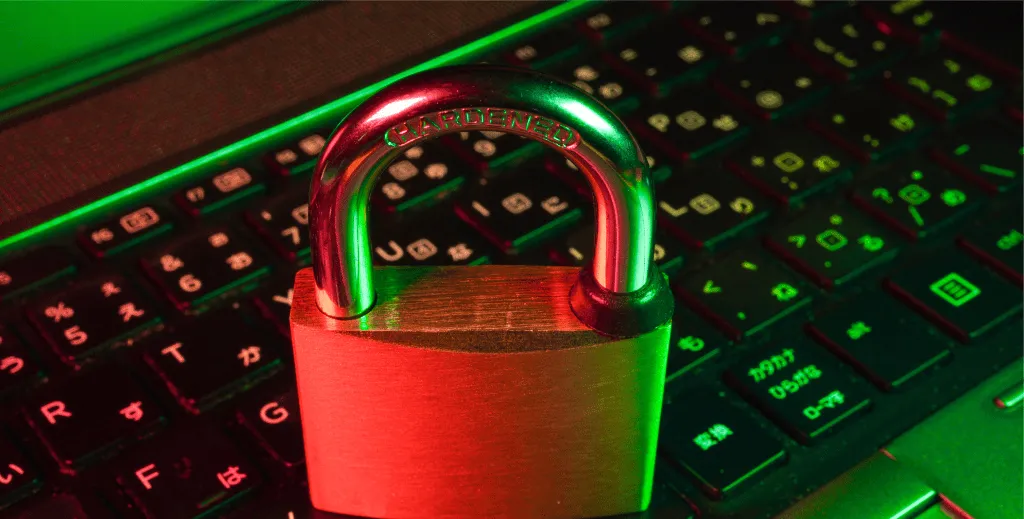 The more connected our world becomes, the more critical it has become to protect your personal information and privacy. Unfortunately, because email isn't tied to one particular company, it's often difficult to understand how to implement a secure online email provider.
At Spike, we believe that email should be private. Spike is ad-free and does not rent, sell, distribute, or monetize your data. We store only the minimum data needed to provide the fastest communication and collaboration experience. When using Spike, all message data is encrypted using AES-256 encryption.
The problem for consumers and business customers is that even if your email client isn't mining your data, do you know what your email provider is doing? For example, some providers mine your data to serve you more personalized advertising. Some might say that ads are part of using a free email service, but we disagree.

Read more about Spike's security

What Should You Consider Before Signing Up for a Secure Email Provider
Type of Encryption Used.

When signing up for a secure email provider, you should investigate the type of encryption used and how the company implements it. In addition, you should compare the encryption types to the other vendors you're considering signing up for as your secure email provider.

Data Center Location

While the location of the data center might sound weird to consider with a secure email provider comparison, the jurisdiction the company is located in matters when it comes to security. If the data center is located in an area without strong privacy laws, the company could be forced to unlock the servers and encryption to local law enforcement.

How vital location is with your decision on paid secure email providers will depend on your level of concern for your communications and privacy requirements.

Security

As we mentioned at the beginning of this article, security is of the utmost importance to Spike. We list our privacy policy to be clear and upfront with our customers. When looking at the top private email providers, investigate the security and privacy policies of the vendors you're considering.

Features

Just because you want a secure email provider doesn't mean you should ignore the need for next-generation features. For example, does the provider add on any collaboration tools? What about power-user features like scheduled send, snooze, etc.?

Storage

Email storage is essential with paid secure email providers because users will want to believe they have enough space for decades of messages, attachments, etc. Free providers are offering 5-15GB for free, so paid secure email providers should at least match that amount of storage is not provide a considerable amount more.

PGP Support

Pretty Good Privacy (PGP) is an email encryption system used to send encrypted emails and encrypt sensitive attachments. Since the invention back of PGP in 1991, it has become the default standard for email security worldwide.

When researching secure email providers, consider which platforms and providers include built-in PGP support.
Use an email client that you can trust so your data will be safe.
Secure Email Providers
Proton Mail
Free version: Yes (500MB storage limit)
Price: Free with paid plans starting at € 5.00 per month.
OS: Mac, PC, Web, iOS, Android (requires bridge)
Storage: Up to 20GB with paid plans
ProtonMail prides itself on being the world's largest secure email service. It offers end-to-end encryption and other robust security features to keep your email private. Even the company hosting your emails has no way of reading them as they are encrypted, so you can rest assured that no one can read them but the person that is supposed to read them.
ProtonMail is designed to focus on security first, then ease of use while offering power-user features like a built-in calendar, open-source code, and a modern design. So for those looking for the highest level of security on a free email solution, consider ProtonMail. You'll likely find that you need to upgrade to a paid account, though. ProtonMail is based in Switzerland.
Proton's paid accounts include several excellent features that make it worth upgrading for:
Free Plan
500 MB Storage
No custom domain
150 messages per day
3 Labels
Limited Support
Plus Plan
5 GB Storage
Custom domain support
1000 messages per day
200 Labels
Support
Professional Plan
5 GB storage
Custom domain support – 2 domains
Unlimited messages
Unlimited labels
Support
Visionary Plan
Unlimited Storage
Custom domain support – 10 domains
Unlimited messages
Unlimited labels
Tutanota
Free version: Yes (1 GB storage)
Price: Free with paid plans starting at €1 per month
OS: Mac, PC, Linux, iOS, Android
Storage: Up to 1 TB
Tutanota is a great secure email provider with a generous free plan for budget users. Its slick interface is easy to navigate, and its overall security is excellent. In addition, it's unique in that it claims to be end-to-end encrypted for email, but also your address book, reminders, and calendar as well.
Tutanota is completely open-source and runs on renewable energy. One of its most unique features is how it encrypts your searches as well. When Tutanota added an encrypted search index, it became a standout feature compared to other secure email providers. Many other secure email providers have canceled their search functions altogether and have not implemented a convenient solution that includes encryption. Tutanota is based out of Germany.
Free Plan
1GB storage
No custom domain
One calendar
Limited Search
Additional storage options with upgrade
Premium Plan
1GB storage
One custom domain
Unlimited search
Unlimited calendars
Additional storage options with upgrade
Zoho Mail
Free version: Yes (5GB storage limit)
Price: Free with paid plans starting at $1 per month (annual payment)
OS: Mac, PC, Web, iOS, Android, Web
Storage: Up to 10GB with paid plans
Zoho Mail is best known for its enterprise software, but many people don't realize there is a free email plan as well with strong security. Zoho isn't nearly as focused on security as providers like Proton Mail and Tutanota, though.
In Zoho's free email plan, you get 25MB of attachment storage, 5GB of overall storage, and free web and mobile app access using Zoho's apps. Zoho Mail's free option does not include IMAP or POP3 access, but it does allow you to connect your own domain, so it makes it one of the only providers to provide this capability.
Free Plan
5GB storage included
No IMAP sync
No PGP
Paid Plans
Up to 10GB storage
Includes IMAP sync
No PGP support
Custom SMTP routing
StartMail
Free Plan: No – 7-day free trial
Price: $59.95/year
OS Support: Mac, PC, Android, iOS
Storage: 10GB
StartMail is a privacy-focused webmail service, meaning you don't have to worry about timely installation or downloading of software—you can access your mail directly from any web browser. The webmail focus is convenient if you want secure email on a Chromebook. It doesn't stop at the web, though. It works with IMAP and SMTP-focused email clients.
SmartMail is based in the Netherlands, so it has strong security. In addition, the EU's and Dutch privacy laws are among the strictest in the world, so you can rest assured that SmartMail protects your privacy.
Paid Plan (no free options)
Includes PGP support
10GB Storage
Can pay with Bitcoin
Mailfence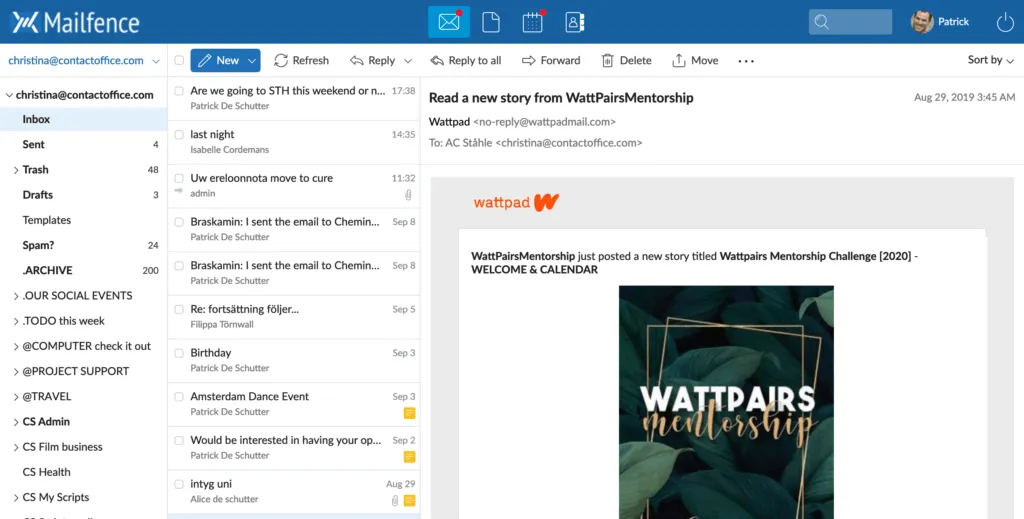 Free version: Yes (500MB storage limit)
Price: Free with paid plans 2,50 € per month
OS: Mac, PC, Web, iOS, Android, ActivSync
Storage: Up to 50GB with paid plans
As a secure email provider, Maifence offers some valuable solutions. It's not as fully featured as ProtonMail or Tutanota, nor does it focus as much on overall security. It strikes a nice balance if you don't need every single email to be encrypted, though. Unlike other secure email services, you're not forced to encrypt every email message. Instead, you can send regular messages over an SSL/TLS connection.
Free Plan
500 MB storage
Includes 2FA
Includes one email group
Paid Plans
5GB storage with options up to 50GB
3+ groups
Includes 2FA support
CounterMail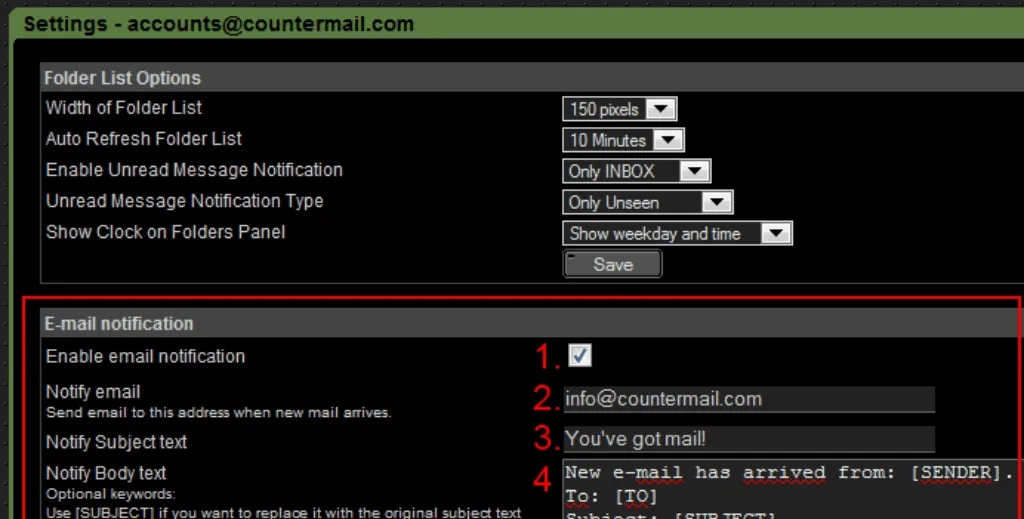 Free version: No – 7-day free trial
Price: Paid plans start around $5 per month paid bi-annually
OS: Mac, PC, Web, iOS, Android, Web
Storage: Up to 4GB with paid plans
CounterMail focuses on building a very safe webmail service and supports IMAP. Looking at its website, it focuses more on security over usability, though.
CounterMail is built on top of a custom Squirrel email interface. Customers have the ability to automatically sign and encrypt email messages in your browser within the web interface, including with OpenPGP. CounterMail is based in Sweden.
Paid Plan (no free options)
4GB storage
Custom domain for $15 one time free
Option to pay with Bitcoin
Can sign attachments and email with PGP
Hushmail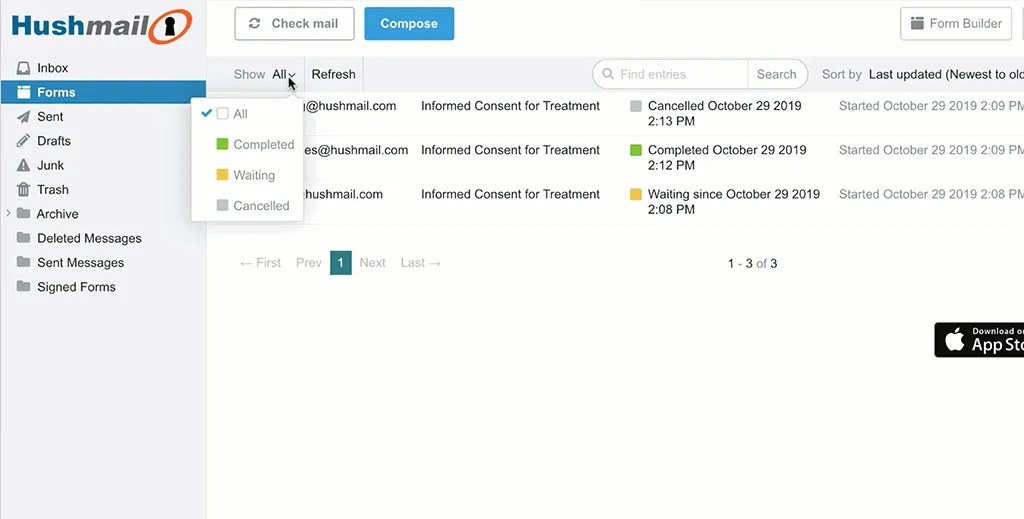 Free version: No – starts at $49.98/year
Price: Starts at $49.98/year
OS: Mac, PC, Web, iOS, Android, ActivSync
Storage: 10GB
Hushmail offers multiple business options for healthcare and small businesses. If you want a secure private email for personal use, Hushmail provides a low-cost option for less than $50/year. It gives you the option to use a @hushmail.com email address and encrypt messages on-demand.
When people who aren't using Hushmail receive an encrypted message, they will receive a link to a secure web page where they can read your email. The first time someone reads a secure email on the web, they create a Hushmail passphrase. They will need this passphrase to access any future emails sent with Hushmail.
Paid Plan (no free options)
10GB Storage
$49.98/year
Includes PGP encryption options
Unlimited use of email aliases
Summary: Most Secure Email Providers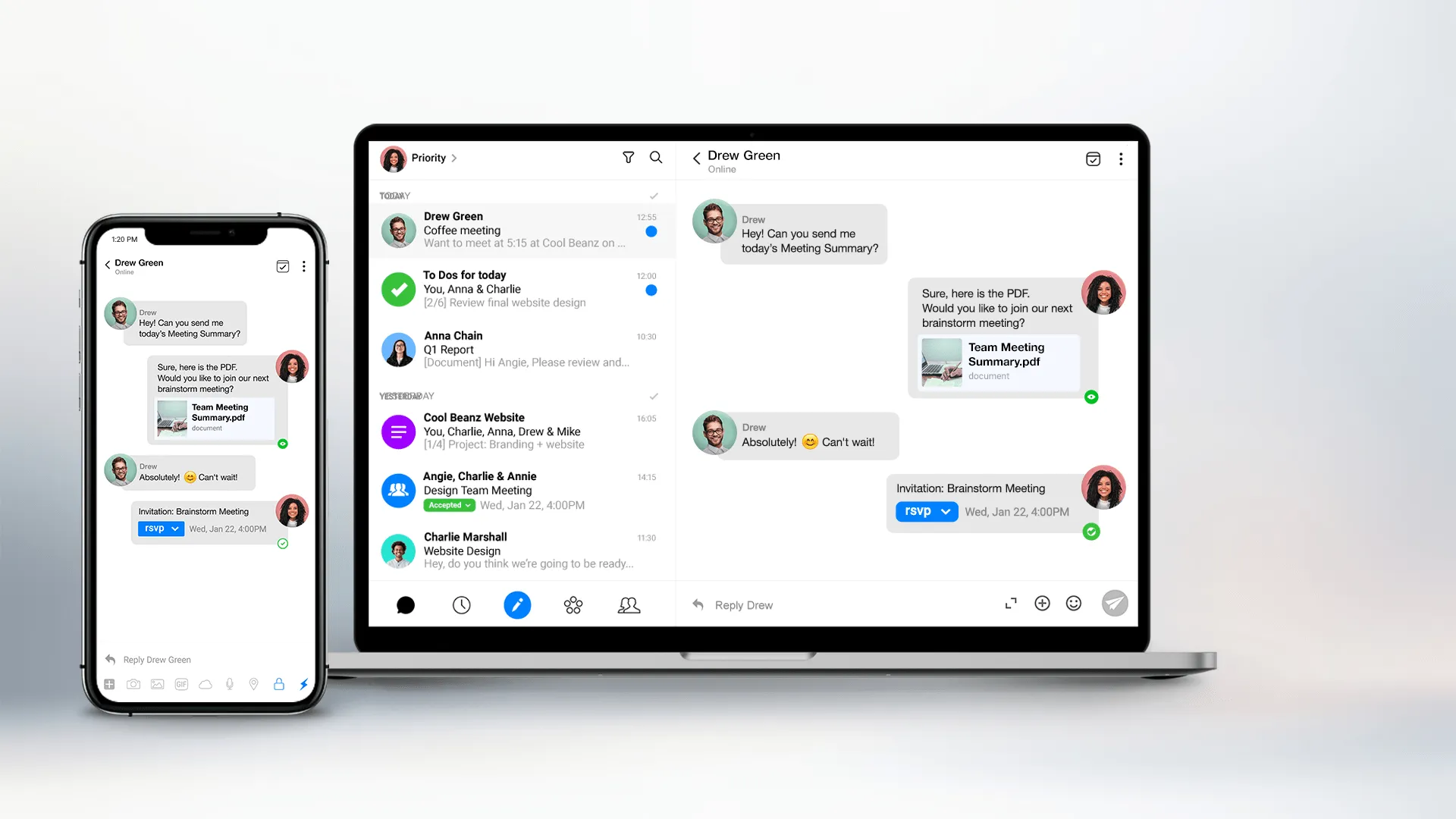 As you search for secure email providers, consult our list of the best options for your privacy-focused solutions. Any provider that works with IMAP will work great with Spike. After you download Spike, start with an easy, quick start guide for connecting your secure/private IMAP-focused email solution.
Spike turns your email into simple chat-like conversations, so you can work and collaborate seamlessly with friends, clients, and team members – in a more natural way. It feels like you're chatting over a messenger app, but it's email. In addition, Spike includes several power-user features that pair perfectly with a paid secure email provider. Check out our round-up of the top five free email clients to learn more about Spike.
You may also like