Getting Mobile with Spike -
How to Add Your Email to iPhone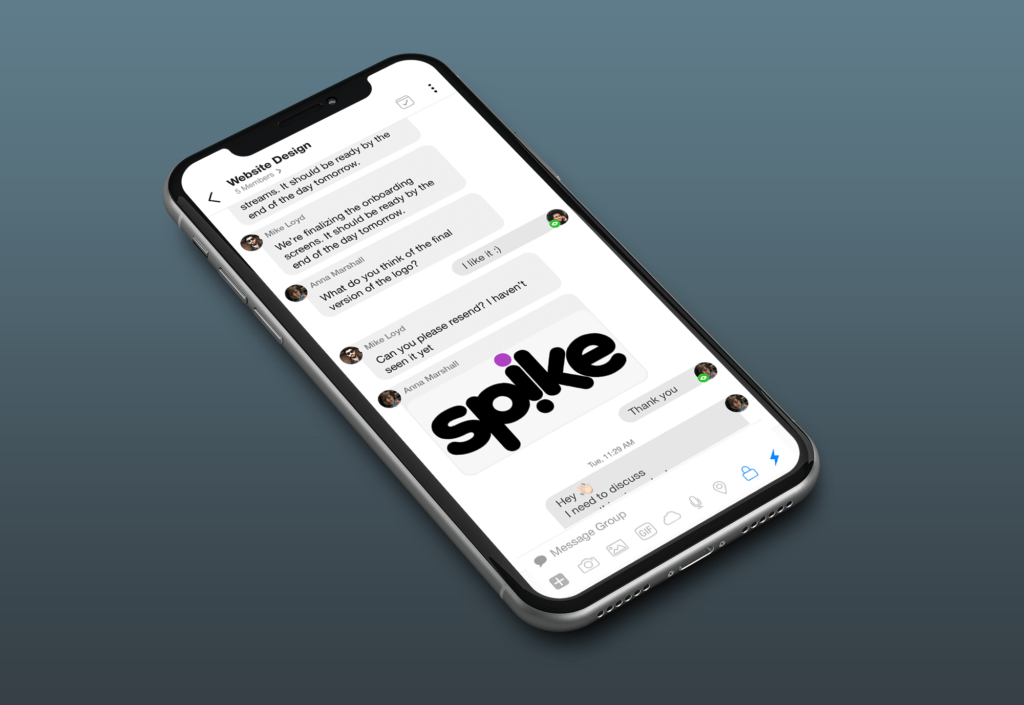 By
Spike Team
,
May 29, 2019
Who doesn't love their iPhone? It's sleek, it's streamlined, it has a crystal-clear display, built-in selfie camera (because that's definitely what it was designed for, right?!), and a billion apps that can either boost your productivity or bring on procrastination. Of course, it's also a great communications tool, squeezing you phone, messaging, email, and other comms into a palm-sized slab of electronic chic.
However, for email users (i.e. everyone), Apple Mail has never quite lived up to the standards of its sexiest tech. So, if you're tired of its outdated approach to email, sick of endless spam, and utterly exhausted by trying to reach inbox zero, then maybe it's time to level up your iPhone and add another email app. An email app that does all the things Apple Mail never could.
Spike offers iPhone users an entirely new approach to communications. It features everything you need from email and all the things you want from instant messenger. It loses all the annoying threads, email header and footers, and stuffy old signatures. It's fast, intuitive and to borrow a phrase from every Apple user in the world "it just works!"
We call it Conversational Email—and Conversational Email loves your iPhone (and iPad) too! Check out how to freshen up your communications and add your email to iPhone using Spike. You'll discover an entirely new way to manage your communications and you'll get a whole new set of innovative productivity tools. Read on and follow our step-by-step guide to get set up.
Download Spike
You can get Spike at the App Store. Just follow this link here. Downloading is quick and simple, and Spike won't hog all of your precious storage space. in fact, at just 52MB, its way smaller than Outlook (260MB), Gmail (200MB) and Yahoo (165MB). Once downloaded, the real fun begins, and you can intuitively add email to your iPhone in just a few steps.
Say Hello to Spike
As soon as you open up the app, our bright and friendly AI is ready to take you through the process of adding email accounts to your iPhone. Just click the button and you're good to go!

First up, give Spike access to your contacts. This lets Spike integrate everyone who's already stored in your iPhone allows you to message them straight away. A message will prompt you and give you the option of allowing Spike access.  
Next up, choose how you want to receive notifications on your iPhone. You decide whether you are notified for every message, or just those that you really want to read. Spike's Priority Inbox is smart. Smart enough to notify you each time you receive a message from your contacts and when you get messages from anyone who you've been in contact with before. It even knows to keep your subscriptions and newsletters in the "Other" inbox and only notifies you if you mark them as Priority.
To enjoy Spike's smart notifications, don't forget to allow access when you are prompted.
Get Yourself Connected
Now it's time to add your email account to your iPhone. Just follow the steps below to get yourself connected.
Enter your primary email. Whether it's Gmail, iCloud, AOL, GMX, or your own account linked to a domain, Spike supports them all through seamless IMAP connectivity. You'll be prompted by your email provider to allow Spike access. Usually, you'll be asked to enter your email address on the provider's page, confirm your password, and then allow Spike to access your data. Don't worry, we take security seriously, and our AES256 encryption means your data will never fall into the wrong hands!
Preparing Your Account
At this point, you can choose to add another email to your iPhone or skip this step and do it later. Follow the same steps if you want to connect your other emails or simply click done.

Spike's Super Powers
Now comes the really fun part, you get to choose which of Spike's superpowers best suits the way you work and chat. First up, decide whether you want to stick with a traditional inbox or whether you want to try People Mode. Simply put, People Mode organizes all of your messages by contact and pushes the messages you want to see to the top of your inbox.
Next up, is deciding whether you want to use the "Other" inbox to keep all of your newsletters, subscriptions, and emails from people you don't know bundled in one place. It's the perfect way to manage your less important emails (and spam) and keep your important messages front and center.
Customize Spike
And that's it. You've successfully added mailboxes to your iPhone and set up your email. Now you can explore everything Spike has to offer and customize your Conversational Email experience. Connect multiple schedules using Calendar. Create Groups to instantly collaborate with colleagues, clients, and your coolest friends. Link up your cloud accounts for easy access to all your files. And don't forget to check our Dark Mode to east eye strain.
Learning how to add email to your iPhone is simple with Spike. Download the app and start your journey today.