We Put the Flow in Workflow – Improve Efficiency with Spike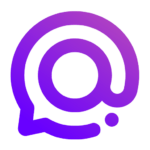 By
Spike Team
,
Updated on February 21, 2023, 9 min read
Your workflow should be the foundation of everything you do. It can help you automate the most boring tasks and free up time for more creative things. It can streamline your projects and boost productivity in countless ways. It can also give you and your team a way to communicate and collaborate effortlessly. Put simply, your workflow makes your job easier.
Now, you might be reading this completely puzzled, asking exactly what a workflow is and how can it help me? Well, before we get too carried away with how to improve your workflow in the office, here's the what and why of workflows so we're all on the same page!
What is a Workflow?
Workflow Definition
When we talk about "workflow", we're talking about a series of actions or tasks that need to be completed to achieve the desired business outcome. In most situations, the process is defined by preset business rules
Example Workflow
When looking at how to improve workflow efficiency, you must define the process. Let's say that you're developing a new process to onboard employees as they are hired. You'll need to define all the steps that your People Operations team takes in order to get employees started with their jobs. By accurately looking at every step in the process, you can define ways to how to improve workflow with hiring.
How do we send the offer?

How do they accept the offer?

Who is the point of contact during the paperwork process?

Who takes over as the DRI (directly responsible individual) during the new hire week?

Is Finance ready to pay this person?

Who handles the IT needs?

Who checks in with the new hire to see if they have everything they need?
Defining all of these steps would be would your new hire workflow. By analyzing every step in the process, you'd be improving workflow and productivity with your new hire process.
In simple terms, a workflow is any sequence of processes where work is passed from start, through various stages, to completion. It's basically the method you use to get $h1t done. It can be literally anything, from organizing the school run with a few stop-offs along the way to setting up automated systems that deal with entire projects.
There are multiple methodologies out there that are designed to help you improve workflow processes. Agile and Scrum are two that you might have heard of. Agile is a type of project management mainly used for software development, where demands and their solutions progress through collaborative efforts of independent and cross-functional teams and their clients. Scrum is an implementation of agile in which portions of builds are delivered incrementally to the customer every two to three weeks. While these may be two of the most known, these days it seems that everyone is designing their own, and you can very quickly become overwhelmed by the sheer number of different methodologies. However, at its core, your workflow should lubricate the wheels of your brilliant mind, automating mundane tasks, streamlining collaboration, and keeping everyone on track from start to finish.
Now, if all this sounds like more hassle than it's worth, think again.
---
Discover:
---
Improving Workflows: 5 Simple Ways
Automate manual processes

An easy way to improve your workflow efficiency is to use technology to automate manual processes. Let's go back to our example of the new hire process. When we look at the process of sending an offer and accepting – is there a software or technology solution that can automate that process?

Identify process redundancies

As an organization grows, it's possible that certain processes become obsolete and redundant. By taking a look at all steps in a workflow process, you can identify processes that can be removed.

Create a "Process" document

While it might sound simple, many organizations struggle with documentation. By defining processes in a document, you'll be be able to accurately track who is responsible for what step that can easily be referred back to in the future.

Streamline communications

Streamlining communications with the best team chat solutions is a clear way to improve internal and external workflows. By streamlining communications, companies will be able to streamline workflows to eliminate unnecessary back and forth communication.

Hire dedicated process and strategic operations professionals 

As organizations grow, it makes sense to invest in strategic and strategy operations professionals. These people are tasked with improving workflows and managing company growth.
Improving Your Workflow With Spike
A good workflow should be a reflection of the way your mind works, the most efficient and effective way to reach your desired goal. It should be truly liberating, giving you and your team the tools needed to get the job done. BUT, here's the thing with 21st-century workflows—so much of it depends on what your SOFTWARE will allow you to do.
Spike, however, takes the guesswork out of creating a smooth workflow. It connects the dots. It brings together all of your most important collaboration and communication tools in one place so you never break your information flow. So now you can answer and monitor emails, create easy-to-follow Tasks and collaborative Notes, share files, chat and MORE, all from one screen. Yes, you read that right–one app, one screen, no limitations. In fact, improving your workflow and focus with Spike has never been easier. Put simply, we put the FLOW in workflow.
How to Improve Workflow Processes with Spike – Example 1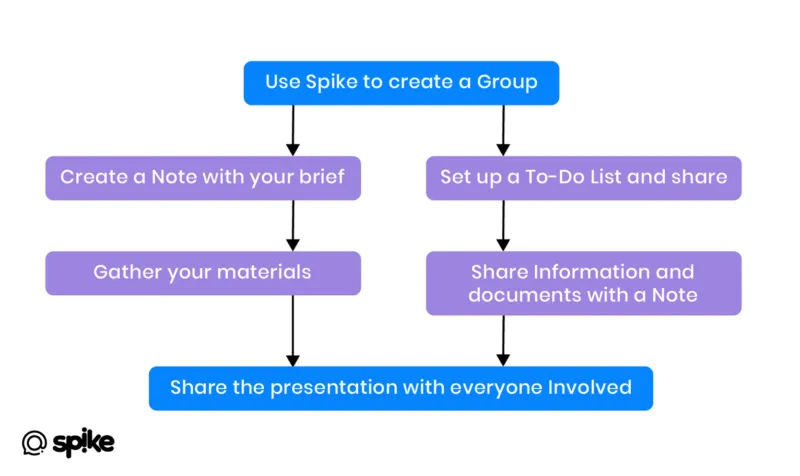 Imagine this: you're working on a big cross-department project that requires input from all the department heads. You need to gather information, process data, and build a winning presentation that will blow your bosses' minds! Sounds simple right? Well with Spike, you've got everything you need in a single app.
Use Spike to Create a Group
Invite everyone who needs to be part of the project and start your cross department collaboration. Spike works through email, so participants can be both Spike users and non-Spike users. Here everyone can chat together about what needs to be completed.
Create a Note with Your Brief

Keep all of your most important requirements front and center. Add to it as you need and cross off items as they are complete.

Set up a To-Do List and Share

Spike allows you to build a checklist with everything assigned to your team. Collaborate on certain items or assign individual tasks to specific team members.

Discuss each item in real-time directly within the Note. Update the status of a task as Open, In Progress, Stuck, and Done.
Gather Your Materials

Once all items are crossed off the list, you can see the number of tasks that are completed or remain open. When ready, use Super Search to gather your materials and compile them into an award-winning presentation.

Share Information and Documents with a Note

If your team members have information, statistics, graphics, or documents to share, they can simply be added by selecting the (+) icon or dragging and dropping them into a Note.

As with all files in Spike, you can visually preview files within the Note, without needing to open or download the file. You can even add videos directly – and play them directly within the Note too.

Here, you can discuss each item individually within the sidebar chat, collaborate and reach a consensus on what's good and what's not! It's an incredible time and space saving archive for all your materials!
Share the Presentation with Everyone Involved

Once the presentation is complete, share it with everyone. Ask each team member to check facts and figures, get collaborative feedback on your design and chat in real-time about how it might be improved.
How to Improve Workflow Processes with Spike – Example 2
Collaborative work is the lifeblood of good business, however, sometimes you just need to get your head down, get on with your own work and keep your life organized. Well don't worry, while Spike is made for collaboration, it's also the perfect tool to help you focus and improve YOUR workflow. Our asynchronous approach to email means you can collaborate when you need to and focus when you don't. All notifications and updates take place directly within your inbox, so you never get taken off course by having to open up other tabs or applications to complete tasks or find information. Here's how:
Enter Your Schedule in the Spike Calendar
Spike's integrated calendar allows you to add your schedule while automatically entering appointments received through email.
Set Up a Personal To-Do List

Your personal to-do list can be used from day-to-day, week-to-week, or month-to-month. You can even set up separate to-do lists per project or client.

Set Reminders for your Tasks

Not only can you schedule tasks to remind yourself of what needs to be done and when, but you can also schedule specific times for them to pop-up in your inbox as a reminder. Need to complete a report by next week? Just set a reminder and it will appear at the top of your inbox when you need it to.
Stay Organized

Go task list zero! Archive old or completed Tasks, to-do lists or Notes and keep your Inbox clean. If at any point you need to access them again, you'll find them stored neatly away in your archive folder.
Stay Focused

A clean inbox encourages focus and gives you space to organize your next project. Everything you need is in your inbox with Spike, so you can easily move onto the next big thing without breaking your workflow.
How to Improve Workflow Processes with Spike – Example 3
For startups and small businesses, one of the biggest challenges when attempting to improve your workflows is ensuring you can connect outside the box. That is, connecting and collaborating with a spread out team of clients, freelancers or remote workers dotted around the world in different time zones. But don't worry, Spike IS the box—and everything you need to create, collaborate, and communicate is exactly where you need it!
Get Everyone Onboard
Invite your freelancers or remote workers to your Group. You can set up as many as you like and invite everyone—whether they use Spike or not. Your Inbox is a centralized communications hub that works through email.
Keep Everyone in the Loop

Keep your team up to date with the latest project developments. If they're on the other side of the world, don't worry, simply schedule a decent time to reply and avoid pinging their phone at 2AM. Need to add more freelancers to your project? Easy, just get them on board with Groups.

Get Your Projects off The Ground

Use Notes to set up your projects and keep all the relevant information to hand. The best part? Spike Notes works just as well through email as it does in the app! In fact, your team members don't even need an email, and anyone can contribute and collaborate directly from a web browser using a link!
Assign Individual Tasks

Assign To-Dos to your remote team members. If they're not on Spike, don't worry. Tasks will open up directly in the users browser so each item can be marked off when it's done!
Review and Edit Work

You can ask your team members to add work directly into the specific Note. Here, you can review, edit, and ask for revisions with the in line Conversation function. If you have particularly complex files, you can also link to your favorite cloud drive.
Goodbye Silos. Hello Spike
When it comes to better workflows, Spike's integrated, all-in-one approach puts everything you need at your fingertips. That means you can give the app switching a rest and benefit from an uninterrupted flow. Our goal is to ditch the silos of information created by app-overload and ensure you have all the tools you need to collaborate and communicate efficiently.
For more information on improving workflow processes with Spike, then head over to the blog where you'll find everything from productivity tips & tricks to insights on job-related mindfulness and wellbeing. Let us know how you use Spike to improve your workflow @SpikeNowHQ.
Updated 12/30/2021
You may also like