How to Know If Your Email Was Read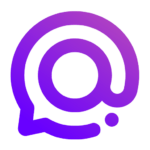 By
Spike Team
,
Updated on July 26, 2022, 7 min read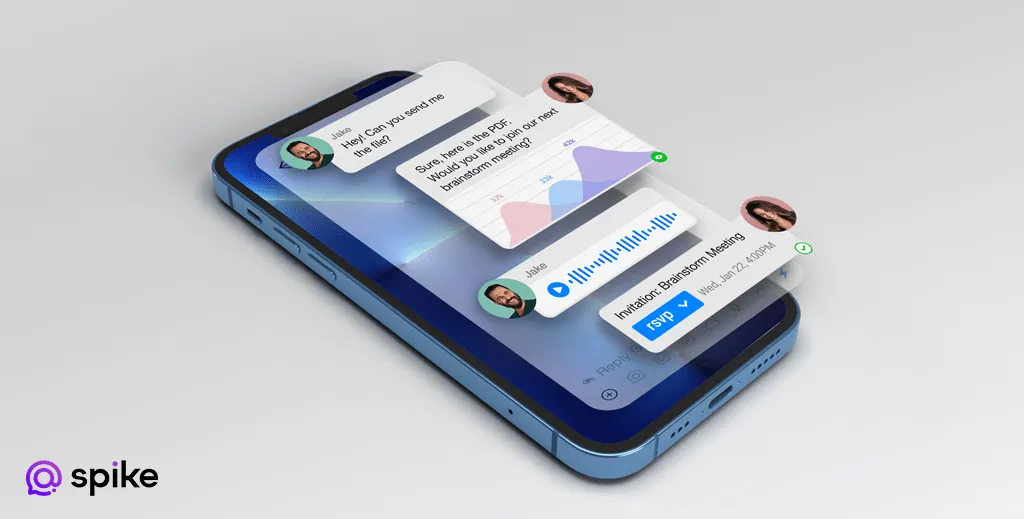 Whether you know it or not, a large chunk of the emails you receive each day will be tracked – letting the sender know if and when you open the message. While it can be brushed off as a bit of a novelty, email tracking is actually beneficial to anyone who uses email for business.
What's more, email tracking tools aren't reserved for massive companies with huge IT budgets. There are plenty of free email trackers out there that are perfect for small businesses or even independent freelancers.
To get you started, we're going to take a look at some of the reasons you might want to use an email tracker, some of the best free email tracking tools on the market, and some limitations to keep in mind.
Why Use an Email Tracker?
When it comes to outbound marketing or lead emails, tracking lets you know which messages get results and which don't. This data can help you improve your subject lines, content, and calls to action to ensure you're not wasting time.
Email trackers don't just tell you if an email has been read, but also when. This can help you decide when to send future emails and indicate when to follow up. For example, if you get reports from your tracker of multiple opens, then this is the perfect time for a sales call. Your brand is in their mind, and your business proposal is still in their memory, making any sales pitch much simpler.
Additionally, while they haven't always been a part of email clients, read receipts (what email tracking provides) are very common in other messaging apps such as WhatsApp, Skype, iMessage, and numerous social media platforms. People are used to having this tool at their disposal, so adding it to email for your business makes sense from a usability perspective.
These are just a few of the use cases of email trackers for business, and there are plenty of others that you'll discover once you start using read receipts. So, let's get you started by going through some of the best free tracking tools out there.
The Best Free Email Tracking Tools
Most email trackers provide relatively similar functions – telling you if and when an email has been opened. Therefore, when choosing which tool is right for you, it is important to look beyond the basics and find a package that fits your needs in more ways than one. With that in mind, let's look at some options.
1. Spike
Spike is a powerful productivity suite with email tracking built right in. No extensions, add-ons, or extras are needed, with read receipts on by default. This allows you to communicate seamlessly with team members as well as harness the benefits of email tracking with external clients and leads.
What's more, because Spike isn't just an email tracking app, you can have all the business productivity tools you need in a single package. As well as powerful email, featuring a Priority Inbox, Conversation Email, and of course, read receipts, Spike also offers Video Meetings, Voice Messages, Tasks, To-Do Lists, Groups, Online Notes, and more.
2. Mailtrack For Gmail
Mailtrack is a simple add-on for Gmail that allows you to see whether an email has been sent (one tick) and opened (two ticks). This is everything the tracking tool does, making it lightweight and fast but also lacking in more advanced functions. Moreover, since it is built for Gmail, it's not an option if you use any other business email provider.
While it is free, the unpaid version will inject "Sent with Mailtrack" into your email signature, which can look unprofessional and put off clients and leads. Furthermore, the free version only lets you know about the first opening, rather than notifying you about any later reads. Overall, Mailtrack is a good option for a free, simple tracker for Gmail if you don't mind the signature.
3. Right Inbox
Right Inbox is another free email tracking tool for Gmail, offering the ability to set reminders, mark emails to send at a later date, make private notes, create sequences, automate recurring emails, craft templates, and more. Additionally, email tracking includes both open and link tracking, so you know when people have clicked through.
However, while Right Inbox offers advanced tracking tools and other useful features, these are very limited in free accounts. Email tracking, for example, is limited to 5 emails a month, while other features are limited to 10 or not included in the free tier at all. Moreover, it is only for Gmail uses, excluding businesses that use other email providers.
4. Boomerang for Gmail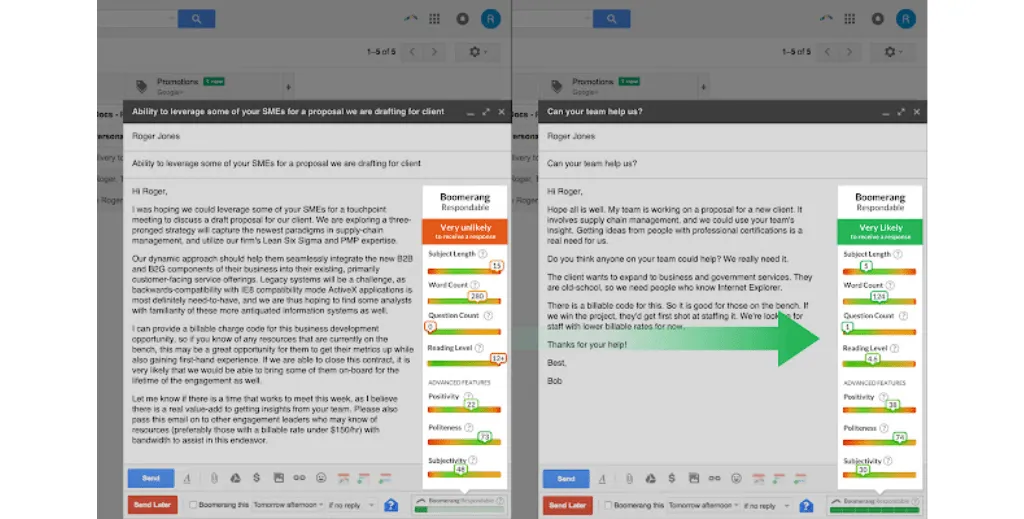 Boomerang for Gmail offers tracking as well as a send later function, reminders, link tracking, meeting scheduling, and more. However, as with other free Gmail trackers, it limits the number of emails you can track in a month to 10.
That said, it also offers a tracking tool for Outlook and iOS, and Android, making it one of the more versatile platforms out there. However, the iPhone and Android apps, as with many features, are only available on paid plans, making it an excellent option to test out email tracking but not a long-term choice for a free tool.
Do Mail Trackers Always Work?
In short, no. Almost all email trackers rely on an invisible pixel included with the message, which is technically treated as an image. If an email client blocks images from being displayed by default, then the tracker won't work. Similarly, if the email is stripped of images before being forwarded, you will no longer know if or when it is opened.
Even if they don't work 100% of the time, email trackers are still a valuable tool for anyone using email for work. They allow you to understand better what works and what doesn't, time follow-ups and calls for better sales, give users a more streamlined messaging experience, and ultimately improve productivity.
This is why Spike includes an email tracking tool as standard, along with a whole host of other features to take your productivity to the next level. What's more, even on Spike's free plan, you can send and receive as many tracked emails as you like, and if you want to step it up, you can upgrade whenever you like.
FAQs About Email Tracking Tools
There are plenty of great free email trackers available for small businesses or personal use. Many of them function as add-ons for Gmail, but a few standalone platforms, such as Spike, bundle free email tracking into a complete productivity suite.
The best email tracking tool for your business will depend on your individual needs. Still, a few features to look out for in any tracker are sent notifications, first open notifications, subsequent open notifications, and time stamps.
Beyond this, it is worth looking for a tool that satisfies more than one business communication need. Rather than getting just an email tracker, look for software that can improve productivity in other ways, such as offering collaborative tools.
Gmail relies on extensions and add-ons for tracking functionality, but there are plenty of free options to choose from. In fact, many of the most popular free email trackers on the market are specifically designed for Gmail users.
The best free email tracker will depend on how many emails you send in a month. Many of the more popular trackers out there are free, but only for a minimal number of emails – for example, 5 or 10 per month. If you don't think this will be enough for your business, and let's be fair, it probably won't, look for an email tracker that doesn't choke its free offering, such as Spike.
You may also like