Email "Hacks" for people who really like to save time
Spike is filled with time-saving tricks ?.
Here are a few hacks that we love using and you might have missed.
Hack #1: See unread messages
Long press on the chat icon at the bottom of the inbox to filter unread messages.
Hack # 2: leave as unread
Did you open a message but want to leave it as Unread? Long press the back icon and the blue unread dot will return. This is especially useful when filtering unread messages.
Hack #3 – Super Search on iOS
When at the top of your inbox feed, pull down quickly and release when the search icon
turns blue.
This will put you directly in the search bar, so just pull and type away.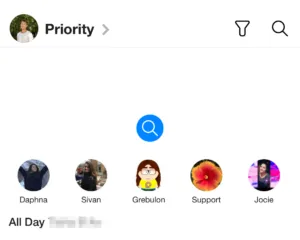 Hack #4: Refresh
The hack is built into Spike. Spike instantly displays your incoming messages, so there's never a need to hit refresh. Ever.
In fact, users report that they receive messages on Spike before getting them on their email provider's app. We put the REAL in real-time ?
Hack #5- Switch between accounts quickly
Swipe down or swipe up on your profile picture to quickly switch accounts.
Hack #6 – Customizable swipes
Are you the Archiving type? The Deleting type? Neither? Customize your swipe gestures the way you like to swipe!
Customizable swipes can save you lots of time, especially when you get lots of messages. Here's how to customize your swipe gestures.
Hack #7 – "Read" your inbox in seconds
Long press on the Other bundle to mark all your low priority emails as read in a single tap.
Hack #9 Keyboard shortcuts
Keyboard shortcuts are the BEST way to save time on desktop and whiz through your inbox. Let's face it, most of the heavy lifting in your workflow will be done on desktop and you probably perform the same actions too many times a day. Using even a few keyboard shortcut will revolutionize the way you work. It will save you time plus, you'll look like a badass on the keyboard 😉
Here are my three favourite keyboard shortcuts:
New message – most used keyboard shortcut to write a new message.
command/ctrl + N
Changing the From address – to quickly switch the account you're sending the email from.
command/ctrl + Shift + F
Undo send – there are only 10 seconds to Undo Send and this keyboard shortcut can be a life saver.
Command/ctrl + Shift + Z
Side note: it was created by Daphna's request (link to my linkedIn?) but it can undo everything including Archive, Delete etc.