What is an Email Client? How to Know Which Email Client is Right for You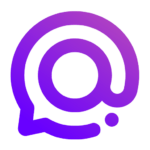 By
Spike Team
,
Updated on November 24, 2022, 15 min read
Keeping up with your email inbox can sometimes feel almost impossible. Especially when getting non-stop notifications that distract you from staying on track. Don't let your email inbox take up the time you should be spending on being productive and reaching your goals.
Mckinsey analysis reported that 28% of your workday is spent on checking emails. Managing your inbox multiple times throughout the day can become stressful, exhausting, and extremely time-consuming.
In order to combat the everyday battle of your inbox you should be utilizing an email client. An email client helps you stay on track and conquer the stresses of your inbox—but how do you know which email client is the right one for you? We've done the research and compiled a list of the best email clients of 2022 that help you work smarter when it comes to your email.
Webmail vs. Email Client
When it comes to using and managing your email you will usually come across these two main options: webmail and email client. In order to know which option is best suited for you, you should know what they are, and the differences between them.
What is Webmail?
Let's break it down. Basically, if you've ever used Gmail, AOL, Hotmail, Yahoo! or any other email account you've used webmail. Webmail is when you read, draft, and send emails through a web browser link. Webmail gives you access to your email from any web browser and device as long as you have internet access. If you're interested in using webmail you should know the features it offers and how it can be both beneficial and non-beneficial for your workflow.
Pros of using webmail:
Easily accessible
No need to download software
Automatically backed up in email server
Scanned for virus by email provider
Cons of using webmail
Complicated interface
Cannot access emails without internet connection
Restriction on emails amount you're allowed to keep
Service isn't guaranteed
Partiality supported by advertising
What is an Email Client?
If you've ever used programs or apps like Microsoft Outlook, Windows Live Mail, or Apple Mail to manage your emails, then you've used an email client. An email client is software that is installed directly on your desktop or mobile device and stores your emails on that specific device server. Once the software is installed you can access your emails from the email client.
Pros of using an email client:
Organizes and combines multiple email accounts
No internet needed to access emails
Easy integration with other applications like calendars and images
Wide range of customization abilities
Emails can be backed up to your own devices
More advanced security and encryption features
More email management tools and features
Cons of using an email client:
Tied to an OS such as Windows, Linux, or Mac
Accessible only through a downloaded software
Takes up storage space for email backups
Might not be necessary to manage one email account
Shift to a chat email client to impact your work productivity
Jumping into Email Client Protocols: POP, IMAP, SMTP
Now that you understand a little bit about what an email client is, it's important to know how email clients communicate and receive messages from email providers.
This is broken down into the following protocols:
POP (Post Office Protocols)

POP means that all of your email is downloaded from your Internet Service Provider to your own personal computer and (usually) deleted from the server. If you created folders in your email program, those folders are only accessible on your own personal computer.

IMAP (Internet Message Access Protocol)

Saves your emails on your Internet Service Provider's servers. If you are using IMAP, you can run an email program at home and an email program at work and both programs will access the same set up messages and folders.

SMTP (Simple Mail Transfer Protocol)

SMTP is an application used by mail servers to send, receive, and/or relay outgoing mail between email senders and receivers.
The different protocols each hold different features when it comes to how you want to store your messages. It's important to know which of the protocols are necessary for you when choosing an email client since not all email clients offer the same protocols.
How to Choose the Best Email Client for You
There are many different email clients that you can choose from, that being said not all email clients are created equally. Before diving into the different email clients you should consider what features make a good email client and the importance of these features for you.
Here are some things you should be asking when on the hunt for your perfect email client — whether for personal or business use:
•

How does it help with email management?

•

Does it allow customization?

•

How much does it cost? Is it a one time thing? Is it a subscription?

•

Does it improve productivity?

•

Does it support app interrogations?

•

Does it stay up to date on the new features?
Like we said earlier, email can become extremely overwhelming, and time-consuming. A good email client recognizes the stresses that come with an overloaded email inbox and finds the best way to manage your incoming mail. You'll want to have a seamless experience when it comes to navigation and work productivity.
Filters
Filters help you clean up your inbox. Email clients that have a filter feature help you stay organized and also productive since you can label and sort which emails are high priority vs low priority. By having a filter your important contacts will automatically sort and alert you of what requires a quick reply vs your junk mail that will not alert you and distract you from your important work.
No more getting out of the zone from unwanted newsletters alerting you of a "last-minute sale" now you can concentrate on the mail that really matters.
Email Archiving
Have mail that you don't want to see in your inbox, but also still need to save in the background? Email archiving is an amazing solution to getting rid of unwanted emails easily. You can always go back and find the archived mail since it was not deleted, but now it can be out of sight out of mind. Archiving is an important feature to consider when choosing an email client. This way you can sort unwanted emails in your inbox faster without having to delete them.
Snoozing
Snooze is a life saver feature you never knew you needed. Instead of worrying about your less urgent emails now, you can snooze them for later. Snoozing your emails takes the email out of your inbox and has them show up at a later time. Leaving you to concentrate on your more urgent priorities without the distraction of what's still outstanding hanging over your head.
It also makes sure you won't forget to come back to these emails since they will come up as a new alert during a more suitable time in your schedule. In other words, you'll be able to focus on important tasks and stay in the zone.
Online Collaboration
The whole point of email is correspondence. Email is all about communication and collaboration. A good email client should offer features that allow you to collaborate with team members and clients alike. You should always look for an email client that offers collaboration tools that enable you to seamlessly communicate, create, track and complete multiple tasks with others.
Tools such as:
•

•

Project management i.e calendars

•
Advanced search
How many times have you needed to find a document or an email thread and lost so much of your time searching for it? A good email client understands the importance of advanced search. In order to find a doc, a thread, or even a keyword within a sea of emails, advanced search helps you find anything you're searching for with ease. No more losing hours of sorting through old emails to find the one you're looking for, with this tool you can just type in a keyword or phrase and be taken directly to the emails relevant to what you're looking for.
Audio and Video Meeting
As we mentioned before, email is all about good communication and correspondence. In order to get a clear message across sometimes you need to just hop on a video or voice call. A good email client wants to minimize wasted time and enable the most seamless way to be successful and become the most productive. This means less switching between platforms and having all the tools you need to reach your goals—in one place. You'll want to choose an email client that lets you create audio or video meetings so that you can get your work done in the most efficient and harmonious way.
Email Client Customizations
Every person is a little bit different. We all customize our style, our rooms, our office, and so many other things in our lives. So shouldn't you be able to customize your inbox to match your personality? It's the little things that make your email experience more personal and more comfortable to improve your productivity in the workplace. Some of us like to have things organized into topic folders, while others like to organize folders by people we correspond with.
Choose an email client that lets you customize your inbox to suit your style, and give you the most comfortable email experience. You can go as heavy on customization as you prefer, or just add the little touches, it really is up to you as a user.
Price/Paid Subscription
Some email clients may provide a free plan or a limited features plan for free, but you should know you get what you pay for. Usually the paid plans are the ones that give you the best options with all the features you need. You want to make sure you know what each email client is offering and at what price. Don't purchase the first email client that you see, always make sure to do your research and know all the different pricing plans and options that best fit what you're looking for. After all, you want to make sure your business is choosing the smartest option.
You should be looking for two main things:
That your data isn't sold as a business model of that company

That the product will be kept on developed, updated, etc.
Email Productivity
Outdated email inboxes can over-complicate many processes like seamless communication that gets in the way of productivity. And being productive is everyone's top priority in the workplace. In order to reach your goals and get things done smoothly and efficiently, you'll want an email client that encourages you to be as productive as possible. A good email client gives you the right tools to get your tasks done effortlessly by simplifying how you send, receive, and manage your inbox.
Look for simplifying features like:
•

•

Email folder or label options

•

•

•

•

•
A good email client lets you integrate apps that you use in your daily routine, which enhances your communication and productivity. Moving from app to app can get confusing and cluttered. You want your email client to support multiple apps like chat, social media, notes/to-do lists, and calendars so that you can avoid app switching and have everything you need all in one place.
Up-to-Date Features
A good email client should constantly stay up to date with the latest features and improvements. You'll want to use an email client that is always looking for ways to give you the best user experience, and listens to ways to enhance the interface. You'll also want to look out for an email client that updates security standards to always stay at the highest standard.
Updates are crucial for improving stability, security and user experience.
What are the Best Email Clients
Now that you know all the in's and out's of what you should be looking for in an email client and why, it's finally time to dig into the best email clients in the market today.
We've compiled a list of the top email clients and what they have to offer.
1. Spike
Spike comes in as the top email client since it's features completely simplifies and streamlines your workflow. Spike's algorithm transforms your existing email into a chat-like inbox making email as simple, and organized as sending a text, but still appears in email form to any person who isn't using Spike. Plus it gives users collaboration work features like shared docs, video/audio messages, synced calendars and more! Making it super easy to communicate and collaborate through email. Basically Spike helps you get work done in a better and more efficient way.
Spike also offers a webmail version so you can access your email even outside of your devices
Spike understood how to modernize email and give users a sleek and easy-to-use interface.
Here's the breakdown:
Main Features:
Conversational Email: No more cluttered emails and threads. Spike transforms your email conversations into a simplified chat. No more messy signatures and threads, chat-like email clears the way for easy-flowing conversation.
Priority Inbox: Spike sorts and manages your email for you. Priority Inbox puts all your most important mail upfront while filing away less important emails for you to check later.
Super search: No need to endlessly search threads. This feature allows you to search any keyword or file across your entire inbox. And just like that, you can find anything with a click of a button. File management has never been easier.
Real-Time Email Awareness: Real-time awareness is now brought to email. Spike integrated the best of instant messenger's responsive design with the advanced function of email to create a modern-day email that enhances communication.
Groups: No more app switching in order to communicate with clients and colleagues. Spike Groups lets you create collaborative team messaging with email and helps teams get the work done better together.
Online Notes: No need to create separate docs outside of your email client. You can now create interactive and collaborative Notes where multiple team members and clients are able to work together to get tasks done. Create shared to-do lists, projects, and more. Plus you can attach images, code, videos, and more.
Video and Voice Calls: Sometimes an email just doesn't cut it. This feature lets you jump on a video or voice call for the times you need that extra communication. Setup clients and team meetings straight from the platform. Plus it's available to non-Spike users. So, whether your client has Spike or not they will still be able to chat with you from an external link.
Calendar: The calendar feature helps you manage your schedule. Spike puts your calendar on the same page as your email plus easy integration of calendars from multiple email addresses that help manage your schedule simultaneously, meaning whether it's personal appointments or company-wide meetings, they're all under one roof.
Operating Systems
IOS
Android
Mac
Windows
Web
Support
Yes
24/7 customer support with a 24-hour response turnaround
Free trial
Price
Pricing ranges based on which package you sign-up for. See below for the different packages:
Personal/ Student: $0
Solo: $12 per account/ per month
Team: $8 per account/ per month
Business: $7 per account/ per month
2. Windows Mail
Windows mail is another email client recommendation since it is a super simple and simple-to-use interface. Windows mail offers a range of basic features that are good for beginners looking to use an email client.
Main Features:
Built-in Microsoft Word: Makes it simple to insert tables, add pictures and use bullets within your emails.
Touch gestures: This feature helps you read, sort, and archive your mail.
Navigation bar: Provides a quick and convenient toggle, allowing you to move freely between your email and your calendar to get things done.
Calendar: Optimized for Exchange, with support for arranging meetings and managing a busy schedule. The calendar provides helpful, powerful views of your schedule like day, week, and month.
Operating Systems
Support
Yes
24/7 customer support
Price
3. eM Client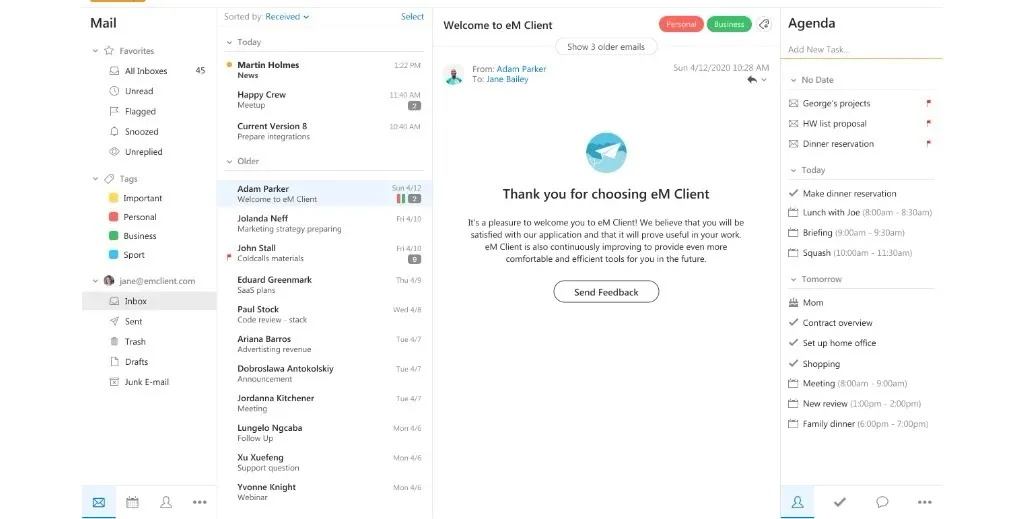 eM client is another top email client on our list since their platform includes all the features you need for better email management. eM client gives you the tools that help you better manage your inbox and increase your productivity.
Main Features:
Fast search: Helps you quickly find messages or information you are looking for and stay more productive
Instant translation: No more language barriers, this feature has built-in translation tools and a spell-checker.
Snooze: Never miss important emails, and control your communication flow to enforce Inbox zero policy.
Notes: eM Client fully supports local and server-side Notes. Write fancy notes with pictures and attachments, organize them via tags, and sync notes across all your devices. Works with Exchange, Office365, and IceWarp.
Chat: Chat with your colleagues or friends right within eM Client, with no need to switch apps. Enjoy its many advantages, such as having both email and chat communication with your contacts in a single view.
Operating Systems
Support
For Pro users: On-line support center
For Free users: Community Support with the assistance of our experts.
Free Trial
Price
Pricing ranges based on which package you sign-up for. See below for the different packages:
For individuals: $0
PRO for individuals: $49.95 one-time payment (1 year)
PRO for companies: $188.95 per 10 users (1 year)
Why Spike is the Best Email Client Today
Spike is the only email client that allows you to streamline your entire workflow right from your inbox. It combines all of the apps you've used in the past into one, and makes it extremely easy and simple to get your work done.
Spike's features help you stay organized, focused and master your tasks.
Manage Multiple Email Addresses in One Place
Most of us have multiple email addresses for different purposes. Personal, work, and old email where we still need to find relevant files, the list goes on. With Spike you can combine all your email addresses into one inbox and not only sync your contacts, and emails, but also your calendar. Never miss a beat and stay on top of all of the important mail, whether it's personal or business-related.
Why Email When You Can Simply Chat?
If you ask the average person what type of communication they prefer: email or messaging the answer is almost always messaging. We live in a fast-paced world where communication has adapted to be instantaneous. So why hasn't email followed this same adaptation? Now it has. With Spike your email feels as simple as messaging and keeps your conversations clear and consistent. Making response time faster, and work overall more productive. Spike takes out the cluttered threads, and signatures and focuses on getting the message clearly communicated.
Say Goodbye to Context Switching…
No more getting distracted by multiple apps and where you put what. With Spike everything is streamlined in one place and you can concentrate on the task at hand. All your communication, work projects, and schedule management are done within Spike. From setting up meetings to actually attending them, Spike gives you all the tools to make it happen.
… and Hello to Online Collaboration
Working together has never been so easy. Collaborate on just about anything with just about anyone. Want to have an on-going grocery list with your roommate? A task list with your team? Or collaborate on projects with your client? Spike gives you the tools to create just about anything and share it with anyone (even if they aren't using the Spike app). These interactive tools help you create together and enhance project management and tasks.
Using an Email Client Can Be a Life Saver
We know we covered a lot when it comes to learning about email clients and choosing the right one for you. Here's a quick recap:
•

Email client vs. webmail and understanding which is best for you.

•

How email clients (desktop and mobile) keep your emails organized, more manageable, and offer seamless integrations that help you stay productive.

•

What features you should look for when choosing a good email client (i.e snooze, calendar, integrations, customization, user interface, and more).

•

The top-rated email clients are Spike, Windows Mail, and eM Client based on their offered features.
If you're still not sure which email client is right for you, then go on a trial bender and try out the different options until you find the one you are most comfortable with. Keep in mind that good email clients are constantly updating and improving their user experience to offer you the best features so you can get the most out of your inbox. With the right information and understanding you will be able to choose the best email client that works for you and start your journey of an easier and simplified way of emailing.
You may also like