The Best Email Organizer App - Your First Step to Inbox Zero
By
Spike Team
,
July 02, 2021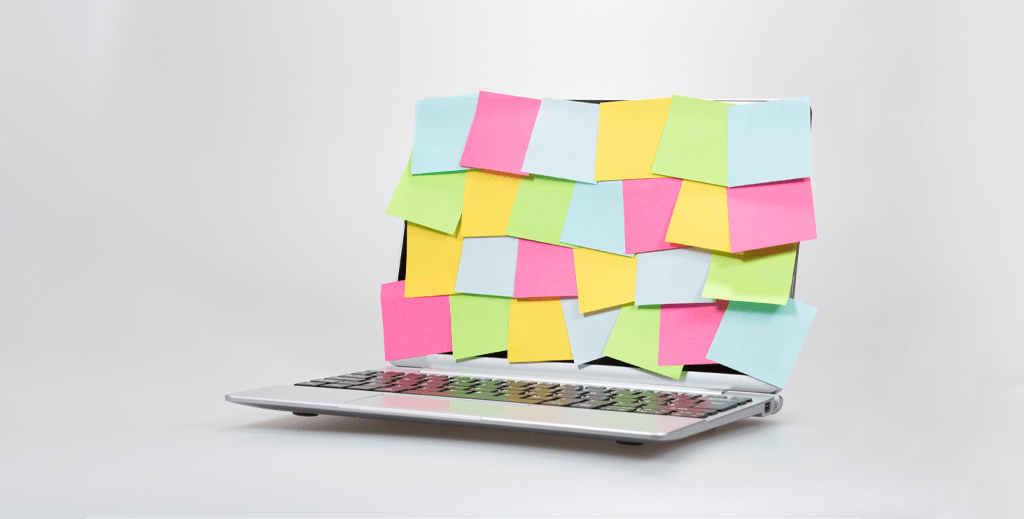 One of the wonderful aspects of email is that it connects everyone in the entire world with the taps of a few keys. It's been a wonderful invention that's been powering business and personal communications for over thirty years.
The downside of email is that it connects everyone globally – with just a few taps of a keyboard. We're all getting more emails than we know how to handle. There are nearly 4 billion email users around the world, and experts indicate that business users receive nearly 100 emails per day.
Many email providers have offered filters to automatically move emails with a certain subject or a particular sender to a folder. This process is tedious and time-consuming to configure, though.
What business users need to be able to process more emails is an email app organizer. Technology has advanced far enough today to automatically decide what's essential and what's not when it comes to email. Filtering unimportant emails to a separate location is a vital part of being able to process more emails.
New solutions are offering this as a solution built into email apps that work across multiple devices and email providers. By working with the major email providers, employees can connect all of their email accounts into a single email app organizer that streamlines the entire process of using email in the workplace, on the go, and at home.
Best Email Organizers
In recent years, multiple new solutions have come on the market to solve the problem of getting so many emails that it affects other parts of your job. Unless your job is to solely answer emails, spending hours upon hours processing an inbox will prevent you from focusing on the more essential aspects of your job.
What are the best solutions for email app organizers? Let's take a look at the most common options and services for streamlining your email inbox.
Spike Priority Inbox
Spike is a modern Inbox that brings together your email, video/audio calls, Notes, Tasks, and to-dos, all into a single digital workspace. As the world's first Conversational Email, Spike turns your emails into simple, chat-like conversations that look just like a text message thread – improving the way you communicate – saving you time, and eliminating confusion.
One of Spike's most useful features is a Priority Inbox. Priority Inbox puts your most important messages front and center. It puts your less important messages, such as newsletters, receipts, and other marketing emails into your Other Inbox.
The Other Inbox can be left alone during the day and you can quickly archive it all with a few taps once you see that nothing inside of it is very important (it's probably not). Priority Inbox makes your email work for you by just showing the most important items.
Price: Free for personal users and has various pricing plans for business users
Operating system: macOS, iOS, Windows, Android, Web
Hey Imbox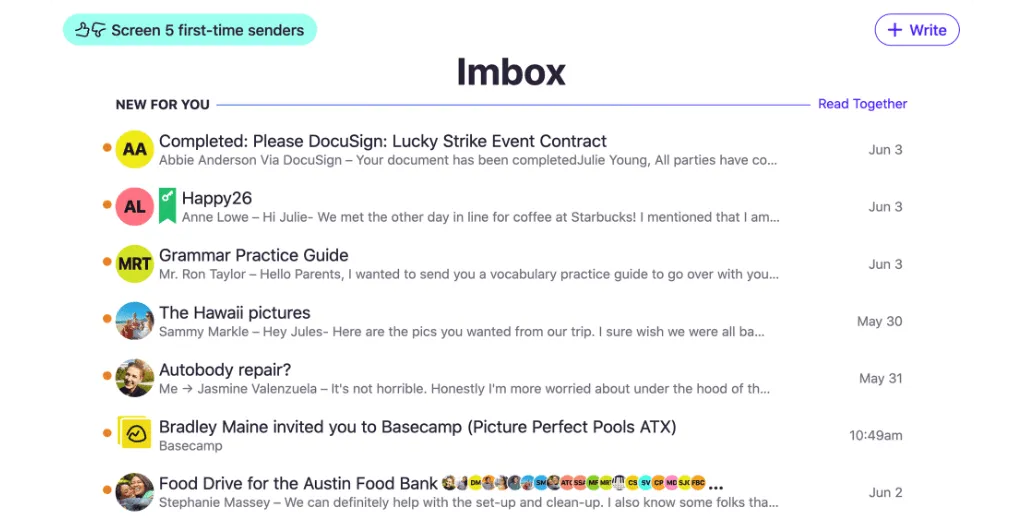 Hey is a paid email service from the creators of Basecamp. One of the key features that it promotes is an 'Imbox' that stands for important inbox. The 'Imbox' is designed to only show you the important messages, and it filters less critical messages for you to work on later.
Hey's other inboxes are 'The Feed' and 'The Paper Trail'. The Imbox is designed to only let in items that are personal communications. Before someone can appear in the Imbox, you must tell Hey you want to receive an email from them. Otherwise, they'll be banished elsewhere. Once you read items in the Imbox, they go into a Previously Seen section.
Hey's Imbox is a smart implementation of a Challenge/Response system that has been around for two decades that originally was implemented by Mailblocks in the early 2000s (later bought by AOL).
The lack of integration with non-Hey email accounts for the Hey app makes it a challenge for Gmail, iCloud, and Outlook users. Hey offers business accounts, but if you work in a company where you don't get to decide where your email is hosted, you'll be stuck with using multiple email accounts.
Price: $99 per year for personal accounts and $12 per month for business accounts
Operating system: macOS, iOS, Windows, Android, Web
SaneBox
SaneBox is an external service that is compatible with any email address and email app because it works in the background organizing your email. SaneBox uses artificial intelligence to make sure only the important emails end up in your inbox. It's been around since 2010, so it's a mature product.
SaneBox creates folders in your email client for you to snooze, banish people from your inbox, and more. When connected to your email account, Sanebox analyzes your past behavior and determines which emails are most relevant for you.
It examines which emails you open, which ones you respond to, and other tasks. Any unimportant emails will move from your inbox to a 'SaneLater' folder. SaneLater is similar to Spike's Other Inbox in that it uses intelligence to pull unimportant things from your primary inbox.
Instead of every email going to your main inbox, Sanebox will move specific emails to folders you select. Here are some of the most common ones SaneBox uses:
@SaneLater: Non-urgent emails that can wait until later go into this folder. If it can wait until the next day or sometime next week, move the email to SaneLater so SaneBox learns.
@SaneNews: This folder is designed for newsletters. Any unread emails will move to your "SaneArchive" folder after seven days, so check it at least once a week.
@SaneBlackhole: Emails from people you don't want to hear from again should go into the Blackhole so they never appear in your inbox ever again.
@SaneNoReplies: Any emails you sent out to others but are still waiting on responses will go into this folder. It's designed to help trigger your memory on following up.
SaneBox is not designed for personal use as it starts at $99 annually for a single email account and there are multi-email bundle options – 2 email accounts at $169, 4 email accounts for $499 per year. Because it works server-side, it's compatible with your existing email account and existing email app.
Shift
The Shift app recognizes that people might have to use a growing number of apps to do their jobs. Shift lets you switch between multiple Gmail, Google Workspace Outlook & Office 365 accounts without having to log in and log back out. Shift enables you to connect all of your favorite apps (1,200+) to create custom work windows.
Shift works with some popular apps including
Spotify
Facebook
LinkedIn
Vimeo
OneDrive
Shopify
One of the benefits of using Shift is that it eliminates the need to log in and log out of services with which you currently have multiple accounts. Many of these services support multi-account sign in, but it becomes difficult to manage as your usage grows. Working with Google Accounts is especially difficult for novice users.
Shift is designed for anyone who manages multiple email accounts, including CEOs, designers, freelancers, social media managers, and those who perform most of their work in a web browser.
Price: Starts at $99.99 per year
Operating system: Mac, PC, and Linux
Summary: Best Email App Organizer
Automatically organizing your inbox is a simple, but powerful task. Because email is the default language for business communication, it's incredibly easy to get overwhelmed with a constant stream of emails coming from internal and external contacts.
When considering a solution to get control of your inbox, Spike's Priority Inbox is the best solution. It works with your existing Gmail, iCloud, and Outlook accounts inside of the Spike app. Spike is affordable as well since it's free for personal use and the business plans are conveniently priced for all of the features that are offered.
Hey's implementation is nice, but it requires you to completely change your email account to a Hey email address. SaneBox is also a productive solution, but it will get extremely expensive as you add email accounts to it. If you're a freelancer with multiple accounts, you'll end up spending $500 per year to cover all of your plans. If you have more than four accounts, it'll get even more expensive.
Spike strikes the right balance between affordability and usability with your existing accounts. Download Spike today and start taking back control of your inbox with Priority Inbox. Spike's Priority Inbox will sort all your less important emails such as newsletters, promotional offers, and random invites into your 'Other' Inbox so you focus on the more important messages and get on with your day.
You may also like