Top 5 Best Team Communication Apps
By
Spike Team
,
May 24, 2021
Communication is the cornerstone of a successful business and is among the most critical skills for professionals. Put simply; it is THE tool to have. Whether it's within your company when talking to colleagues and supervisors or externally when doing business with investors, customers, creditors, and any other stakeholder, top-level communication can make you more efficient and even more approachable.
Team chat apps aren't just for side conversations or to pass funny GIFs around. For remote and hybrid teams, it is the modern office. It's the meeting room, the water cooler, and the project management tool all wrapped up into one tool.
It makes sense for team chat apps to become the hub of where remote and hybrid teams "gather" each day. When you can't meet in a physical workspace, a digital one will take the place. It allows for better collaboration, faster communication, relevant conversations, and timely notifications.
Modern communication encompasses a wide range of mediums, including in-person meetings, written communication, email, instant messages, video and voice calls, and so much more. In most workplaces, much of the communication is now done digitally, especially with remote working. So, with 30% of the United States workforce expected to continue working remotely even after the pandemic, digital communication will continue to be the most dominant form of business communication.
However, if people have learned anything in the past year, it's that not all digital communication is created equal, especially when it comes to getting things done on the go. As such, we've come up with the five best team communication apps for 2021 to get your team talking and business flowing smoothly.
What Features Make a Great Team Chat App?
Communication is tied to culture, and every company is different—this is why there are so many work chat apps on the market. We think a few features are universally necessary, however, and kept them in mind while we were reviewing apps. The best team chat apps:
Keeps Your Messages Organized
A key reason to use a team chat app is that it helps keep track of your conversations. Some conversations should be read by everyone, others in your department, and yet others by just a small group of people. The best team chat apps help organize and maintain your conversations in a way that's flexible and scalable.
The best team chat apps will let members join some groups/channels, but avoiding the ones that don't need to keep their conversations focused on the things they need to take action on. A must-have feature is the ability to notify certain members with a tag that will pull them into the conversation if needed.
Find Everything With Search
A great team chat app will offer a super search that can find everything quickly. It should find attachments, comments, links, videos, audio messages, images, and more.
Integrates with Video Meetings and Audio Calls
Text conversations are beneficial, but sometimes you need to take it a step further for deeper collaboration. Video meetings and audio calls should be a natural part of your team chat app so you can quickly move from text to audio and then to video. Bonus points are awarded for screen sharing as well.
Simple to Use
Users should be able to process their messages with speed without having to learn a complicated system. A great team chat app will feel like a natural extension of an email inbox as everyone is already comfortable with using email.
As users get more comfortable with a team chat app, keyboard shortcuts can help take productivity to the next level.
Enable Collaboration
Collaboration should be a given in the modern digital office, so all team chat apps should build in collaboration of files/notes so everyone can stay on the same page. Teams shouldn't have to have additional tools outside of their team chat app to collaborate.
Instant Communication
A key part of a team chat app will be instant communication. When inspiration strikes or a crisis occurs, you need to be able to "gather the troops" immediately. By leveraging instant communication technology, everyone can chat at the same time without delay.
The apps below are, in our opinion, the ones that offer the best balance of these criteria.
The first of our communication apps is, of course, Spike, which is available on Windows, Mac, iOS, Android, and on the web – letting your team chat wherever they are.
Email continues to be the most prominent form of business communication, and Spike harnesses the benefits of email with a 21st-century twist—namely using Conversational Email. This cuts out the clutter, such as headings and signatures, leaving your team to focus on what's important…the conversation!
Think of it as a balance of synchronous and asynchronous messaging, where team members can talk about what's essential without wading through thousands of threads. Add to this Spike's unique Priority Inbox, and your Inbox is cleaner and more manageable than ever before.
This chat-like conversation is made especially powerful when used with Spike Groups, which is the easiest way to communicate as a team. You can instantly create a Spike Group for any team or project, then add members and share messages, images, videos, files, and more. Additionally, including a non-Spike user is as simple as adding an email address, with no signup needed, making Spike an ideal digital communication app for clients.
Do you ever find yourself unable to adequately express what you mean in writing? Spike also offers Voice Messages integrated directly within a single team communication application. Not a fan of one-way audio? There is Video, and Audio Calls built right in as well.
Spike is more than just a team communication app, however, as it houses all the productivity tools your business will need in a single platform. Some of the other useful features include:
Tasks and To-Do Lists

Collaborative, trackable Tasks and To-do lists with rich formatting across all your devices.

Calendar

All your calendars in one place, your Inbox. No need to switch between multiple apps to find what you're doing and when.

File Management

Keep your files from multiple cloud storage platforms easily accessible with Spike.

Advanced Search

Search by contact, topic, and more across all your notes and emails. Never lose important information again.

Advanced Security

Spike Message data is encrypted using the AES-256 encryption; it stores the minimum data needed to provide the fastest team communication app out there and is ad-free, never selling, distributing, or monetizing your data. You don't have to take our word for it, Spike also passed an audit by an independent security evaluator.
Free team communication apps can often be limited in their features, but Spike offers all the core functions without any payment – just get started with your standard email address.
If you ever want to upgrade, Spike for teams is just $8 per account per month.
Slack is a popular team communication app that allows you to create channels for topics, projects, or teams. However, it is purely for team communication, so it lacks broader productivity features that you might find in a more robust platform. On the other hand, this makes for effortless chat functionality and usability.
The core features of Slack are:
Channels

These are the heart of the software and are where people, projects, ideas, and information are gathered.

Shared Channels

These are Slack's answers to working with other organizations (who are also using Slack).

Messaging

Text-based messages that are sent within channels or privately.

Voice & Video Calls

Video conferencing between team members on the Slack platform.

Integrations

A big part of Slack is its ability to integrate with other popular software such as Salesforce, Google Drive, and Zendesk.
Slack offers a free version with limited features and a full version for $6.67 per user per month for small businesses. For larger firms, this jumps to $12.50 per person per month.
Microsoft's team communication application is part of the wider Office 365 suite of tools. As such, you often need to jump between the different 365 apps to get all the functionality you might expect from a more streamlined communication app. That said, Microsoft Teams is good at what it does, but is heavily focussed, offering:
Team chat through channels
Microsoft Teams has a free option with limited features, otherwise, it comes as part of their broader packages, such as the Microsoft 365 Business Basic for $5.00 per user per month and Microsoft 365 Business Standard at $12.50 per user per month. Since it is included, this could be a good digital communication app for those heavily invested in the Microsoft ecosystem.
If you are looking for Microsoft Teams alternatives check out this article.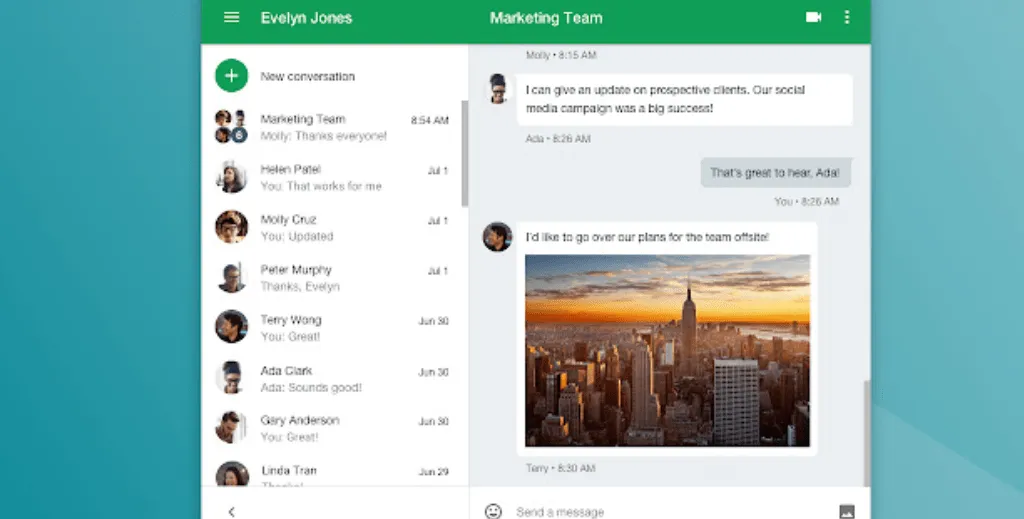 Hangouts are Google's old team communication app, which is slowly being split into two separate platforms: Google Meet and Google Chat. Google Meet offers video-communication services, while Google Chat has direct messages and team chat rooms. This means a minimum of two apps. It was originally part of Google Workspace (formerly G Suite) but is now being rolled out for consumer Gmail accounts.
Google Chat, which is more akin to the other communication apps listed, became free as an "Early Access" service for Gmail users, making it a potentially good option for them.
Flock is a communications app available for Windows, macOS, Android, iOS, and Web. It has a broader range of features than some of the other apps here, with:
To-Do Lists, Polls, and Reminders
The chat channels act like Slack, aimed to pull in conversations and information for a specific team or project. Meanwhile, the other features make it more robust than "just" another team communication app.
Flock offers a free version for between 1 and 20 members, a pro version for 20 to 100 members at $4.50 per user per month, and an enterprise version for larger businesses.
So Which Communication App Should You Use?
What is the best app for team communication? Well, that depends on what you need. For example, if you're in the Google ecosystem and don't mind switching to a new app every time you send a message, Hangouts (aka. Google Chat ) might work for you. Similarly, if your company already bases most of its work in Microsoft 365, then Teams might be a usable option.
If you're looking for the best team communication app with more robust productivity features such as Tasks, To-Do Lists, Online Notes, an integrated calendar, and modern chat-like email, then Spike is the way to go. For breakdowns of more productivity apps and software, subscribe to the Spike blog or Tweet us @SpikeNowHQ with how you talk with your team.
Updated 8/21/21