The Best Email Apps for iPhone in 2021: Comparison Table
By
Spike Team
,
October 02, 2020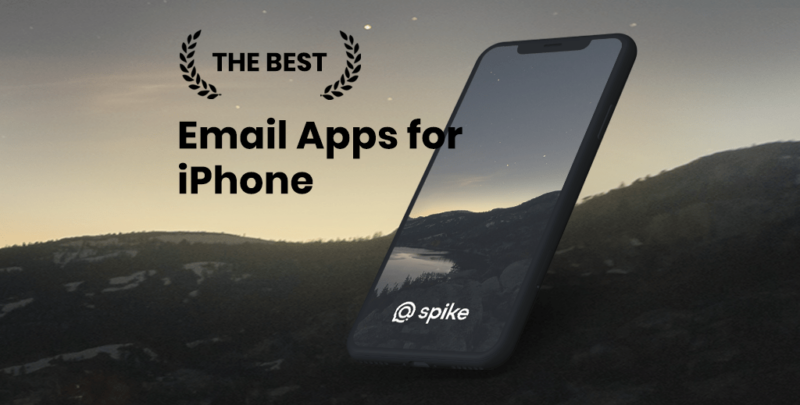 If you've worked out exactly what you need from our recent best email apps article, then you're already on your way to streamlining your communications. However, for the iPhone and iPad fans of the world, then you probably want to know what's the best email app for iPhone and iOS.
Well, don't worry, we've got your back! Especially now that iOS 14 allows a new default email app to be set, there's never been a better time to ditch Apple's email app!
Once you find your favorite app, go to the Settings app on your iPhone, swipe down to find your favorite third party email app. Tap on it, and then mark it as your default email app.
Start comparing our favorite email apps on the iPhone with our at-a-glance table and find the features you're looking for. We've got all the information you need to choose your next favorite email app on the iOS platform. Read on!
| | | | | | | | |
| --- | --- | --- | --- | --- | --- | --- | --- |
| | Apple | Outlook | Spike | Gmail | Newton | ProtonMail | Airmail |
| Free Version | ✅ | ✅ | ✅ | ✅ | ✖️ | ✅ | ✅ |
| Desktop/Mobile Sync | ✅ | ✅ | ✅ | ✅ | ✅ | ✖️ | ✅ |
| Spam Filtering | ✅ | ✅ | ✅ | ✅ | ✅ | ✅ | ✅ |
| Multiple Email Addresses | ✅ | ✅ | ✅ | ✅ | ✅ | ✅ | ✅ |
| Cloud Integration | ✅ | PAID | ✅ | ✅ | ✅ | ✖️ | ✅ |
| Send Later | ✅ | ✅ | ✅ | ✅ | ✅ | ✖️ | ✅ |
| Undo Send | ✖️ | ✅ | ✅ | ✅ | ✖️ | ✖️ | ✅ |
| Calendar/Scheduling | ✖️ | ✅ | ✅ | ✖️ | ✖️ | ✖️ | ✖️ |
| Instant Messaging/Group Chat | ✖️ | ✖️ | ✅ | ✖️ | ✖️ | ✖️ | ✖️ |
| To-Do Lists | ✖️ | PAID | ✅ | ✖️ | ✖️ | ✖️ | ✖️ |
| Collaborative Notes | ✖️ | PAID | ✅ | ✖️ | ✖️ | ✖️ | ✖️ |
| Dark Theme | ✅ | ✅ | ✅ | ✅ | ✖️ | ✖️ | ✅ |
Pre-installed email app on your iPhone, iPad, and Mac

Easy to use with intuitive interface

Full support for iCloud

Secure and reliable

Lacks advanced email functionality
The de facto email app for Mac, iPhone, and iPad, Apple Mail first hit the scene in 2004, and is a favorite of busy (lazy?) Mac users by default. Of course, it's still got plenty going for it as a standalone email app, and its integration with macOS suite of tools makes Mail a great all-rounder.
Full support for Apple's iCloud storage brings this elder statesman into the modern era and you can easily send files of up to 5 GB. Another plus point is the simple search feature that lets users navigate multiple POP, IMAP, Exchange, and iCloud accounts all together in the same place, helping you to find specific emails even if your inbox is overflowing.
Outlook
Great iOS email app for business users

Tried and tested

Microsoft 365 and OneDrive integration

All major email providers are supported

May be too expensive for some people
Having been around since 1997, MS Outlook is a tried and tested favorite—particularly among business users. The Outlook email app for iPhone is reliable and relatively easy to use, and it remains a popular choice for many people. Perhaps unsurprisingly, the iOS version is relatively new, as until recently, Microsoft didn't support their major rival's platform. Unfortunately, this also means that not all Outlook functionality is supported.
Ideal for anyone using Microsoft 365 on a regular basis, Outlook ensures near-seamless integration with the company's wider suite of tools on the iOS platform. This includes MS Excel and Word, as well as a useful calendar. Unfortunately, it doesn't integrate so will Apple's iCloud, meaning you might have some cross-compatibility issues.
Spike
21st century

email app for iPhone

and iPad

Seamless combination of email and instant messaging features
Powerful collaborative notes and tasks

Multiple email addresses

Easy access to most popular cloud services
Spike integrates a host of useful features directly into your iOS email app, providing the ultimate, unified workspace. Priority Inbox keeps all conversations with your most important contacts front and center, and an all-knowing Calendar is easily accessible on the same screen as your inbox – so you never miss an appointment and can reference it without switching screens or apps. You can easily manage attachments with Spike's Advanced Search.
In addition to this, collaborative Notes and Tasks help you and your team work together seamlessly, while practical features such as File Manager allow you to preview your files directly in line with your message. You can also easily manage multiple email addresses from your inbox, as well as connect directly to your favorite cloud provider so you have all your work at your fingertips.
Gmail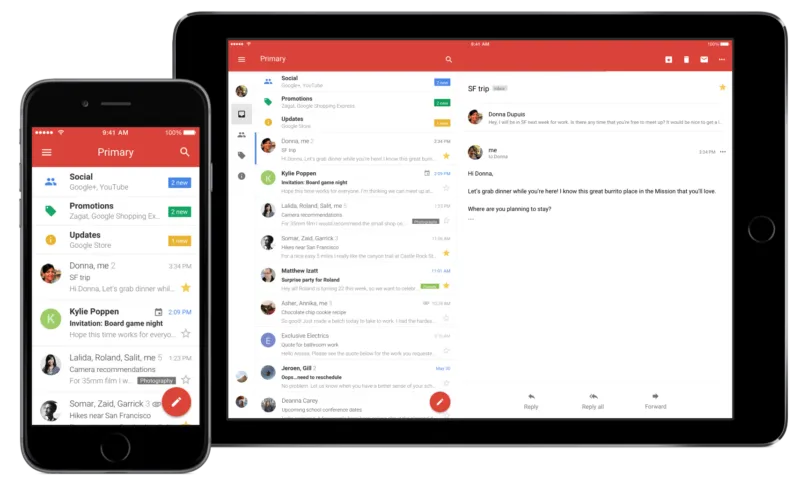 Ubiquitous

email app for

iOS

Recognizable user interface

Excellent notifications and reminders

Multiple email addresses supported

Easy access to Google Calendar and Drive
No iOS email app list would be complete with a nod to Google, and for many people Gmail is the epitome of free email. In fact, users of any of the iPhone email apps almost certainly have at least one Gmail address, so using the iOS email app is completely logical.
The app itself supports all the major email accounts, allowing you to consolidate all your email addresses in one place. However, when managing multiple inboxes with the app, it's not the most intuitive experience when compared to other Apple email apps. A useful Undo Send feature, alongside comprehensive integration with the Google calendar with excellent notifications and reminders do make up for it though.
Newton
Ideal iOS email app with intuitive email management
Snooze and send later features

Clean user interface

Interesting past with uncertain future

Expensive for some people
Newton has had a rollercoaster ride over the past few years, but this Mac-user favorite is still forging ahead. An intuitive approach to email management still appeals to many people, and despite the fact that this is a paid iOS email app, it's still gained many fans over the years.
The latest feature is called Tidy Inbox and it intuitively organizes your email for easier management. However, there have been security concerns in the past with Newton, and only HTTP is supported for message encryption. As an alternative iPhone email app, this is a great option for those who like to do things a little bit differently.
ProtonMail
Ideal iOS email app with increased security

Powerful email encryption

Simple user interface

Can be a little basic for certain users

Open source
For anyone worried about security, ProtonMail may be exactly what you're looking for. The online world still poses a threat to email users, and even though Apple's operating systems are historically extremely secure, ProtonMail gives you just that little bit extra protection.
End-to-end email encryption ensures all your data and documents are safe, and an easy-to-navigate user interface makes managing secure email a breeze. ProtonMail is also open source and completely free to use, the ideal iOS email app for anyone who doesn't want to shell out their hard earned cash but won't compromise on security.
Airmail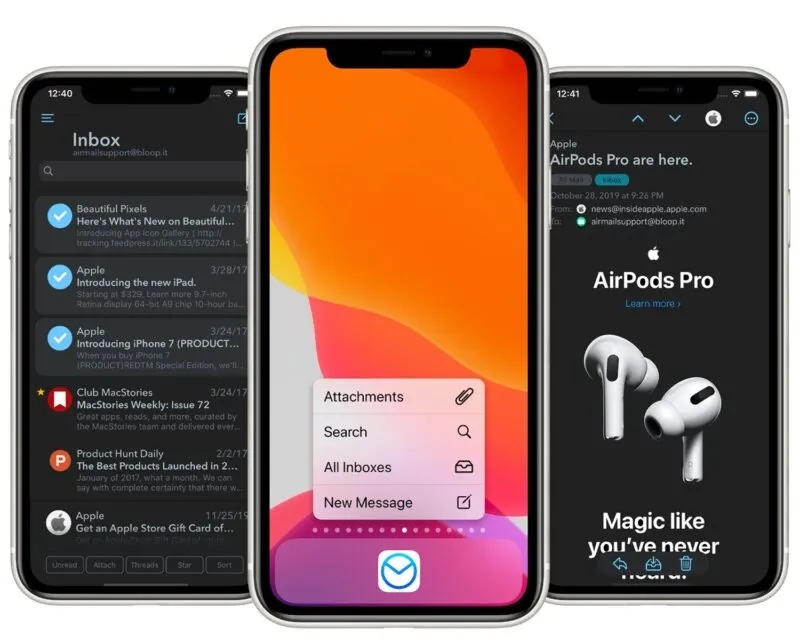 Recognizable iOS email app

3D touch passwords

Slick user interface

iCloud sync

24/7 support for premium users
Another exclusive iOS email app, Airmail takes its cue from Apple Mail, delivering a slick user interface that will make Apple users feel right at home. Featuring 3D Touch, fast document previewing and native integration with many apps, it's made for advanced email users who want to be more efficient.
Workflow customizations including snooze, push notifications, and iCloud sync give you plenty of options for workplace efficiency, while for Premium users, you can also get 24/7 support. Finally, dark mode is included to give you that sleek Apple email app look on your iPhone or iPad.
 FAQs – iOS Email Apps
Installing an iOS email app is usually simple. Just head to the Apple App Store icon on your phone or tablet and search for your choice of app.  Alternatively, follow our links to go directly to the app you want to test out. Install the app by clicking the "install" button and it will automatically appear on your home screen. For more information on the installation process, head over to the App Store.
Depending on your chosen iPhone or iPad email app, the instructions for adding new accounts will vary. In most cases, you'll simply add your email address and password when prompted. However, sometimes you may also need to enter IMAP or Exchange settings which can usually be found on the website of your specific email provider.
Most iOS email apps will allow you to add multiple email accounts, however, there are some that do not. For more information on how to add multiple email accounts to your app check out the FAQ pages of your chosen app or the website.
Synchronization between smartphones, tablets, and desktops is usually automatic once you have installed your chosen Apple email app on each device. Sometimes you may have to enter a code or manually add your chosen email addresses. More information about syncing devices is usually found on the app website. 
Starting with iOS 14, Apple allows email apps to be set as the default. Go to the Settings app, scroll down to find your favorite email app, tap on it, and then set it as the default.