How to trash an entire thread?
Deleting a thread on mobile depends on the swipe gesture you have set on Spike:
By default, swipe the to the left. Here you will have a trash option marked in red:

If Quick Swipe is turned on:
Swipe from the right side of the screen to the left side and the green Archive will turn into red Trash that will delete the entire thread.


Right-click on the relevant thread, or cl

ick the three dots that appear on its right.
Click on the trash icon to trash all: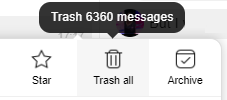 Select confirm to trash all the messages contained in the thread: