The 7 Best Online Note Taking Tools Around Today
By
Spike Team
,
August 12, 2020
When it comes to taking notes, today's online note takers have plenty of options to choose from. Whether it's an all bells and whistles productivity suite or the simplest of memo apps, there's a wealth of different ways to get your thoughts down and develop your big ideas when online. However, not all online notes apps were created equal, and choosing the right app for your needs can be a challenge.
However, we're here to help you out! Whether you need a quick and simple notepad and editor for personal use, or you're collaborating on a big project and you need the ultimate note taking app, you'll find what you're looking for right here. Read on to discover the best online note taking tools around today and start turning those ideas into reality!
| | | | | | | | |
| --- | --- | --- | --- | --- | --- | --- | --- |
| Note Taking App | Spike Notes | Primapad | ClickUp Notepad | Speech Notes | SimpleNote | Google Keep | Evernote |
| Text | ✅ | ✅ | ✅ | ✅ | ✅ | ✅ | ✅ |
| Images | ✅ | ❌ | ✅ | ✅ | ❌ | ❌ | ✅ |
| Videos | ✅ | ❌ | ✅ | ✅ | ❌ | ❌ | Premium |
| Tables | ✅ | ❌ | ✅ | ✅ | ❌ | ❌ | ✅ |
| Emojis | ✅ | ❌ | ✅ | ✅ | ❌ | ➖ | ✅ |
| GIFs | ✅ | ❌ | ✅ | ✅ | ❌ | ❌ | ✅ |
| Live Collaboration | ✅ | ❌ | Premium | ✅ | ❌ | ✅ | Premium |
| Inline Comments | ✅ | ❌ | Premium | ✅ | ❌ | ❌ | Premium |
| Markup | ✅ | ❌ | Premium | ✅ | ❌ | ❌ | Premium |
| Speech2Text | ❌ | ❌ | ❌ | ✅ | ❌ | ❌ | ❌ |
| Native App | ✅ | ❌ | ❌ | ❌ | ❌ | ✅ | ✅ |
| Web Browser | ✅ | ✅ | ✅ | ✅ | ✅ | ✅ | ✅ |
Spike Notes — The Ultimate
Online Note Taking App
Hmmm…where should we start? Well, with Spike Notes of course. Notes is the best online note taking tool around—and here's why. Spike Notes delivers advanced note taking features that are collaborative by nature. You can quickly and safely share text, images, files, videos, and any other ideas together in a single Note, both with Spike users in the app and non-spike users with a link.
And the best part? It's all directly integrated with your Inbox, so you can focus on getting your work done without constantly switching apps! All your thoughts, ideas, , and plans are on the same screen, and you can discuss everything with team members without ever opening another app or switching to a web browser. Finally, it's also available on all your favorite devices, so you can take Spike Notes wherever you go.
Create and edit collaborative Notes directly within your Inbox

Use text, images, videos, tables, emojis,

Comment and discuss your Notes and its individual elements with inline chat

Available on all your devices (iOS, Android, MacOS, Windows, Web Browser)
VERDICT — The best collaborative note taking app around!
Primapad — Simple,
Free Notepad App
Image: Primapad
One of the simplest and easiest to use online memo pads on our list, Primapad does the basics very well. Simply name your notepad, make your notes, and then use the provided URL to access the note from any web browser—anywhere, any time. Everything is saved automatically in the cloud and its pure simplicity means it's a great free online note taking option.
However, while it's good for text notes, it misses advanced functionality such as the option to add images, tables, and other rich media; plus, organizing and sharing notes is only done through the URL, meaning there's no centralized hub for reference.
Simple to use in your web browser

Good for text-only notes

Easy access to your notes through a URL

Easily shareable although limited functionality
VERDICT — Good for text-only notes through a web browser
ClickUp Notepad — Advanced
Online Note Taking Tool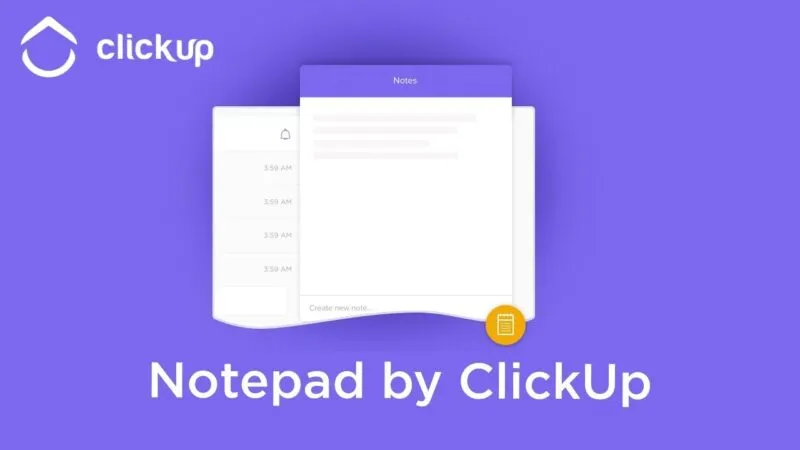 Image: ClickUp Notepad
For a more advanced approach to online note taking, ClickUp Notepad does the job admirably. Featuring a wealth of features including to-do lists, spreadsheets, events and reminders, goal tracking, time tracking, and project management tools, it puts some seriously powerful online noting taking tools at your fingertips.
However, while the standard version is free, its only with the paid version that you get guest and permission functionality and unlimited integrations. Additionally, while it integrates with apps such as Slack and Zoom, there's no instant chat or comments option built in.
Advanced note taking with tables, images, and to-do lists

No native app support on smartphones or tablets (only web browser)

Free version is limited

No integrated chat or messaging features
VERDICT — Great for complex notes but only works through a web browser
Speechnotes — Speech2Text
Online Note Taking
Image: Speechnotes
If you're looking for a free online notes app to give your fingers a rest, then Speechnotes is worth a try. A free notepad app with speech2text functionality, the simple and intuitive layout makes for easy recording of your thoughts and ideas, and the included text idea gives you the opportunity to clean them up and expand.
You can print, save, and send your notes, as well as listen back to them for proofreading or other tasks. You can even insert simple emoticons! However, there's no support for advanced note taking and the send function only works if you have a pre-existing email client set up on your computer.
Ideal for taking down audio notes through your microphone

Clunky user interface

Limited sharing features

No advanced note taking elements
VERDICT — Ideal for speech2text but otherwise pretty basic
SimpleNote —
Free Notes App
for All Devices
Image: SimpleNote
SimpleNote does exactly what it says on the tin, giving you an intuitive text note taking app on ALL devices—even Linux machines! Notes are connected through the cloud to ensure they are updated on all devices, and you can stay organized by adding searchable tags. Sharing is also simple, and you can work on to-do lists, post comments or publish notes online.
However, once again, this functionality is limited to text only notes, and there's no support for advanced elements such as images, tables, or other useful formatting tools. Finally, there's no way to chat about your notes in the app itself, meaning you'll still need some kind of communications app on top.
Text only notes

Cloud storage for notes

Commenting and editing functions

Works on all devices
VERDICT — Ideal if you're a Linux user
Google Keep — Popular
Note Taking App
Image: Google Keep
Google's suite of productivity apps are no stranger to these kinds of list, and Google Keep is also pretty popular and recognizable to anyone who uses the company's other tools. However, its highly visual approach to note taking means it's a great online notes app, and dedicated apps for iPhone and Android also means its travels well.
However, while Google has been busy making separate apps of all kinds, they're just that—separate apps! If you want to send a note, you'll need to open Google Mail. If you want to work on a table, you'll need to use Sheets. And all this app switching slowly eats into your focus and flow—limiting your productivity when all you really wanted to do was take a quick note! Additionally, text markup and editing can be awkward with Keep, meaning that, while it's great for simple notes and to-do lists, advanced note taking is more hassle than it's worth.
Familiar to Google users

Limited functionality for advanced elements

Awkward management of many apps ruins flow

Markup and commenting are clunky
VERDICT — Limited note taking abilities and requires constant app switching
Evernote — Expensive "
Free" Note Taking App
Evernote has been one of the most popular note taking apps of the last decade, regularly being cited as the archetypal way to write notes online. On a fundamental level, you can easily add graphically pleasing notes, add lists, images, and files, and the user interface has become a standard for other advanced note taking apps.
However, while the free version gives you some advanced note taking features, such as images, PDFs, and files, it's not until you pay for the premium version that you get the really useful stuff. Additionally, there are no collaborative features with the free version, nor the Premium package, and you'll have to sign up for the fully loaded Business package to share your notes within the app itself—which can become pretty expensive.
Free version is very limited, only really useful for personal use

Paid versions are expensive

Supports advanced note taking elements

Very popular

Stagnant development
VERDICT — Free version is limited and very quickly becomes expensive
By and large, when it comes to taking simple, personal notes, any of the apps listed above will do the job. However, when it comes to truly collaborative note taking that includes multiple text and visual elements, alongside a seamless workflow integrated directly within your Inbox, then Spike has got everything you need, and more!
Test out the Spike Notes today and download the app here. Alternatively for the latest productivity and collaboration news, tips, and tricks, stay tuned to the Spike blog or drop us a message @SpikeNowHQ.