A Round-Up Of The Best Email Apps for Windows 10
By
Spike Team
,
January 17, 2021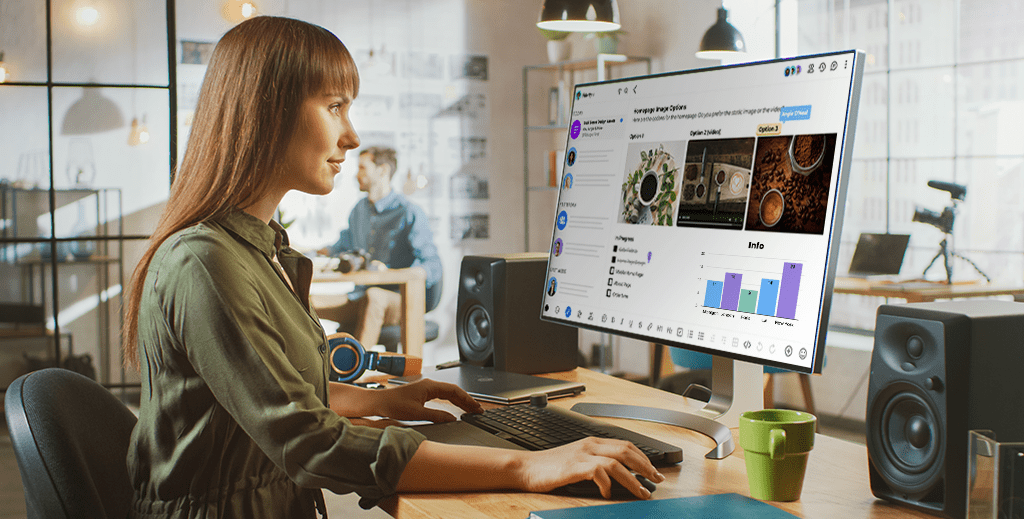 If you're looking for a Windows 10 email client, there is no shortage of excellent options for people wanting to manage how they handle the onslaught of messages they receive. From conversational email apps to apps to merge your calendar alongside your email. Before considering what email client to use with Windows 10, it's essential to consider what criteria you define necessary to match your needs to the best app for your use case.
When selecting an email client, it's imperative to use solutions that rely on open email protocols so you'll be able to switch to another application in the future easily.
Key Terms to Know About E-mail
Before we talk about apps and email clients for Windows 10, let's talk about some key terms to know about email. You'll likely never need to know this unless you're troubleshooting something that's broken, but it's always good to expand your knowledge about how things work.
What is IMAP?
IMAP technology allows you to access your email from any device while keeping your other devices in sync. When you read an email message using IMAP, you aren't downloading or storing it on your computer; instead, you're reading it from the email server. As a result, you can check your email from different devices using different apps from anywhere in the world: your phone, a laptop, a public library computer, etc. Reading messages on one device will mark them as read on all other devices.
What is POP3?
POP3 is one of the oldest email protocols still being used. A POP3 server receives emails and filters them into the appropriate folders. When a user connects to the mail server using their Windows 10 email client to retrieve his mail, the messages are downloaded from the mail server to the user's hard drive.
What is SMTP?
SMTP is part of the application layer of the TCP/IP protocol. Using a process called "store and forward," SMTP moves your email on and across networks from one mail server to another. SMTP session consists of commands originated by an SMTP client and corresponding responses from the SMTP receiving server so that the session is opened; the messages can be transferred.
What is an Email Client?
An email client is a local application that allows you to view the email on your email server and send new email messages. An alternative to an email client is a web interface that will enable you to view your email messages.
Finding the right email client is like finding your favorite size on a great pair of pants. Sometimes you just need to try a few on to see which one works with your workflows the best. Below, we've rounded up the best Windows 10 email clients to give you a place to start.
Thunderbird
Mozilla Thunderbird is one of the oldest email apps on the market that is still in active development. In late 2004, version 1.0 of Thunderbird was released and received more than 500,000 downloads in its first three days of release, and 1,000,000 in ten days. It was a popular alternative to Outlook and Outlook Express for Windows XP users. It remained popular, but its growth languished behind Firefox. As Google's Gmail gained in popularity, the need for a desktop-based email client decreased in popularity.
In recent years, the popularity of desktop-based email systems increased as users looked for more robust solutions in a multiple device world. Native applications surged in popularity on mobile devices, so users began to look for native solutions on the desktop to sync up their experiences. Thunderbird resumed full-time development in 2017.
With a new modern interface, Thunderbird is now a popular Windows 10 email client. Thunderbird claims it's more straightforward and safer for users with features like a robust spam filter and quick search abilities. With a built-in calendar, Thunderbird lets you organize your schedule and important events in a calendar that's fully integrated with your email. You can view multiple calendars, create a daily to-do list, invite people to events, and subscribe to public calendars like a holiday calendar.
Thunderbird is an open-source project, which means anyone can contribute ideas, designs, code, and time helping fellow users. Since it's open-source, Thunderbird is free to download. It also includes add-on functionality to extend the built-in feature set.
Pros:
Cons:
Lacks functionality like Snooze and Schedule Send
Open-source means no support guarantee
Outlook for Microsoft 365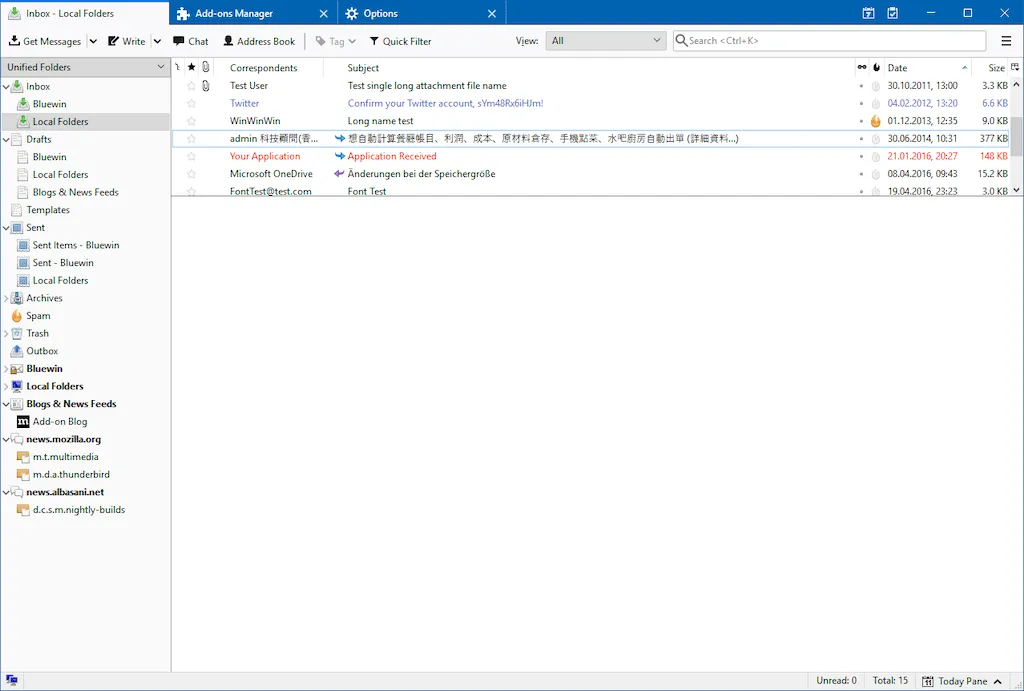 Included with a Microsoft 365 subscription, Outlook is one of the oldest applications available on any platform. Even though it shares the same name as the older version, the current Outlook is a lot different than the one businesses used in the early 2000s.
Outlook is included for free with a Microsoft 365 subscription, and it works with Microsoft Outlook/Hotmail email, Gmail, Yahoo, iCloud, and more. It consists of several features aimed at business users with a detailed calendar, detailed task manager, and a contacts manager.
One of the most popular Outlook features for Windows 10 is the 'plan your day' feature with calendars. You can see multiple calendars at the same time side-by-side or combined into a stacked overlay view to help you see availability across all of your calendars.
Pros:
Integrated with Microsoft 365
Robust calendar
Cons:
Requires a subscription to use the app
'Heavy' interface might turn off novice users
Spike
With so many different use cases for Windows 10 email clients, Spike strikes a healthy balance of allowing business users and home users to manage their email in a modern way. Spike's Conversational Email brings together the best of email and a messenger app in a simple, fast, and secure email chat. Some of the critical features that Spike unlocks are Snooze and Schedule Send. Snooze allows you to hide emails until you're more able to focus on them, and Schedule Send will enable you to pre schedule emails for a different time to be delivered automatically regardless if the Spike app is open or not.
Spike supports your emails from Gmail, G Suite, Outlook, Yahoo, Hotmail, iCloud, Microsoft 365, Outlook, IONOS mail, GoDaddy email, Exchange, AOL, and standard IMAP mail accounts.
Spike's digital workspace includes built-in document management, collaborative notes, shared tasks, and workplace chat. Priority Inbox is a crucial feature for users who get hundreds of emails per day as it automatically prioritizes more important emails over less important ones.
Pros:
Combines all tools into a single feed
Robust feature set that works across desktop and mobile
No ads
AES265 encryption
Cons:
Business accounts require a subscription
Mailbird
Mailbird is a lightweight email client for Windows 10 with an open design. You can choose themes, including a full dark theme option, and use horizontal and vertical orientations for tabs and emails. It includes speed reading options, integrations with other popular services like LinkedIn for information about contacts. Mailbird also includes a Snooze feature and undo send option.
Pros:
Lightweight application
Third-party integrations
Cons:
No mobile version
No free option to home users
Mail and Calendar for Windows 10
The Mail and Calendar app for Windows 10 will satisfy the needs of a lot of people simply because it's free and built right into Windows 10. It supports Microsoft 365, Exchange, Outlook.com, Gmail, Yahoo!, and other popular email accounts.
Overall, it's a basic email program, though. If your only needs are sending and receiving email, but otherwise, it won't satisfy any of your needs. You can't set up message filters, for example, email groups or templates. It also lacks such features as Snooze and Schedule Send. The only people who use it don't know how to install other applications or cannot due to company policy.
Pros:
Built into Windows 10
Free for unlimited accounts
`
Cons:
Lacks advanced functionality
Limited keyboard shortcuts
Comparison Table
| | | | | | |
| --- | --- | --- | --- | --- | --- |
| Feature | Spike | Thunderbird | Outlook | Mailbird | Mail for Windows 10 |
| Free Version for Personal Use | ✅ | ✅ | ✅ | | ✅ |
| Schedule Send Feature | ✅ | | ✅ | ✅ | |
| Snooze | ✅ | | | ✅ | |
| Native Mobile Counterpart | ✅ | | ✅ | | |
| Priority/Focused Inbox | ✅ | | ✅ | | |
| Available in Microsoft Store | ✅ | | ✅ | | ✅ |
| Built-In Notes and Tasks | ✅ | | ✅ | | |
| Built-In Collaboration Tools | ✅ | | | | |
| Unified Inbox | ✅ | ✅ | ✅ | ✅ | ✅ |
| Keyboard Shortcuts | ✅ | ✅ | ✅ | ✅ | ✅ |
| Integrated Calendar | ✅ | ✅ | ✅ | ✅ | ✅ |
How to Install a New Windows 10 Email Client
Most email apps come in either a .exe or .msi file format. As long as you have sufficient privileges on your Windows 10 computer, all you need to do is download the file from the app developer's website and double click the file that is installed.
The Microsoft Windows App Store is another popular place to find a new email application with a more straightforward installation process. You'll just need to search for the email app you want (Try 'Spike') on the Microsoft Store and view the available options with a 1-click install button.