Unlock Your Business's Comms Stack: Discover the Top 10 Email Hosting Services

By
Oren Todoros
,
Updated on August 20, 2023, 9 min read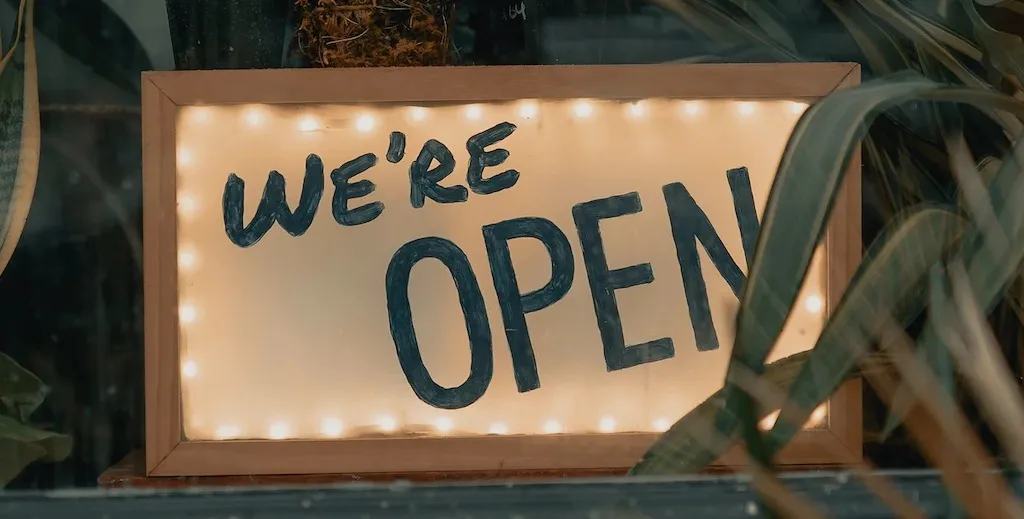 Email has become an indispensable tool for modern businesses, transforming the way we communicate, collaborate, and conduct daily operations. But have you ever wondered how we arrived at this point in business email hosting? In this blog, we'll take you on a journey through the history of email hosting services and the options available to businesses today.
What Is an Email Hosting Service?
At its core, an email hosting service is a specialized platform that provides business-grade email capabilities. It's not just about sending and receiving messages, though. It's about providing a robust, reliable, and secure environment for critical business communications. Whether you're a small business owner reaching out to customers or a large corporation coordinating with vendors across the globe, an email hosting service is a critical tool in your digital arsenal. It's designed to handle the heavy lifting of business communications, from managing large volumes of emails to ensuring that every message is delivered securely and efficiently.
But the benefits of an email hosting service go beyond just sending and receiving emails. Many services offer additional features such as calendar management, contact organization, and task scheduling.
What Are the Options for Email Hosting Services?
From the early days of business email services like Microsoft Exchange and Google Workspace (formerly G Suite) to the rise of free webmail providers like Gmail and iCloud, the landscape of business email hosting has evolved significantly. However, when it comes to choosing the right email hosting service for your business, using a free consumer grade Gmail or Yahoo email account might not be the best choice. Before we dive into the best email hosting services, let's take a quick trip down memory lane to see how we got to where we are today.
In the early days, enterprise-level email solutions like onsite Microsoft Exchange servers dominated the market. These systems provided organizations with robust features, including calendar management, and integration with other Microsoft products. They were hosted on-premises, giving businesses complete control over their email infrastructure. It came with a cost, though. Organizations would need to spend tens of thousands on servers as well as hire trained IT professionals to manage them. Spam filtering on onsite solutions was also a major challenge.
Then came the era of cloud-based email business email hosting, driven by Google with its introduction of Google Apps for your Domain which would eventually become Google Workspace. This shift allowed businesses to offload the management and maintenance of email servers, enjoying the benefits of scalability, reliability, and accessibility from anywhere with an internet connection. Microsoft heavily moved customers from onsite servers to its hosted Microsoft 365 email platform over the years as well.
For businesses that are just starting up, it might be simple to go with a free Gmail or Yahoo account for your business email. The reality is, a free Gmail or Yahoo email account for your business might give the impression of amateurism and lack of professionalism. A custom email address with your own custom email domain, on the other hand, lends credibility and builds trust with your clients and partners. It showcases your commitment to your brand and sets you apart from the sea of generic email addresses. Who do you want to do business worth? Mike@DoneRightTreeService.com or mikesdonerighttrees@yahoo.com? One says we'll do the job right, while the other says good luck trying to find us again.
While Google and Microsoft might seem like the only option for business email, there is actually a variety of great email hosting services that are perfect for your business. Let's take a look.
The Top Email Hosting Services for Businesses
Spike for Teams
Spike for Teams a fully hosted business chat service that is natively designed for the streamlined experience that the Spike app brings. With it, you can chat internally like you work with Slack or Microsoft Teams, and also have the option to send traditional-looking emails to folks outside your company if you want to use it for email as well.
Top Features:
Conversational email interface
Company-wide team chat channels
Group chats are perfect for project management
Collaboration tools
Super search makes finding emails, messages. and files a breeze
Priority Inbox keeps your focus on the important things
Pricing:
Free plan available
Premium plans start at $6 per user per month
Includes free domain name
Empower your team with chat, emails, meetings, and collaborative documents in one space.
Google Workspace is a complete suite of productivity tools and email hosting services offered by Google designed for small and large enterprises alike. Alongside its email hosting services, it includes popular applications like Google Drive, Google Docs, Google Sheets, and more. Google Workspace enables seamless collaboration and communication within teams, making it a popular choice for teams who like the Google interface.
Top Features:
Gmail interface with custom domain email addresses
Google Drive is a robust cloud storage service
Pricing:
Business Starter: $6 per user per month
Business Standard: $12 per user per month
Business Plus: $18 per user per month
Microsoft 365
Microsoft 365, previously known as Office 365, is Microsoft's suite of productivity tools that includes email hosting service, access to the Microsoft Office Desktop applications, and collaboration services. It offers a familiar interface with powerful features, making it a popular choice for businesses heavily reliant on Microsoft products.
Top Features:
Outlook experience with custom domain email addresses
OneDrive for cloud storage
Desktop versions of Microsoft Office applications (Word, Excel, PowerPoint, etc.)
Access to Microsoft Teams for team chat
Pricing:
Business Basic plan: $6 per user per month (web apps only)
Business Standard plan: $12.50 per user per month
Business Premium plan: $22 per user per month
Front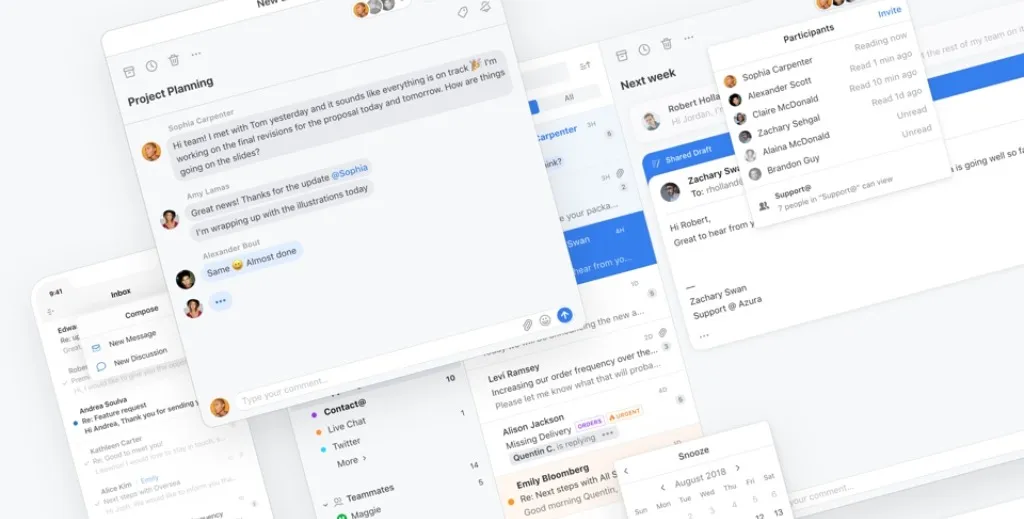 Front is a collaborative email platform designed for teams that handle high volumes of emails and prioritize efficient email management for customer service teams. Front isn't designed to replace a regular employee inbox but rather designed for customer service teams. It centralizes all your communication channels, such as email, social media, and chat, into a single collaborative inbox.
Top Features:
Shared team inbox for seamless collaboration
Message delegation support
Deep integration with popular CRM tools like Salesforce
Pricing:
Growth plan: $59 per user per month
Scale plan: $99 per user per month
Premier plan: $229 per user per month
FastMail
FastMail is a reliable and privacy-focused email hosting service that prioritizes simplicity and efficiency. With its clean interface and robust features, FastMail offers a simple email experience for personal users and businesses.
Top Features:
Calendars and contacts sync option
Traditional IMAP experience
Robust webmail
Pricing:
Basic plan: $3 per user per month
Standard plan: $5 per user per month
Professional plan: $9 per user per month
ProtonMail
ProtonMail is a secure and encrypted email service that strongly emphasizes privacy and data protection, with its headquarters in Switzerland. It's one of the few business email hosting services with end-to-end encryption.
Top Features:
End-to-end encryption for email communication
OfferssSelf-destructing messages
Pricing:
Essentials plan is $6.99 per user per month
Business plan is $10.99 per user per month
Enterprise plans offered with a customer quote
Hey
Hey is an email service that aims to transform how you approach your inbox, focusing on separating important emails from newsletters and receipts. Its most unique feature is a screener that prevents unwanted contacts from entering your Imbox.
Top Features:
Screen and manage senders more effectively
Blocks read receipts
Custom thread naming
Pricing:
Business plans are $12 per user per month after the first account which is $10/month.
GoDaddy
GoDaddy, known for its domain registration and web hosting services, also offers email hosting solutions for businesses built on top of Microsoft 365.
Top Features:
Easy integration with DNS records
More personalized support than Microsoft
Pricing:
Email Essentials plan: $1.99 per user per month
Email Plus plan is $3.99 per user per month
Business Premium plan: $9.99 per user per month
Zoho
Zoho Mail is an email hosting service that provides a strong suite of productivity tools for business. Alongside its email capabilities, Zoho offers document management, project management, and CRM features, making it a powerful option for an email hosting service.
Top Features:
Deep CRM integration
Collaboration tools and file sharing
Integration with other Zoho applications
Pricing:
Mail Lite is $1 per user per month
Mail Premium is $4 per user per month
SiteGround
SiteGround, primarily known as a web hosting provider, also offers email hosting solutions as part of its service packages. With reliable infrastructure and robust security features, SiteGround provides a free email hosting option for businesses if you host your business website there
Top Features:
Custom domain email addresses
Compatibility with popular email clients
Traditional hosting for IMAP clients
Plenty of free space to use your web hosting storage
Pricing:
Pricing varies based on web hosting plans
Frequently Asked Questions
While free email services like Gmail and Yahoo Mail are fine for personal use, using a dedicated email hosting service for your business offers several advantages. It provides a professional image with a custom domain email address, enhances data privacy and security, and often includes additional features and collaboration tools specifically designed for business communication.
The ideal email hosting service for your business should offer features such as custom domain email addresses, ample storage space, robust security measures (like encryption and spam filtering), reliable uptime, seamless integration with other productivity tools, and excellent customer support.
The cost of email hosting services varies depending on the provider and the specific features and plans you choose. Prices can range from affordable options like $3 to $5 per user per month for basic plans, while more comprehensive plans with advanced features can range from $10 to $30 per user per month. It's important to consider your business's needs and budget when selecting an email hosting service.
Yes, business email hosting services generally offer compatibility for various devices, including desktop computers, laptops, smartphones, and tablets. This ensures that you can access your business emails conveniently from any device or email client of your choice. They also stay in sync, so if you read an email on one device, it's marked as read on the others.
You may also like