The Best Mobile Apps for Graphic Designers and Illustrators

By
Oren Todoros
,
Updated on September 21, 2023, 9 min read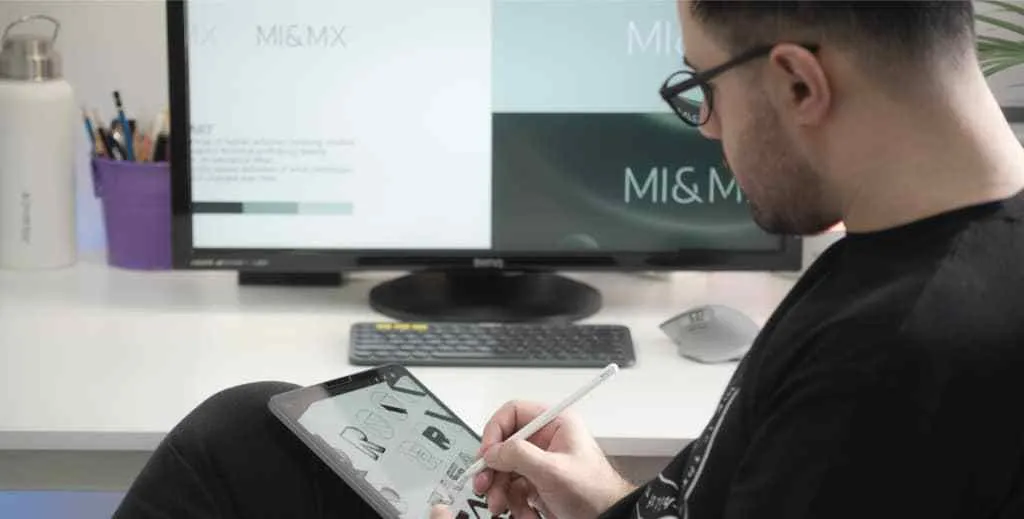 There's one thing that all of you graphic designers and digital illustrators out there need more of—screen real-estate. You know the drill. The bigger your monitor, the easier it is to zoom in on those individual pixels, to multitask logo creation and palette management on the same screen, to airbrush yet another model for the latest edition of Unrealistic Body Image weekly.
But that's not to say good work can't be done on a smaller screen, and today, the sheer power of smartphones and tablets means graphic design apps offer more functionality than even the most advanced PC-based software of the 90s. Now, if you really need to, you can complete entire projects from the comfort of your sofa with only your phone or tablet.
However, the benefits of good graphic design apps for mobile don't stop there. Mobile apps give both amateuer and professional designers access to a huge range of new tools and that are otherwise impossible with larger computers. That handy camera in your smartphone is ideal for capturing inspiration from world outside your LCD monitor and that pocket-sized screen is also great for jotting down rough ideas as they come to you, plus with countless free graphic design apps available, you don't have to be on the payroll for the New York Times to get started in the graphic design industry.
Finally, where the best graphic design apps for mobile really shine is with their ability to inspire and help you pull together ideas while you're on the move. You can draw, paint, capture, edit, and perform almost any design task on buses, trains, and planes—or anywhere else you can think of. Smartphones are liberating the minds of creatives across the globe, so to get your mobile design studio off the ground, here, we take a look at the best mobile apps for graphic designers and illustrators currently available.
Adobe Photoshop Express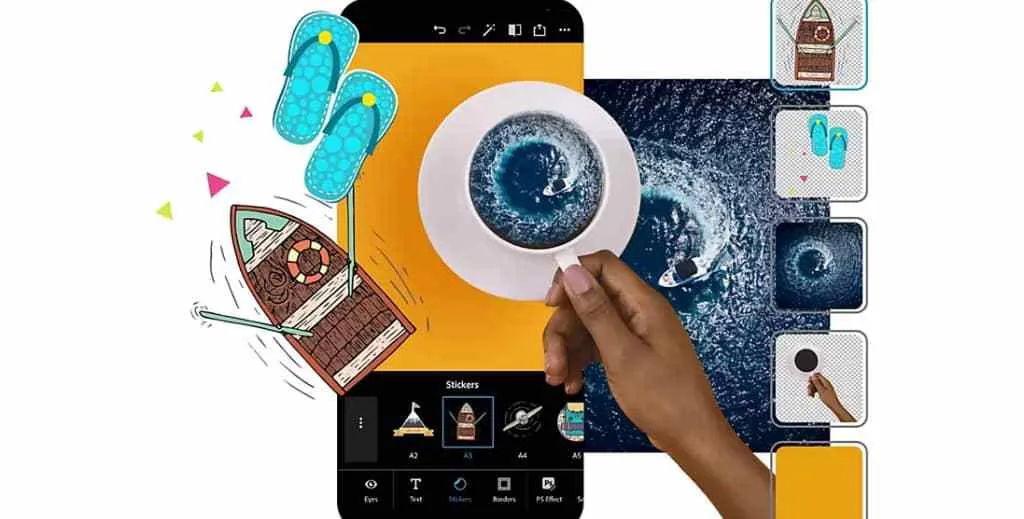 Where would we be without Adobe? Well, whether you love or hate the company's monopolistic status, there's little point in denying the impact programs like Photoshop and Illustrator have had on the design world. If you're a lover, then you'll be happy to hear that the company offers cut down versions of its most popular software for your smartphone. Adobe Photoshop Express is among the best graphics design apps for quickly and effectively editing photos and images while on the move. The best bit? It's completely free and available on iOS, Android, and Windows phones.
•

Price - Free, although with limited features

•

Pros - Super fast photo editing on the go

•

Cons - Missing some of the more professional features the pros may require

•

Highlights - Available on all mobile platforms
Pantone is another heavyweight of the design world, and Pantone Studio is a top graphic design app for artists who see inspiration everywhere they go. This handy little app allows you to use your camera to capture colors from your environment, build your own color palettes, and then transfer them to your favorite editing or illustration software. Pantone Studio not only helps ensure your design palettes are accurate, but also reproducible, and you can share your creations with colleagues, clients, and friends. The only drawback? Pantone Studio is only for iOS users.
•

Price - $7.99 p/month (7-day free trial) or US$59.99 p/year (30-day free trial)

•

Pros - Standardized libraries of colors from Pantone for use on external projects

•

Cons - Only available on iOS platforms

•

Highlights - Access to a world of internationally recognized color palates
•

Price - $10 p/ month or $8.33 p/ month billed annually (30-day free trial)

•

Pros - Excellent collaboration features

•

Cons - File formats now transferable between Mac and Windows

•

Highlights - Available on all mobile platforms
For graphic designers exploring the 3D realm, there's no better entry to true 3D modelling than SketchUp Go. A simple and intuitive user interface ensures you can get started right away and learning to use more advanced features is simple using the tips & tutorials found within the SketchUp help center. Editing and creating is best achieved on iPad, however, clients or customers can view your 3D creations on the separate iOS or Android viewers.
•

Price - $119 p/year (30-day free trial)

•

Pros - Access 4M+ pre-built 3D models and augmented reality viewer

•

Cons - No monthly payment options

•

Highlights - Model on Chromebook and iPad and view of any iOS or Android device
Canva is a simple to use design app that allows for quick creations within almost any type of format. Including thousands of templates covering online graphic design (blog headers, videos, web design) through standard documents, presentations, and whiteboards, to a full range of print products that are ready for the real world. Additionally, features such as photo effects, image enhancer, and text to image AI generator means you'll never be short of inspiration.
•

Price - Free with limited features or $119.40 p/year (30-day free trial) for pro

•

Pros - Lots of cool features for inspired design

•

Cons - May be a little basic for professional graphic designers

•

Highlights - Available on all mobile platforms
An excellent option for illustrators who want to strip back to a more minimal app that focusses on pure sketches, Tayasui Sketches draws your attention away from the device to make a more realistic sketching experience. Featuring customizable brushes, adjustable settings for brush size, opacity, and spacing, and the ability to create and edit layers, illustrators will find everything they need and nothing they don't. Additionally, support for pressure sensitive stylus and Apple Pencil can help with precision and accuracy in your illustrations. Finally, a wide range of color options, export options including the ability to export to popular file formats such as PNG, JPG, and PDF, plus an easy-to-use interface make this a popular app for many sketching purists.
•

Price - Free with in-app purchases

•

Pros - Wide range of professional tools and brush styles

•

Cons - In app costs may put some users off

•

Highlights - Excellent stylus support for seamless sketching
Simple to use and providing optimized screen real-estate so you can focus on your illustrations and not your tools, Sketchbook is intuitive enough to get started right away without relying on tutorials. Powerful tools such as perspective guides, a curved ruler, and symmetry tools help you to draw to scale and retain an overview of your project, while support for Apple Pencil means you'll have full hands on control.
•

Price -Free with in-app purchases

•

Pros - Supports Apple Pencil and Scan Sketch for the new iPad

•

Cons - Lacking a decent crop tool

•

Highlights - Available on iOS and Android
DALL-E
Although not offering an app itself, DALL-E's OpenAI platform is now being incorporated in a number of apps that graphic designers and artists can use. Obviously, in the eyes of the art world, DALL-E remains contentious, polarizing those who believe real art cannot be replicated by a machine and those who see a new and exciting outlet for creativity. However, more people are beginning to find ways to balance the two sides of the argument, and there's no denying DALL-E's text to image tool can be wildly creative in the right hands!
•

•

Pros - Create truly unique works with the help of AI

•

Cons - Images are sometimes unusable

•

Highlights - Already available through some mobile apps
Billed as the world's largest network for showcasing creative work, Behance is your chance to shine and sell—whether you an illustrator, graphic designer, photographer, or any other type of visual artist. What's more, you can browse livestreams to learn the techniques used by leading artists and designers, send, and receive private messages and job opportunities, and get feedback from the Behance community at any stage of your design.
•

•

Pros - Connect with thousands of other artists and showcase and sell your work

•

Cons - Sometimes site navigation can be laborious

•

Highlights - Available on all mobile platforms
Another iPhone only app, Marksta is still supremely useful for those on iOS. At its core, Marksta provides quick and simple watermarking for your photos and designs, allowing you to add copyright notices before sharing them with colleagues, clients, and friends. You can even include personal and professional information in your watermarks—such as your website address or Instagram handle. It's the ideal graphics design app for anyone who posts work while on the move but needs to retain control over authorship.
•

Price - $1,99 for lifetime license

•

Pros - Extremely useful watermarking system

•

Cons - Only available on iOS and later Mac OS systems

•

Highlights - Design you own watermarks and retain the rights of your images
Font identification is a difficult business, and with an estimated 300,000 plus examples of typographic trickery, it pays to have a little help. Luckily for you, WhatTheFont has got your back. This clever little app uses deep learning to search through its collection to help you identify fonts you come across while on the road. Just open the app and point your camera—it even works when there's more than one font in your viewfinder. It's an indispensable graphic design app, and it's free on iOS and Androidץ What's more MyFont curates millions of unique and familiar fonts for you to use in your work.
•

Price - Free – prices for packages of new font designs vary

•

Pros - Easily identify fonts from any source

•

Cons - Can become expensive when adding font packages

•

Highlights - Uses deep learning algorithms to match your font
Logo Maker from Logo Foundry is an excellent option for graphic designers, offering a wide variety of customizable templates that make it easy to create professional-looking logos on the fly. The app provides a user-friendly interface, which allows designers to make changes and adjustments to the templates with ease, while a range of design tools, such as vector editing and color selection, give designers more control over the final product.
•

Price - Free with in app purchases

•

Pros - Create professional looking logos in seconds

•

Cons - Can be expensive with some icons and styles offered as in app purchases

•

Highlights - Available on all mobile platforms
Paper, from WeTransfer, is billed as an "immersive sketching app for capturing ideas anywhere", however, in reality it's much more than just a place for jotting down doodles. You can sketch, type, paint, draw and assemble collages easily without the need for complex layering software. It's among the best graphic design apps for creating mood boards and storyboards, with intelligent algorithms that snap rough sketches into finished shapes. It also offers powerful notation tools for a comprehensive approach to mind mapping and idea generation.
•

Price - Free download with in-app purchases

•

Pros - Excellent mood board functionality

•

Cons - Doesn't including layering options

•

Highlights - With the help of WeTransfer, users can share extremely large files
Of course, all these useful graphics design apps aren't much use to you if you can't communicate all of your great ideas and share your amazing work. Spike lets you do just that. And more. First of all, you get Conversational Email that allows you to chat and collaborate with colleagues, clients, and customers just like you would with instant messenger. Brainstorm new ideas on the road, share working files instantly, bring together project materials and finalize concepts all from a single app. Conversational email was made for collaborative design, and it's going to change to the way you work with everyone. 
Spike also includes powerful file management features that let you preview images and designs that you receive directly within your inbox—without having to download anything. This gives you at-a-glance viewing of images, designs, and edits, helping to improve your workflow and allowing you more time to concentrate on what really matters—good design.
•

Price - Free for one email address, $5 p/ month for up to 3 email addresses

•

Pros - No.1 professional communication app with enhanced collaboration

•

Cons - Mobile app doesn't have scheduled send

•

Highlights - Smart Inbox, Video Calls, Cloud Storage, Group Chats
Whether you're a professional graphic designer with a heavy workload to manage, or an amateur who needs simple tools to create compelling images, mobile graphic design apps bring powerful features to your smartphone or tablet. For more productivity tips & tricks, for both smartphones and desktop, don't forget to follow the Spike blog and get Spike for free here.
You may also like