Spike – The Google Docs Alternative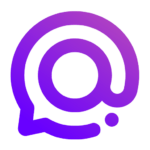 By
Spike Team
,
Updated on August 15, 2020, 6 min read
Long gone are the days of paper and pen. Instead the world has fallen in love with the cloud! Today, there's plenty of options out there enabling you to write, gather data, generate ideas, and build entire projects from a web browser. In fact, the question is not whether you're going to be creating cloud-based documents, but simply which type?
Google Docs, of course, is a heavy-hitter in this department, and it's been around for almost 15 years. But, like many programs out there today, it sits alone in the network of productivity programs, cut off from your other tools and outside your workflow.
But what if we told you there was another way?
Say hello to Spikes Notes! A powerful Google Docs alternative that gives you the space to naturally bring all your ideas together, whether they come in text, numbers, graphics, video or multi-layer bullet points that only you will ever truly understand. With integrated tools to help you organize your ideas and intuitive ways to cooperate and share your work with others, Spike Notes is a truly collaborative experience that's both fluid and streamlined—so you can focus on getting things done.
With versatility, amazing collaboration tools, cross-platform availability and unbeatable integration with your Inbox and Calendar, Spike is a great free alternative to Google Docs—here's why!
| | | |
| --- | --- | --- |
| Feature | Spike Notes | Google Docs |
| Text | ✅ | ✅ |
| Images | ✅ | ✅ |
| Videos | ✅ | ✖️ |
| Tables | ✅ | ✅ |
| Emojis | ✅ | ✅ |
| GIFS | ✅ | ✅ |
| Live Collaboration | ✅ | ✅ |
| Inline Comments | ✅ | ✅ |
| Markup | ✅ | ✅ |
| Integrated Email | ✅ | Separate App |
| Integrated Calendar | ✅ | Separate App |
| Integrated Tasks & To-Dos | ✅ | Separate App |
| Live Chat | ✅ | ✖️ |
| Video & Conference Calls | ✅ | Separate App |
| Native App | ✅ | Only Phones and Tablets |
| Web Browser | ✅ | ✅ |
Versatility Makes Spike
the Best Google Docs Alternative
Any cloud-based creation tool has to be as versatile as the people who are using it, and that means being able to handle your thoughts, ideas and information in all its forms. To its credit, Google Docs is able to handle various different forms of data, but Spike handles more, which is what makes Notes a great alternative to Google Docs.
Spike Notes can handle:
✅ Text (of course)
✅ Images
✅ GIFs
✅ Video
✅ Code
✅ Tables
✅ More!
The ability to write using an online word processor should really go without saying, and with Spike Notes you can, of course, jot down your thoughts and then format to your heart's content. Add headings, make lists, change the color of every other line if you want, let the page reflect the variety and creativity of your ideas!
And reflecting your ideas has to mean the ability to add images, which with Spike Notes is as simple as a click, allowing you to keep your ideas gathered in a simple and logical way while also bringing a graphic dynamic to your work.
What's that? You want moving images too?
Spike's got you. GIFs can be dropped in line with the rest of your notes and… this may not seem like a big deal, but do you know what a GIF that doesn't move is? It's a picture. And If we want pictures in our documents, we add pictures!
Talking of getting things moving, there is also the ability to add video files directly into Spike Notes! Shift them around, resize it so team members never miss it, and play it right there in your Note! Now you can't do that with many cloud programs, which is just one of the reasons that Spike is a great Google Docs alternative.
Along with visuals, Spike Notes also allows you to include and format tables, where you can add and remove columns and rows, insert headings at the click of a button, and really organize your ideas in a logical way. This is in addition to the ability to drop sections of code wherever you please––invaluable if you're working on any kind of development.
However, it's not just about what you've got, but really how you use it, and Spike's smooth collaboration tools let you take all the great Notes features and collaborate seamlessly with your team.
Collaborate and Create with Spike – THE
Google Docs Alternative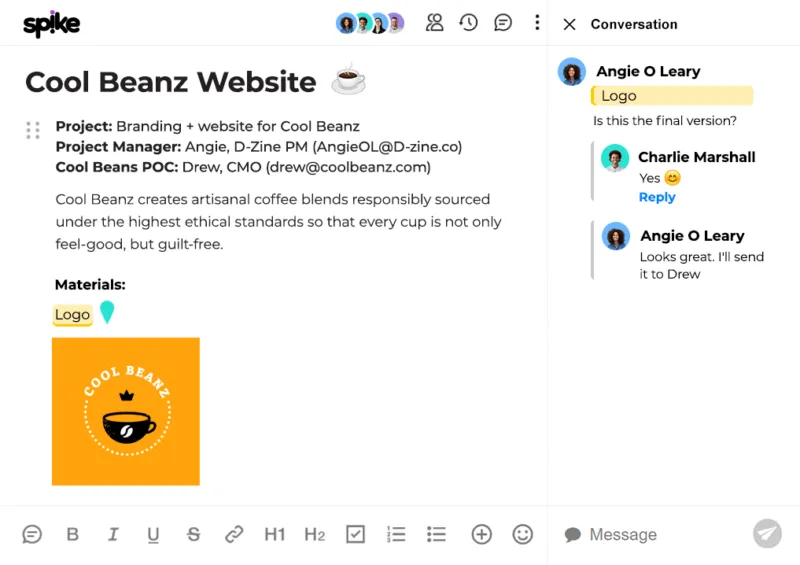 Spike is built around the hub of activity that is your Inbox, which is why you can share Notes via email with a single click! What's more, once you click share, you can schedule your emails to send at any time so you can stack your work to suit you and others in the team—no more midnight notifications when you're in the "wrong" time zone.
There's also the option to share any collaborative Note with a link, which takes your pool of potential collaborators beyond those in your email Inbox. Now you can work with those outside your professional network and, importantly, have the ability to keep some collaborators anonymous if they don't want to have their personal details exposed to other working members. This allows you to create semi-public working files for truly open collaboration.
You and your whole team can edit Spike Notes in real-time, so everyone is literally on the same page. There is also a built-in comment function which pulls highlights directly into the live chat of the Note that you're working on, allowing for ultra-fast collaboration and clarification of specific points.
Oh, we didn't mention the live chat yet? That's right, it's built right into Spike, so you can efficiently talk with your team, make decisions and push your projects forward.
Cross-platform Collaboration with Spike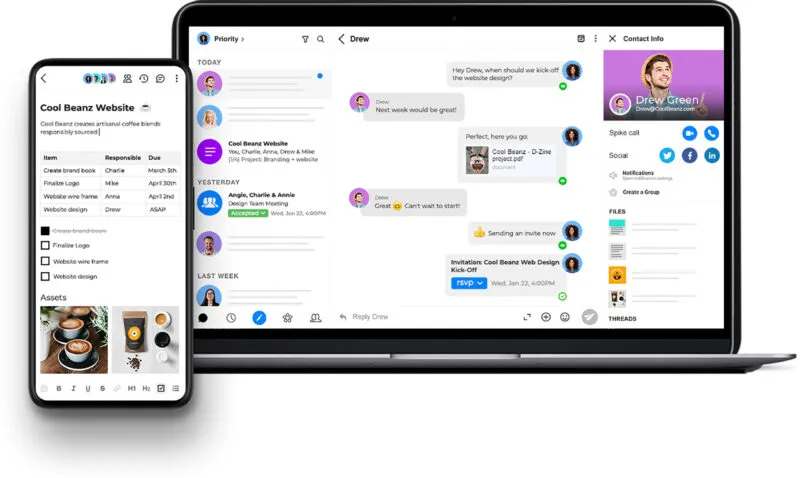 Google Docs is available on web browsers and is downloadable on mobile devices, so there is some cross-platform support. However, it is limited to those two options, with no desktop programs for either Windows or Mac operating systems. Spike on the other hand can be used across Apple, Android, Mac OS and Windows machines as well as through a web browser. So, whether you're tapping out a table on the go or sitting at home making the best mood board the world has ever seen, it can all be done through Spike, which is what makes it the best Google Docs alternative.
Additionally, like cloud-based word processors, you never need to save with Spike, with auto-updates for your Notes across every platform so you'll never lose important thoughts again while also accessing them whenever you want, wherever you are.
Once you're done, you can also export your full sheet of Notes as a PDF with just a couple of clicks. This is especially useful for taking minutes at meetings or other professional situations when you need copies for company records—it sounds boring, but sometimes it has to be done!
Integration Brings All your Productivity Tools Together
The main reason that Spike is such a great alternative to Google Docs is that it isn't a one-trick pony. Google Docs allows you to create collaborative docs, sure… but Spike is an all-in-one productivity juggernaut––bringing collaborative docs, Calendar, team chat, video calls and more into your Inbox. It's Spike's ability to integrate all your productivity tools that really sets it apart, allowing you to stay in your workflow and focus (and then set all those tasks to snooze when you're ready to take a break)!
Spike is changing what it means to work collaboratively, with Notes allowing you to create flexible shared documents integrated seamlessly along with To Do lists, Tasks, Chat, Video Calls and email. Let us know how you use Spike Notes to collaborate with your team @SpikeNowHQ or check out more articles on the blog.
You may also like