How to Share Files Securely and Efficiently with Spike
By
Sivan Kaspi
,
Updated on August 29, 2023, 9 min read
Updated on Nov 14th, 2022

Three cheers for file sharing! And no, we're not talking about illegal torrents! This is about learning how to share files securely, simply, and efficiently. It's about how to share information (in all its forms) with the people who need it, whether colleagues, clients, customers, or just friends.
With an increasing number of people working remotely, it's never been more important for everyone in your team to know how to share files easily, both for practical reasons (like you need a specific file to complete a project), and also the broader implications information-sharing has for an organization. Spike allows you to share files not only with those who need them, but also where they are needed, whether that's in an email, a collaborative Note or a company-wide To-Do List.
What is File Sharing?
File sharing is the idea of sharing content with coworkers, clients, and colleagues. It's simple to do and can be done using a variety of different tools. File sharing is especially important in businesses where people need access to the same files, like sales teams sending contracts or account managers working on proposals together.
It's especially important in a small business environment as well. A small business might lack the IT staff to implement a file sharing protocol, so they need something easy to deploy and manage. What is the best way to share files? There are a variety of tools available for file sharing. Some are geared toward businesses, while others are made for individual use. The best way to determine which service will work best for you is by looking at what features each offers and how they're priced.
Why is File-Sharing Important for Small Businesses?
One of the most valuable resources that a small business has is information, which can be passed on formally or informally. The informal transfer of knowledge is important for many things, such as helping members of a team grow into (and beyond) their role—this happens, for example, when people are chatting around the water cooler (or should that be an espresso machine?).
It's actually one of the core principles of the increasingly popular co-working spaces around the world, this idea that knowledge, ideas, and projects improve when various people (often from different disciplines) are in the same environment.
While this sounds wonderful in theory, in practice, you can quickly run into issues if you rely solely on the informal. Departments start keeping information within their own sections, individuals have directories filled with files that no other person sees—essentially, the left hand doesn't know what the right hand is doing. What's more, it's becoming harder for informal knowledge transfer to actually happen thanks to the recent rise in remote work.
The solution? Implementing some kind of formalized exchange of information, which is where file-sharing solutions come into play! Having a platform like Spike facilitates this formal exchange of knowledge by integrating file-sharing directly into the productivity tools that you, and all those around you, use every day.
So now you're probably wondering about how to share files with your team in this way. Let's start with an example.
You create a Group, write a To-Do List including each step that must be taken to design a new logo, from idea to delivery, and add the project lead and the designer.
Over the next few days, the designer attaches iterations of the logo (which look fabulous, of course). The project lead adds comments, and you can all see all these exchanges. Suddenly, you get a word document from the client with a slight update on the brief.
Not to worry, you simply throw it in the Group and everyone keeps working. It's a setback, so the project lead adds a comment to the To-Do List about a slight time adjustment. Again, not to worry, everyone can see what's going on.
The design is finished, and you simply scroll through the files associated with the designer's contact to find the one you need, then send it on to the client.

---
Discover: A Guide to Creating a Successful Team Charter
---
How to Share Files
The most common way to share files is over email attachments. All legacy email clients support attachments. The problem that many small businesses will run into is that many email providers limit attachment size to 5MB or less.
Another popular tool for file sharing is a "folder syncing" tool like Dropbox or OneDrive. These tools allow you to share files between multiple devices and users. There is a free version of Dropbox, but it limits your storage space to 2GB. You can upgrade if you need more storage. If you have Microsoft 365, you'll get up to 1TB of storage as well. These tools are great for sharing files with coworkers, but they're harder to use with external clients.
Another option is to use an FTP server. FTP stands for File Transfer Protocol and it allows you to upload and download files from a remote server.
How to Share Files with Spike: Everything, Everywhere.
Imagine you're in a meeting and everybody needs a copy of the agenda. So, one by one you leave the room, take the elevator up three floors, get a copy, and then come back down. Madness? Yes! Why? Because shared documents, files, and folders should be where you need them, when you need them, which is why Spike allows you to share files within basically every productivity tool there is.
First, files can, of course, be shared as an email attachment. Spike presents your threads as Conversational Email. Closer to social messaging chats than the conventional inboxes of days gone by, with sharing any file as simple as clicking the big "+" button.
Any attachments can then be previewed from right within that chat, so you can see what's going on without continuously downloading unnecessary files. Moreover, while a lot of what you share might be with other team members for collaborative team projects, there is generally a point in your work when you will have to share files with someone outside of your organization.
Since Spike has its foundations in traditional email, you can preview files in Spike, but when they are sent to a non-Spike user, such as a client, they are viewed as regular attachments.
Additionally, there is no doubt that you have at least one (and probably several) cloud storage services, and Spike allows you to attach files from some of the most popular cloud storage providers just as you would a normal local file.
Looking for how to share files easily with large numbers of people? Spike Groups allow you to create… well, groups. Within these, you can easily share any number of files, whether audio, video, documents, images and more. All members will then be able to access (and keep a record) of what was shared by who and when.
How to Share Files Online with Spike Notes, Tasks, To Dos and More
However, you aren't always going to be in your inbox, since a working day requires many tools, but don't worry, Spike has got you covered. These tools are integrated directly into your inbox, meaning you don't have to leave it, but more importantly, you can share files where they are needed.
With collaborative Notes, you bring your team together on the same page––literally.
This, combined with Tasks as part of your shared To Do Lists allows you to add all kinds of files in a logical and easily accessible way. This means shared files are where they are needed, not attached to some forgotten email, lost in the endless thread of an instant messenger, or stuffed into a cabinet on the third floor!
So, you're sharing multiple files across multiple tools and thinking to yourself "Where did I send Michelle that audio file again?" With Spike, it doesn't matter which tool you used, you can visually preview all files, big or small, that have been shared between you and one of your contacts by simply clicking their name. Images, audio files, GIFs, videos, documents, cloud links are all there in front of you so you can quickly and easily select and download what you're looking for — and only what you're looking for.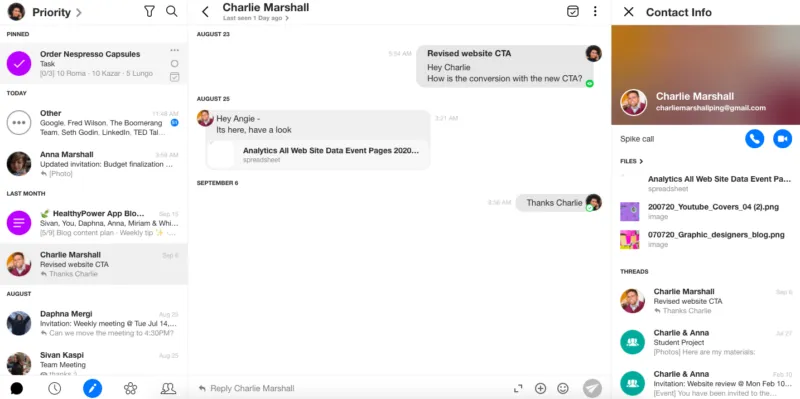 And remember, Spike is a platform based around your existing email address. This means that as soon as you start using Spike, you can see all the previous files that have been sent between yourself and a contact by clicking their name, meaning you won't be losing any shared files ever again!
---
Use case:
"Every time we have a collaborative project, I open a dedicated Group on Spike so we can have a joint workspace. Anyone can be part of the entire thread— complete with files— which flows through their email of choice.
Read more about Guy Gamzu, Angel Investor, that uses Spike as a business chat to keep the lines of communication open.
---
What Types of Files Should be Shared Securely?
When it comes to files that include personally identifiable information, you'll want to look at a tool that does data masking. When you implement data masking, you'll ensure that client data is never in a place where it can leak.
How to Share Files Securely
If you're looking for how to share files securely, look no further than Spike which allows you to send AES256 encryption attachments with a single click.
Whether spreadsheets of financial data or scans of identity cards, you can send them in safety with the simplicity of a normal message. Toggle between non-encrypted and encrypted messages by clicking the lock key, then share files securely. At the other end, messages are automatically decrypted for Spike users — and only a click away for non-Spike users — giving you seamless secure file sharing.
File sharing as part of your normal work day has never been more crucial to your flow, and now with Spike, it has never been easier! By upgrading Spike to Pro, Business, or Enterprise, you'll get plenty more storage to ensure you're ready to save all those important files that you've received and any that you want to share. You'll also be able to upload larger file sizes in Notes and Tasks, making collaborative sharing quick and simple even if you're uploading long videos or high resolution images!
What Are the Top File Sharing Programs for Small Businesses?
Spike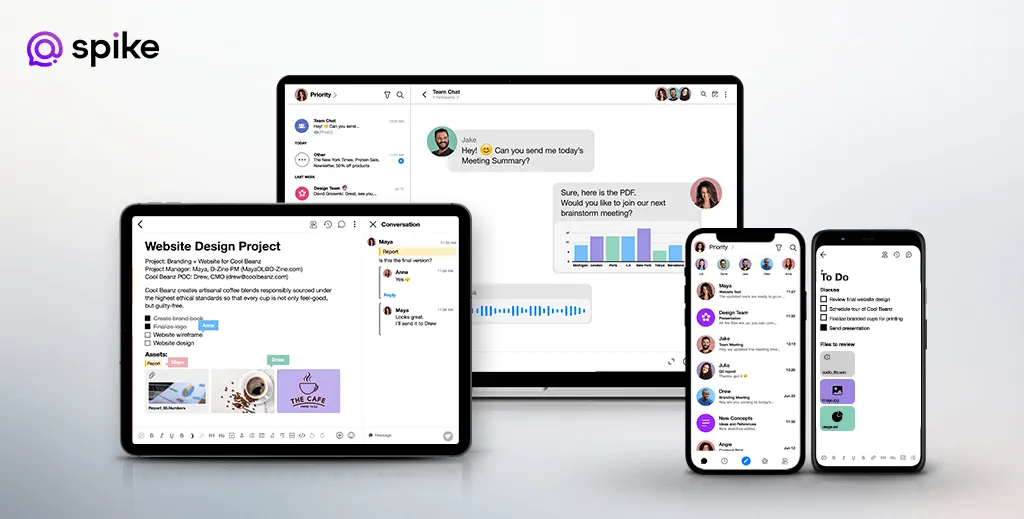 •

Collaborative notes allow you to share any type of file

•

Works with people who don't use Spike as well.

•
Share your business files securely
•

Requires local installation for best experience

•

Tightly integrates with macOS and Windows

•

The free plan only goes up to 2GB
•

•

Challenges for sharing with people who don't use Google services

•

Challenging with Microsoft Office files
•

Works best in Microsoft Edge or on Windows with a local installation

•

Tightly integrated with Outlook

•

1TB of storage comes with a paid Microsoft 365 subscription.
•

Works well for large enterprises that need audit controls

•

Syncs Google Drive and Microsoft files with ease
For more information on Spike's 21st century features, head over to the Spike Blog. And don't forget to share your file-sharing stories with us on Twitter @SpikeNowHQ and start collaborating today!
collaborating today!
You may also like