Check Out These Top WhatsApp Alternatives for 2023

By
Oren Todoros
,
Updated on September 19, 2023, 11 min read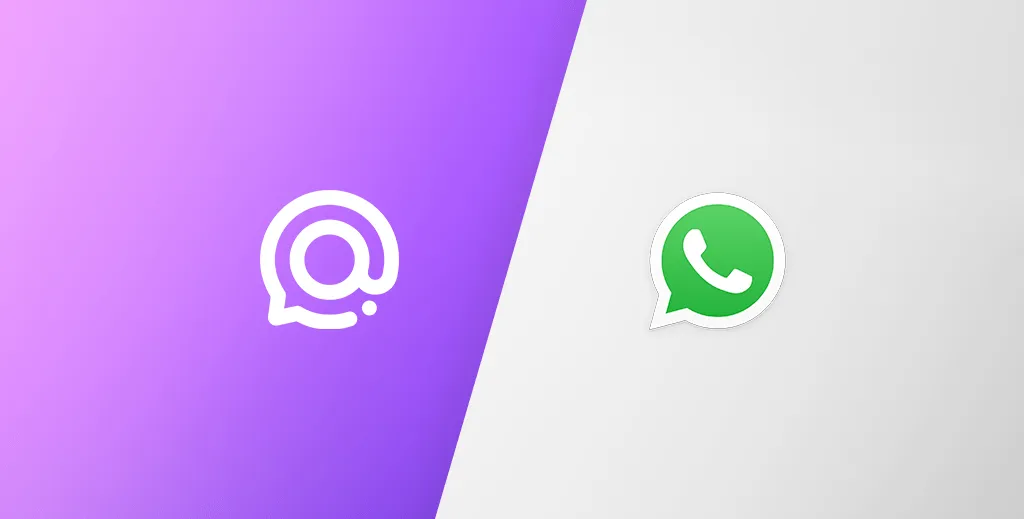 The popular messaging app WhatsApp has been in the news in recent days, and not in a good way. After launching in 2019, WhatsApp was acquired by Facebook in 2014 for $19 in stock and cash. Since then, it's primarily been running as a hands-on subsidiary, and it's possible that many of its users weren't even aware they were using a product from Facebook.
WhatsApp's co-founder Brian Acton left Facebook years ago due to similar decisions, and he even left $850 million on the table by leaving when he did. He saw this path coming. If you're not considering WhatsApp alternatives today, read on for why you should be considering one going forward.

"At the end of the day, I sold my company," Acton told Forbes. "I sold my users' privacy to a larger benefit. I made a choice and a compromise. I live with that every day." - Brian Acton

Why is WhatsApp Popular?
WhatsApp has been popular for several reasons: price (free), availability (iOS, Android, Mac, PC, and the web). iMessage remains one of the most popular chat platforms in the US despite being available only on iOS and lacking Android or PC options. WhatsApp has been the most popular option outside of the US and for those looking for cross-platform options. In many countries, services like SMS are blocked or costly, so users need to send messages over third-party apps. Mostly though, WhatsApp is popular because it's easy to use, secure, and free. The problem with free is that unless the company offers pro upgrades, they'll monetize it in other ways, such as advertising. There's an old saying on the web that you are the product if something is free. That statement is undoubtedly true with Facebook and Instagram but hasn't been the case for WhatsApp until now.
Facebook's New Privacy Policy
Facebook recently released a new privacy policy, and it has sent users scrambling for an alternative to WhatsApp. The update, which will be released on February 8, affects WhatsApp users in all countries outside of Europe and the UK, where there are strict data protection laws due to the GDPR. Users outside of the EU and UK will be required to consent for Facebook to access their data, including their phone number and information about how they interact with others, to continue using WhatsApp. For an app that promotes security as a critical feature, required data sharing isn't sitting well with many of its users.
Finding a WhatsApp Alternative
The problem many users are facing is that leaving WhatsApp can be challenging. The saying: fool me once, shame on you. Fool me twice; shame on me most definitely applies to picking your next messaging app. When looking for a WhatsApp alternative, you'll need to make sure you don't end up in this same situation again. If you're going to convince your closest friends and colleagues to sign up for a new service, you'll want to make sure it's a service you can trust to keep your data secure.
Clear Business Model
Like we said earlier, if there is no paid option for a service, you are likely the product being sold. Before committing to your next messenger app, consider what happened with WhatsApp. When Facebook needed to make more revenue from WhatsApp, they could make it slightly more invasive of your privacy. Find a service that puts your privacy first before you commit to your next WhatsApp alternative.
Cross Platform
As you look for an alternative to WhatsApp, remember one of the reasons it's so popular: it's cross-platform, so it works with all of your friends and coworkers regardless of the type of device. iOS and Android users can chat in groups with ease, where it's more difficult when using iMessage or SMS.
Group Chat
Group chats are a popular way to communicate today, so your next messenger service needs to excel at it. A great alternative to WhatsApp will help streamline your conversations, support GIFs, and bonus points if you can snooze noisy group chats until later. What if you have friends in different time zones or who work odd hours? Can you pre schedule messages to be delivered at a more suitable solution?
---
Discover More:
How to Leave a Group Chat on iPhone
---
WhatsApp Alternatives
Spike
Spike has emerged as key alternative to WhatsApp for many people looking to switch messenger services to something that's built on open porotcols. Spike's email app works with your current email account, so there's no additional service to sign up for. People who use Gmail on a Mac can chat with people who use Outlook on an Android device. Spike is available for Mac, PC, iOS, Android, and the web.
Spike Groups
Spike Groups is the most robust group chat system on the market as it supports Scheduled Send and Snoozing. You can create groups for personal chats (party planning, fantasy football, stock tips, etc.) and then keep them on a specific topic while keeping your work chats completely separate.
Spike for Teams
Recently, Spike has taken a major leap forward with the introduction of Spike for Teams. This new offering is a unified communication platform designed to streamline team collaboration and communication for teams and businesses. It brings together internal team chat and external email in a single teamspace, eliminating the need to switch between different apps and tools. It includes features such as email hosting, a next-generation email app based on chat technology, company-wide chat Channels, document collaboration, video meetings, audio calls, dedicated groups, and much more, all in a single unified feed. This makes it a powerful alternative to WhatsApp, especially for teams that need to collaborate and communicate effectively.

If you're team is struggling siloed communications across Slack, email, Teams, WhatsApp, Google Chat, etc – Spike for Teams is the antidote to your struggles.
Spike Pricing
Spike is free for personal use but is a paid service for business use. Even individual users can upgrade if they want to unlock more functionality. As your needs progress, you'll want to check out the premium plans to store more collaborative Notes, upload more files, and join more groups.
Spike doesn't require you to learn an entirely new app, sign up for a new service, or convince all your friends to join to use. All Spike needs is for you to securely sign in with your email address (Gmail, Outlook, Yahoo, Hotmail, iCloud, Office/Outlook 365, IONOS mail, GoDaddy email, Exchange, AOL, and all IMAP mail accounts.) Since Spike is based on just your email address, you'll never have to switch platforms again. Spike's technology is built on top of the open email technology, so it's not trying to silo your chat service into a privately-owned platform like WhatsApp. If you switch to Spike for Teams, you can completely ditch your email address from Google or Microsoft as well – Spike for Teams handles the entire stack!
Spike Video and Audio Calls
WhatsApp has long been a popular option if you're looking to make free video and audio calls. Spike has built-in video and audio calls at no additional cost that works across all platforms including mobile and desktop for free – anywhere in the world!
Spike for Business Chat
Suppose you're a business owner who uses WhatsApp fto communicate with your customers. In that case, you'll be excited to know that you'll be able to continue chatting with your customers using just their email in a . There's no need to worry if someone has WhatsApp or not – everyone has an email address!
Pros:
Uses open email technology
Scheduled send
Includes collaboration tools
Works with just your email address
Unified communication platform for teams
Can replace your existing email system
Cons:
Premium features require upgrades
Business accounts require upgrades
Easily connect your email account to a robust WhatsApp alternative
Signal
Signal is a popular WhatsApp alternative thanks to its strong security and ease of use. Signal supports group chats, group calls, and disappearing messages. Signal works on iPhone, iPad, Android, Mac, and PC so that you can chat with all of your friends.
As good as Signal is as a platform, you'll have to convince all of your friends to switch over to it to enjoy all of the benefits.
Pros:
Cons:
No tools for business chat
No collaboration tools
Telegram
Telegram is another alternative to WhatsApp, and it's a very similar service to Signal. It focuses on security, but you'll be in the same situation as Signal with trying to convince all of your friends to join. It's a new service you'll have to sign up for and learn to use. Like Signal, Telegram works on all of your devices.
Pros:
Cons:
No tools for business chat
No collaboration tools
Signal As one of the only paid apps available as an alternative to WhatsApp, Threema may be an instant turn off for some. However, its premium features make it an excellent choice for those looking to go one step further with their privacy. Based in Switzerland, a country known for its pro-privacy stance, Threema provides multiple features to protect

This includes full end-to-end encryption for texts, calls, files, and group chats, as well as deleted messages once they have been delivered. Contacts and group details are stored solely on your phone and not in the app itself, while you can even avoid using your real phone number and instead connect using the 8-digit Threema ID. Contacts can also be verified using unique QR codes. The ability to password protect your chats is a big bonus and Threema also offers an in-browser version with all the same security features.

Pros:
Chats with password protection
Avoid using your real phone number
QR code verification for contacts
Cons:
Wire
A combination of free personal accounts and paid business plans make Wire a flexible alternative to Whatsapp that works seamlessly as a private or professional secure messaging system. IM, voice, and video are supported and all are fully protected by European data retention laws. However, it is worth noting that some features are only available on the paid plans.
Wire does boast secure screen sharing, multimedia file sharing, audio filtering and text editing, as well as support for all major platforms. You can all login from any of up to 8 synced devices, including a web app, ensuring you've always got secure access to your content. Finally, easily managed timers can delete particularly sensitive messages when your request for even greater privacy.
Pros:
Secure chat, voice, and video
Customisable Delete message timer
Rich media chats
Up to 8 devices
Cons:
iMessage
For iPhone users everywhere, all this fuss over Whatsapp privacy concerns may be something of a surprise, after all, iMessage is completely free and fully secure for anyone using iOS. However, that's also its biggest drawback, and unless you're communicating between iPhone users, you're essentially relying SMS.
Still, Apple's privacy stance towards governments and other agencies looking to access data through encryption backdoors is good, and perhaps the biggest concern is access to your iCloud backups. Additionally, iMessage and Facetime have many of the same features found in most popular messaging apps, and it's completely free for iPhone users with no ads!
Pros:
Secure messaging from trusted company
Fully featured messaging systems
Completely free for iPhone to iPhone
Cons:
Reverts to SMS when messaging non-iOS phones
Need to switch to FaceTime for voice and video
Viber
As a Japanese-owned app, Viber has traditionally been more popular across the Pacific, however, it's beginning to make waves in the States as a useful Whatsapp alternative—particularly if you're making lots of international calls. Viber offers text, voice, video, and group messaging, all of which are fully end-to-end encrypted. Your messaging is tied to your phone number and can also be synced across desktop and mobile devices.
Viber is completely free to use, however for an extra $6 per month you can get unlimited international calls to non-Viber users, making it a great option for those with friends, colleagues, or clients dotted around the globe. Other features include a 'Communities' platform that functions something like a social network, and AR-powered selfie lenses.
Pros:
Free for most users, low-priced international option
Full featured messaging with video and voice
Community access baked into the app
Multiple platforms supported
Cons:
Not as common as other messaging apps in the US
Social Community features may not be secure
FAQ's about WhatsApp
It is still safe to use, but if you are concerned about your data being shared with Facebook (phone number, usage habits), you'll need to consider a new messaging service to chat with your friends and colleagues.
The most important things to consider for a WhatsApp alternative are security, business model, cross-platform, ease of use, and how quickly you can get your friends using the service.
No, but they show you ads based on all of the data they learn about you. If you use WhatsApp, Facebook, and Instagram, Facebook likely knows more about you than your own family. Many users are becoming more aware of the amount of data they give to companies like Google and Facebook and are now looking for a WhatsApp replacement.