8 Top Task Management Tools & Software – Ultimate Guide
By
Spike Team
,
December 03, 2020
Productivity in the digital age means focusing on people, projects, and tasks by having all the tools you need in one piece of project management software. Here, we look at some of the most popular task management tools so you can keep all your personal and collaborative work front and center!
Which Task Management Tools Should You be Looking For?
The most important tools in any task management software are going to depend largely on your business and team, but some of the features you might be looking for include:
Calendar / Scheduling
To-Do List
Real-time Chat
Reminders
File Sharing
Groups / Teams
Collaborative Notes
Cross-Platform Compatibility
Native Email Tools
Cloud Integration
Read Receipts
Dark Theme
Email Encryption
Multimedia Messaging
Calls
Communication is the Task Management Tool Group
Communication tools, which can include internal and external real-time chat as well as email integration for folding in more traditional lines of contact, are the foundation of any paid or free task management tool. This also extends to video and voice calls, which are increasingly overtaking in-person meetings.
While these are heavily dominated by platforms such as Zoom, Skype, Teams, and Meet, having these tools integrated into task management software can make team communication smoother than ever. If your business handles sensitive data (or you just like your privacy) it's also worth looking at how communication is happening and checking for the option of encrypting messages at will or integrating encryption software into task management software.
Collaborating via Your Task Management Software
Collaboration has always been important for productivity, and much like communication has shifted online in recent years. Shared documents, whether integrated into project management software or through cloud providers, are key for program management tools. This should be in addition to file sharing, with some of the best task management software offering considerable storage even on free accounts.
In addition, task management tools should now include collaborative notes with multimedia input. What's more, being able to split organizations into smaller teams or groups so as to keep collaboration focussed is another tool that you should be looking for when selecting your task management software.
Calendars and Task Trackers are Key Tools for Project Management
Another integral aspect for task management software is scheduling. This can, and should, include tools such as a calendar, task trackers, notifications, and preferably milestones. Additionally, there is actual task tracking, which as the name would suggest is often at the core of the software.
This should allow you to create and manage tasks, integrate them with the other aspects of the software such as scheduling and collaboration between team members. Being able to annotate and prioritize tasks should also be considered when looking for the best task management software for you.
Comparison of Task Management Software Tools
| | | | | | | | | |
| --- | --- | --- | --- | --- | --- | --- | --- | --- |
| | Spike | Clickup | Basecamp | Trello | monday.com | Nifty | Todoist | Asana |
| Calendar / Scheduling | ✅ | ✅ | ✅ | ✅ | ✅ | ❌ | ❌ | ✅ |
| To-Do List | ✅ | ✅ | ✅ | ✅ | ✅ | ✅ | ✅ | ✅ |
| Real-time chat | ✅ | ✅ | ✅ | ❌ | ❌ | ✅ | ❌ | ❌ |
| Reminders | ✅ | ✅ | ✅ | ✅ | ✅ | ✅ | ✅ | ✅ |
| File Sharing | ✅ | ✅ | ✅ | ✅ | ✅ | ✅ | ✅ | ✅ |
| Groups/Teams | ✅ | ✅ | ✅ | ✅ | ✅ | ❌ | ✅ | ✅ |
| Collaborative Notes | ✅ | ✅ | ✅ | ✅ | ✅ | ✅ | ❌ | ✅ |
| Cross-Platform Compatibility | ✅ | ✅ | ✅ | ✅ | ✅ | ✅ | ✅ | ✅ |
| Native Email tools | ✅ | ❌ | ❌ | ❌ | ❌ | ❌ | ❌ | ❌ |
| Cloud Integration | ✅ | ✅ | ✅ | ✅ | ✅ | ✅ | ✅ | ✅ |
| Read Receipts | ✅ | ❌ | ❌ | ❌ | ❌ | ❌ | ❌ | ❌ |
| Dark Theme | ✅ | ✅ | ✅ | ✅ | ✅ | ✅ | ✅ | ✅ |
| Email Encryption | ✅ | ❌ | ❌ | ❌ | ❌ | ❌ | ❌ | ❌ |
| Multimedia Messaging | ✅ | ✅ | ✅ | ❌ | ❌ | ✅ | ✅ | ❌ |
| Calls | ✅ | ❌ | ❌ | ❌ | ❌ | ❌ | ❌ | ❌ |
| Cost | Free – $12+/month | Free – $5+/month | Free or $99/month | Free – $9.99+/month | $24+ /month | $39+/month | Free – $3+/month | Free – $10.99+/month |
Clickup
Clickup offers multiple views and options to structure your team's workflow depending on your preferred style. It is a cloud-based project management tool focussed around stacking tasks in to-do lists, with statuses, alerts, and collaborative tools to get work done, whether as a single content creator or a large-scale company. Considered one of the best free task management tools, it offers unlimited users and tasks forever. However, the free version only allows 100MB of storage as well as having other limitations such as a maximum of five workspaces.
Pros
Numerous integrations (inc. Slack, GitHub, Zapier)
Multiple viewing options including calendar, Gantt, lists, and box view.
Easy integration of popular Agile task management approach with Sprints.
Cons
Requires integrations for some features that come as standard with other software (such as video calls).
Limited file storage (100MB) on the free plan.
Teams only available on a paid plan
Emails can be used to add tasks but aren't integrated
Basecamp
One of the more established pieces of task management software out there, Basecamp breaks work up into separate projects. Each of these projects contains all relevant people, discussions, documents, files, tasks, reminders, etc. It is an online project management tool, which means real-time updates across platforms and access from anywhere (that has a connection). Basecamp is mainly aimed at multi-person organizations, but they do offer a free version for personal use with very limited features.
Pros
Flat monthly fee rather than per-user cost
Available on iOS, Android, Mac, and PC
Unique Hill Charts for task tracking
Cons
Reportedly steep learning curve
Very limited free version
Emails can be forwarded to Basecamp but not read from within
Trello
Mimicking the sticky-notes of yesteryear, Trello allows users to create boards with multiple tasks divided into columns. It is a highly visual platform, where users can drag tasks and to-dos to create their workflow. It has various integrations for business plans with calendars, reminders, and more. Multiple people can be added to each board or as members of a team with multiple boards as well as being assigned specific "cards," i.e. tasks, which can contain checklists, due dates, attachments, and more.
Pros
Simple, visual approach to managing tasks.
Effective due dates and email reminders
Automations available for repeat actions
Cons
Very few available integrations without upgrading
No native chat feature
Lack of staging can limit the ability to track in-progress tasks
Monday.com
Originally developed in 2010 as an internal management tool for Wix, it broke out as its own project management tool for the organization of tasks and teamwork. Monday.com offers boards, timelines, and Gantt views as well as automation of repetitive tasks and the integration of external software. The core of monday.com is in its columns, which allow quick overviews of people, timelines, status, and more.
Pros
Numerous templates for quick startup
Can share specific information with external guests (such as clients)
Automation of repetitive tasks can cut wasted time
Cons
Unable to tag specific users
Limited ability to track tasks beyond checklists
The software is not designed for or very usable by individual freelancers
Spike
Centered around your existing email, Spike pulls together powerful task management tools into a single, cross-platform, project management software. A collaborative platform, Spike offers Tasks, To-Do Lists, collaborative Notes, a comprehensive Calendar, video and voice calls, Groups, and real-time chat to enhance cross-team communication. Aimed at both individual freelancers and businesses, the tools that come as standard with Spike are all you need to increase productivity effectively.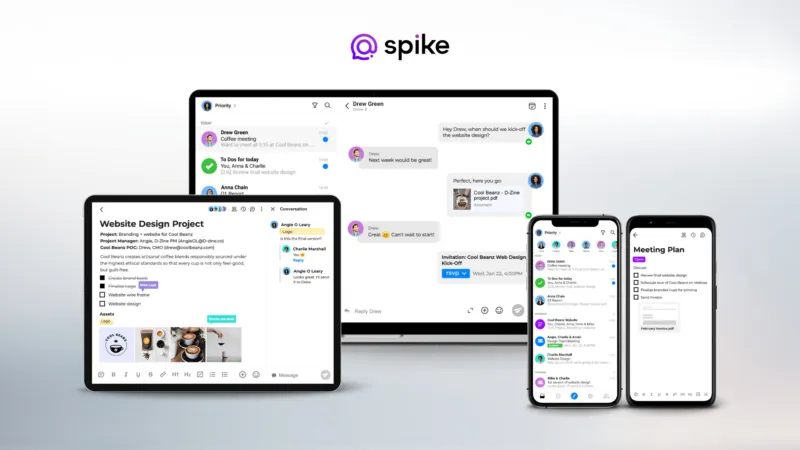 Pros
Integrated email allows for internal/external communication
Full team migration not necessary
Customizable groups allow for efficient teamwork
Encryption available for sensitive messages
Cons
Nifty
Nifty is a cloud-based project management software that includes tools such as Agile methodologies, Gantt charts, file sharing, board view, prioritization of tasks, project scheduling, and a task tracker. There is role-based user access to shared files and documents along with real-time chat in thread discussions. Nifty allows for the allocations of individual tasks, lists of tasks, and also the option of recurring tasks, which is a requested feature of much other productivity software.
Pros
Intelligent recurring tasks
Customizable modules that allow each team member to design their home screen
Milestones can automate project progression indicators
Cons
Steep learning curve with a sometimes complicated interface
Lack of a real calendar view
Messaging is internal limiting communication to non-team members
Todoist
Todioist has a heavy focus on creatives and will look very familiar to many users since it opts for a "traditional" to-do list aesthetic, with lists of tasks and subtasks as opposed to more complex layouts. Within these, tasks can be prioritized, ensuring that important sub-tasks don't get lost and users are always clear about their next steps.
Pros
Very clear interface makes onboarding simple
Gamification of productivity through "karma" can help keep some people on track
Recurring tasks available
Cons
Limited functionality compared with other task management software
The karma points can be a major drawback for some people
Few opportunities for collaboration or communication
Asana
A very comprehensive task management tool, Asana is aimed at larger teams who manage multiple projects simultaneously. It offers numerous ways to view and manage people, tasks, and projects including lists, calendar view, and Gantt view as well as automation to take the burden of repetitive tasks. It also offers a quick visual representation of workloads allowing for efficient task delegation.
Pros
Very good user management thanks to being aimed at larger teams
Clear prioritization of tasks and visual overviews
Communication within a task gives users greater focus
Cons
Emails only used for notifications and task creation
Very steep learning curve to utilize tools
Not suitable for single users or small teams
Spike is passionate about productivity, communication, and collaboration. With a 21st-century approach to email, Spike pushes good task management forward. If you've got thoughts on what makes for the best project management software, send a tweet @SpikeNowHQ. For more productivity reviews, guides, techniques, and methods, head over to the Spike blog.