Classes Got You Stressed? Here is the Best App to Stay Organized in College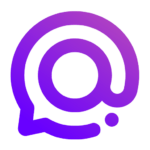 By
Spike Team
,
Updated on November 23, 2021, 9 min read
College life is a lot more stressful than it was before the immense growth of technology. Today, students are expected to juggle in-person and online classes and learn how to use the school's learning management system. Professors have strict deadlines and have expected students to manage multiple assignments and projects at the same time.
Technology, in some ways, has made the experience of being in college more stressful. Students also face the stress of starting their careers with internships, part-time jobs, and certifications between demands on studying and schoolwork. Thankfully, with the right productivity apps for college students, what seems like chaos will be made calm.
Thankfully, with the right productivity tips and tools, college students can find calm amid the chaos.
Tips for Staying Organized in College
Use a Calendar
If you don't know where you're supposed to be, you'll feel like your life is chaotic. As your classes, labs, projects, and more pile up, you're likely to have overlapping schedules and double book yourself, creating a logistical mess for yourself. The first tip is to create and use a calendar for all appointments and classes. If you need to be somewhere at a certain time – put it in your calendar.
Organize Your Tasks
Keeping track of your tasks in college is a key way to stay organized and on track. If you don't know what to do – you'll waste time trying to identify what needs to be done next instead of completing your assignments. It doesn't matter if you keep a digital app or a physical planner – but tracking what you need to do and when you need to have it completed is crucial to prioritizing your task list to drive success.
Convert Your Class Notes to Digital
Taking notes with analog tools has been proved to be faster than typing, but after class, you need to digitize them. The benefits of this are two-fold. First, by retyping them, you'll spend time re-reading them, so it'll be further committed to memory. The second is that they'll be searchable by almost any application after they are retyped. Make sure that whatever note app you choose includes online syncing to a cloud service so you won't lose your notes if your computer is lost or damaged.
Work First – Play Second
Our final tip for staying organized in college is to always focus on getting work done first and relaxing second. If you have a big project due on Monday, don't wait until Sunday evening to start working on it. Finish it on Friday night/Saturday and then enjoy the rest of the weekend. Said another way – don't procrastinate when it comes to your schoolwork.
Of course, a lot of our tips require the best tools to stay organized in college, and there's no better way to stay organized than to have the best applications to manage your life and studies. Keep reading to learn more about Spike, its tools that streamline the college experience, and more.
Spike Will Organize Your College Life
Digital communication is the way of the world today, so if you're ready to ditch the 3-ring notebook and come to the digital world, the Spike email app will create a digital workspace for everything you need to make your life easier while in college.
Spike combines all of your essential tools for success in college into a single feed that gives you all the information you need to know what's important, what's not, what's next, and what's coming soon.
Spike's first superpower is turning boring email into a messenger-like chat app that makes sending email as easy as texting someone. Spike does a lot more than send an email, though. Read on to learn some of the ways that Spike offers multiple "apps" that become your college productivity powerhouse.
Spike's Schedule Send
Spike includes a built-in send later feature called Schedule Send on desktop and web app to let you control when an email is sent. Whenever you want to schedule an email to be sent at a later time or date, you'll find all the functionality you need right at your fingertips.
It's conveniently placed just a few clicks away. It's as intuitive and straightforward as all of Spike's other great features. Picture this: you're working hard on a research project on a Friday evening, and realize you have questions for your professor. You have a dozen other tasks to complete, but want to send your questions right away so you don't forget them – but it's Friday night and not a convenient time to be sending emails. Instead of putting your questions off until Monday, just draft up that email and schedule it to pop into your professor's Inbox at 7:30 on Monday morning. It's that simple – just set it and chill.
Schedule Send is also useful for students who like to stay ahead of the game with projects. Need to schedule an email to remind your fellow students of an impending deadline for a group project? Easy. Schedule Send puts you in charge. Best of all, you can put away all of your devices, and Spike will still deliver the message at your scheduled time using Spike's AES256-encrypted cloud service.
Snooze Email for Later
Sometimes you get an email that will turn into a multi-hour project to accomplish what's being asked of you. Perhaps it's a professor giving you feedback on a paper, but you're not going to have time to address the feedback until next week. Why let it sit in your Inbox all weekend, reminding you of what's coming.
Snoozing that email is not ignoring or procrastinating. It's creating a schedule for your schoolwork. Spike will handle reminding you of that email, so you don't have to spend energy or brainpower trying to keep track of all the things you have on your plate. It's better to let technology refresh your memory when needed so you can focus on the right now.
Snoozing to procrastinate is terrible, but snoozing to better plan out your schedule and clarify what can reasonably be done in a day is a perfect way to use Spike. There can often be a plan for your day, but things happen that may require you to change your plans, and being able to adjust on the fly is an essential part of the school day. By having every aspect of your school and work in a single feed, you can easily make adjustments without losing your focus.
Message Templates
With Spike Message Templates, you can take anything you routinely email to your professors or classmates and create a template to have easy access to it each time you need it. Do you frequently send status updates to your professors? What about sending scheduling updates to your classmates? With our new Message Templates, you can customize a canned response and use it each time you need it. Customize it to your heart's desire, save it to your library, and then reuse it over and over.
Keeping Your Mind Focused
Between emails, text messages, and social media chats, students have never had more things competing for their attention than at this very moment in time. There is no concept of "offline", and students are having to work extra hard to keep their minds focused while they should be studying.
Spike is the perfect "assistant" for college students while they navigate the world of studying, applying for jobs, and internships. Spike's Priority Inbox will automatically organize your emails, so only the important ones appear in your Inbox. The less important items like receipts, newsletters, and shopping ads will be moved to the Other Inbox so you can stay focused on the essential items in your Inbox. You'll see less junk and more action items.
Manage Your Time
The life of a student is a complicated one. You manage class schedules, group project meetings, study times, work schedules, and internships. Having a unified calendar is essential to accomplish all of the goals students have in front of them.
Spike's built-in calendar syncs with your Gmail, iCloud, Yahoo, and Outlook calendars to combine your school, personal, and work calendars into a single location so you can better plan your meetings, work schedule, and more.
With a unified calendar, your schedule will work for you, and you'll be able to locate small blocks of time in order to catch a quick meeting with your professor, get a quick nap after that late-night study session, or grab coffee with a friend.
Never Forget (or Lose) Anything with Spike Notes
Taking detailed class notes is essential in order to make the grades in order to continue on to the next big thing in a student's life. Spike Notes work on all your devices (even the web!), are constantly backed up, support file attachments, and even work offline.
A single Spike Note can contain an audio recording of a lecture, a PDF version of a classmate's notes, detailed tables, and plenty of text. Best of all? You can collaborate with your classmates so you can keep track of everyone's comments and insights. Spike Notes can be used by those already signed up for Spike, but also work with just a web browser as a guest so everyone has the latest version.
Group Project Tools
A key part of managing your school projects is working with Groups. Spike Groups is the best class project management service available because it has the simplicity of email, but then combines Spike Notes and Tasks into a chat-like interface with Snooze, Search, @ mentions, and Schedule Send. Instead of countless threads that are hard to follow, Spike Groups combines everything you need to manage a college group product into a single feed.
Never Miss an Assignment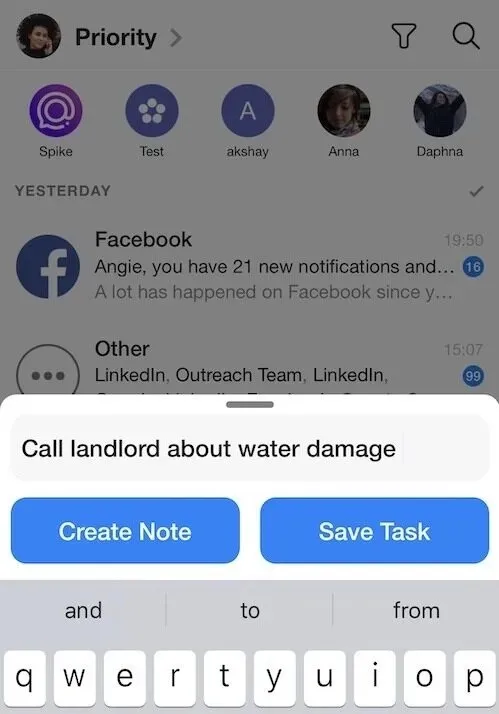 Spike is made to enhance your schoolwork, putting the tools you need exactly where you need them.
Spike Tasks take the process of managing your homework to the next level, keeping all your important projects front and center, freeing up your brain to focus on more important things.
Spike Tasks are real-time and collaborative project management tools that help you organize everything from your daily shopping lists to your writing assignments.
Since Spike is powered by email, all your Tasks have Spike's powerful tools to make managing projects a breeze:
•

Real-Time Updates

Collaborate in real-time on any Task.

•

Reminders

Set reminders for you and your team to keep up with deadlines.

•

File Storage

Add any file needed to start and complete a task without taking up precious space on your device.

•

Quick Creation

Walking out of class and your professor mentions a homework assignment? Grab your smartphone, create a task, and save it to your Inbox. When you get back to your dorm, you'll be able to go more in-depth on the assignment and schedule it for later.
Now that you've seen all that Spike can do, you'll be surprised to learn that it works everywhere. Regardless if you use Mac, PC, Chromebook, Android, or iOS – Spike works on all of your devices, so get started with Spike today.
You may also like