Zoom Chat Joins a Crowded Field of Competitors, Customers Flock to Open Platforms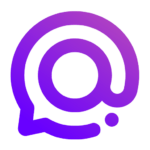 By
Spike Team
,
Updated on September 22, 2022, 8 min read
"Let's jump on a quick Zoom" is something that is said across almost every remote and hybrid team in today's working world. Zoom has become a verb for video conferencing like Kleenex is for a tissue. Zoom is great for the simple reason that it's easy to use and has features that make it more than just a video conferencing tool. It's also free to use up to 100 participants, which means you don't have to pay anything until your team grows past this number. Zoom doesn't want to be a verb for video conferencing, though. Zoom wasn't to become a collaboration workspace similar to Spike. Zoom Team Chat is yet another communication platform aiming to upend an organization's use of siloed team chat platforms like Slack and Microsoft Teams.
What is Zoom Team Chat?
The idea behind Zoom Team Chat is that it can be a single digital workspace where you can chat and collaborate with colleagues in real-time on calls or asynchronously over a team-based chat. Many organizations use separate tools for their email, team chat, and video conferencing. Some organizations might use an app like Outlook for their email, Slack for team chat, and then something like Zoom or Google Hangouts for their video chat service.
Zoom Team Chat is meant to be a single solution for all of these features. The platform has been designed so that users can switch back and forth between chat rooms and video calls. Zoom Team Chat is available on all desktop and mobile devices. In addition, the platform has been designed so that users can switch back and forth between chat rooms and video calls. The service has also been optimized for use with Google Chrome and Google Chromebooks.
Do Customers Want Yet Another Tool?
"We want more tools to switch back and further between our day" – said no one ever
The idea behind Zoom Team Chat is fantastic. Customers are already used to using Zoom to communicate over audio and video, so it makes sense that teams might want to use Zoom for their team chat solution as well. As many teams struggle with multiple tools for different aspects of communication and collaboration, Zoom Team Chat has provided a solution for teams to consolidate their communication needs into one tool – reducing the amount of time spent switching between platforms.
Zoom has been a great tool for teams, but until now, it hasn't been able to offer them the same level of chat capabilities as Slack or other messaging apps. With Zoom Team Chat, customers can now stay in one place and get all their communication needs met by the same company.
This integration makes it easy for users to switch between tools when they need to collaborate with different people on different projects. Zoom Team Chat integration gives customers access to all the features they need for a messaging app – they can chat with other team members, create rooms for specific projects or topics, and send files and links. There are even video calling capabilities so that users can see each other while they're chatting.
Zoom Team Chat is Missing One Thing
Zoom Team Chat does a great job of eliminating the need for Slack or Microsoft Teams. The problem remains, however, that teams still have yet another tool they must manage for their work: email. Email is required to collaborate with customers and not part of a team chat solution. So teams who had three tools previously with Zoom, Email, and Slack – now have two tools. Two is fewer than three, but it's still one tool too many.
Email is still the universal communication platform that works perfectly for internal communication as well as external communication with customers and vendors. The problem is that emails are not part of a team's collaboration tool. Email is still the best way to communicate for both business and personal needs, but it's difficult to collaborate on an email thread in real-time. That's why many companies turned to Slack and Microsoft Teams. They needed something in order to address the need for instant communication with their communication needs.
The result has been closed communication platforms built on custom APIs that don't connect to open email communication protocols like IMAP and SMTP. These closed platforms are restrictive, inflexible, and can't scale as the company grows. They lock you into a single vendor for communication and collaboration, which is not something any business wants to do. The result has been the slow death of legacy email. It's not that people don't like email, it's just that they have no choice but to use their company's closed communication email service.
This problem is why Spike was created. The first collaborative workspace built on top of email, Spike helps teams of all sizes connect, create and collaborate in order to accomplish more. It was born out of the frustration that our founders had when trying to use other services like Slack. Zoom Team Chat is yet another closed platform aimed at locking you in.
Conversational Email, Collaborative Notes & Tasks, Video Meetings & Calendar in a single feed. All you need for your team to succeed.
Open Protocols & Features Layered On Top
Email is a protocol like HTTP is a protocol. There is no CEO of email just like there is no CEO of SSL. Technologies like protocols can be used by any company to connect to the larger internet. Email's protocol nature is what allows Gmail customers to freely communicate with Outlook.com customers. Gmail and Microsoft don't have to collaborate with each other in order for their customers to communicate with each other. This is what makes email so powerful. When you send an email, it goes through the SMTP protocol to reach its destination. The email app that you're using doesn't need to know how this works in order for it to work. All the application needs is a way to connect with your internet service provider and send emails over TCP/IP.
The TCP/IP protocol is the backbone of the internet. It's what allows computers to communicate with each other, regardless of whether they're using different operating systems or programming languages. TCP/IP stands for Transmission Control Protocol/Internet Protocol and it's the standard language that all computers use to send data back and forth over the internet.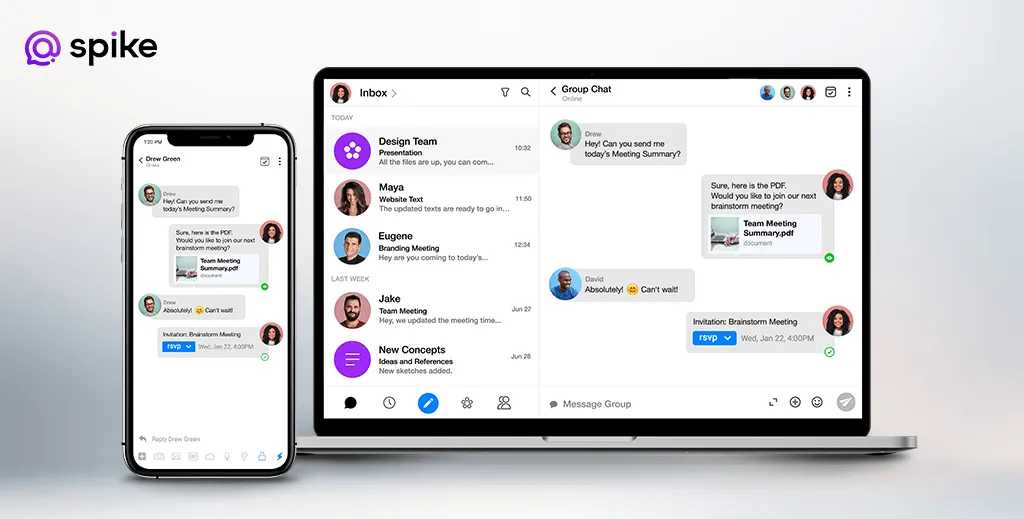 You might be wondering why we went through that long explanation about email, chat apps, and protocols. It's to explain why Spike's digital workspace is the anti-lock-in tool for team chat. Spike, at its core, is an email application and works with Google Workspace, Gmail, Outlook, and more, allowing you to send and receive emails like any other email app. The difference between Spike and other team chat tools is that it works with Google Apps, Microsoft 365, and other cloud services.
So when you send an email using Spike, everyone on your team will receive it in their inboxes. Spike brings a chat-like interface to traditional email, doing away with cumbersome headers, signatures, and threads that make email hard to read. Spike clears the clutter and transforms legacy email into a real-time chat that's easy to read and manage.
So we've addressed the lack of instant with traditional email ✅.
What about the other features that Zoom and Slack offer? With Spike, you can keep the conversation flowing across multiple medium – go from text to voice to video call with the click of a button. Spike allows you to start or join a meeting from any email thread or team chat. There's no app switching, no context switching. It's right inside the same workspace. With Spike Video, say goodbye to plugins, creating accounts, and logins. With Video Meetings and Audio Calls fully integrated into your Inbox, your workflow stays flowing all day long.
We've addressed the video tools Slack and Zoom Team Chat offers ✅.
What about group conversations? Spike Groups are the quickest and easiest way to collaborate with your team and clients. Spike Groups save everyone the endless email threads, bringing productivity to dizzying new heights. With Spike Groups, you get a simple and functional collaboration tool to help you plan, manage and execute together in real-time. Built right into Spike, you can instantly create a Group for any team, project, or client—anything that's relevant to your business—and collaborate just like you would face to face.
We've addressed the need for a team chat that looks like Zoom Team chat. ✅
Wrap Up
Spike combines all of the features of Slack and Zoom Team Chat into a single digital workspace that's built on open protocols so you can freely communicate with anyone, anywhere, using any device.
Spike has all the tools you need in one workspace to help you get things done faster – and with more ease. In addition to email, voice, video, and chat, Spike boosts your workflow with:
Online collaborative Notes to help capture everything from your wildest ideas to a quick status update instead of your team meeting to your shared grocery list with your roommate. Notes go as far as your imagination does: use words, images, code, or videos. Attach all your files, add to-dos, and set reminders for easy project management.
Spike's super search tool to help you find what you need when you need it. Instead of manually scrolling for an old message or attachment. Spike also comes with a built-in calendar so you can keep track of your team's schedule. Spike works across all your devices and integrates seamlessly with cloud services like Google Drive, Dropbox, and more.
Spike is designed to be your complete digital workspace so you can avoid switching apps throughout the day. It's there when you need it and out of the way when you don't. Whether you're creating, collaborating, or just want to stay organized Spike has all the tools you need in one place.
You may also like