Spike Year in Review: The non-Spotify version
By
Sivan Kaspi
,
Updated on August 07, 2022, 6 min read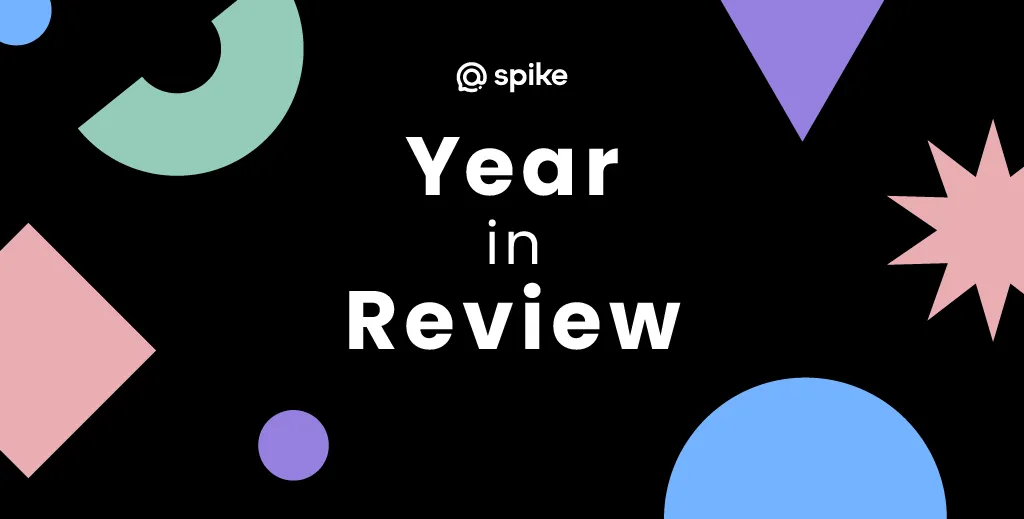 2021 has been a crazy year with it's up and downs to say the least, but with that being said it has pushed us to new heights. Since it is almost time to say goodbye to 2021 we wanted to look back on all we've accomplished this past year and highlight what we're most proud of. 2022 we're ready for you.
We are proud to look back on this past year and say we met our goal of getting 1% better every day with how we enable our customers to improve workplace productivity and communications. We believe that incremental improvements in our platform make incremental improvements in your work and personal lives and therefore enable you to get 1% better every day.
We know work this year has been a challenge with the new norms that came into play because of the pandemic, but together we were able to take on remote, hybrid, and in-office work and revolutionize our Spike features to create an even better experience for getting work done together.
Here's a look-back at the exciting things we launched in 2021:
Message Templates for Quicker Responses
Message Templates became a go-to feature for many teams. Spike Message Templates let you take anything you routinely email and turn it into a template for easy access each time you need it. Big shout out to the sales teams who heavily used this feature to reach out to prospects and to the technical support teams who used this to answer the frequently asked questions they answered over and over again.
iOS Document Scanner for Faster Expense Tracking
The new document scanner on the iPhone app made it easier than ever to scan documents to email or to a Spike Note. It was heavily used to scan QR codes, pages out of a book, or magazine articles.
Collapsible Lists Keep Longer Content Organized in Spike Notes
This addition to Spike Notes was one of the most raved about by organization-lovers. The collapsible list feature helps keep any note organized by making it more simple and easy to read. We saw how much Spike customers loved using this feature for project planning, party planning, organizing a list of books to read, and much more.
Video Meetings: Fully Integrated into Spike
For those who hate the complicated process of setting up video meetings and having to bounce between multiple apps, we built Spike's Video Meetings to be accessible to everyone and extremely simple to use. For Spike users, the meetings are completely integrated, and for those who don't have Spike (like when sending the meeting to clients) the video meetings automatically generate a web link, which is accessible with any web browser.
No logins
No web plugins or downloads
No fuss
You can start a meet from a chat within Spike, the contact section, or a calendar invite. By adding Spike Video Meetings into Spike, we've built more of your essential work tools into our app.
Voice Messages In your Inbox
We all get burned out by multiple video meetings a day, so in May, Spike integrated Voice Messages into your email app. Voice messages in your Inbox have turned into a key way to shed even more message clarification without having to set up a video meeting. All you need to do is tap, talk, and send to give updates, share ideas, and be more expressive. Basically, Voice Messages is a quick, and ideal way to improve communication with your team without adding yet another meeting to the calendar.
@Mentions in Conversations and Groups Chat
Earlier this year, we added "@" Mentions to conversations and group chats. "@"ing someone is a better way to grab someone's attention, especially when writing in group chats with teams being spread out across multiple time zones, and work often being asynchronous. Users in multiple Groups used our "@" Mentions feature most when they wanted to bring focus to messages that required a specific team member's attention.
Quote Replies for Faster Context
Ever get 10 message notifications at once from one person, and not sure how to be specific enough about which message you are addressing? Yeah, it could get complicated and sometimes seem like you are replying to a topic—that in reality, you are not. There's just a mess. Quoted Replies let you reply directly to a specific message in any chat or group. Now messages have even more context to every message response and eliminates any confusion with back and forth messages. The simple way to streamline your communications.
Pop-out Compose Window to Improve Multitasking
One of our most requested features on our desktop app was to add an external compose window, and since we are your number one fans, we listened and released it last month! You can now pop out and compose messages in an external window on the desktop and web. This lets you manage your workload by viewing and replying to numerous messages side-by-side. Boom! Just like that you're even more productive.
In-Conversation Search to Find Things Faster
We might be partial, but we think Spike has the best email search tool on the market. Spike's search makes finding anything you need FAST! Our new mobile in-conversation search lets you find any thread, conversation, or group chat for a specific word or phrase and be directed straight there. This feature makes it extremely quick and easy to find specific messages or attachments.
We also cleaned up message drafts, streamlined message history, and made it easier to scroll down to the bottom of a long thread. So yes, you're welcome, we again added features to help you and your team stay organized and focused so that you can have a better place to get work done.
Apple Silicon Optimized Version of Spike
At the end of 2020, Apple released the first Mac running an Apple Silicon chip (dubbed M1). Since then, Apple has also released the M1 Pro and M1 Max for the new 14" and 16" MacBook Pros. Since we love supporting new technologies we hopped on the train to have an Apple Silicon optimized version of Spike ready soon after the initial release.
ChromeOS Compatibility
We also brought support for ChromeOS to Spike. At this point, the only device that can't run Spike is your refrigerator (but don't worry—we've still got our eyes open to the future of fridge support).
Oculus 2 Launch: Working in the Metaverse
Our grand finale of 2021 was being one of the first productivity apps to launch in Facebook also known as Meta's Oculus store. Spike's 2D app on Oculus Quest 2 brings Spike's next generation communication and collaboration features into a virtual desk where your productivity is virtually unlimited.
When you log in to Spike on Oculus, you'll have virtual "tools" that enhance your work routine. In other words—you will be able to collaborate with your colleagues, create shared projects, and meet with clients as if you were actually in the office. With these 2D services remote work won't feel so remote anymore. So cool—we know!
2021 has been one heck of a year for Spike. We grew our team by 30%, Search became 30% faster, and we've had 99.9% of uptime across the platform. We focused our efforts on making Spike the best place for teams to easily communicate and collaborate, and we have big plans for 2022—yep that's right, in 2022 your business won't need to rely on tech giants because Spike is planning to bring you even more collaboration and communication so you can stay focused on everything you need to manage your business no matter how big or how small. So stay tuned for all the new things we can't wait to share with you in 2022!
You may also like