Graphic Designers — Here's Why You Need Spike Notes in Your Life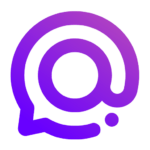 By
Spike Team
,
Updated on March 12, 2023, 6 min read
Sometimes, a picture really does say more than a thousand words. You only have to look at the biggest brands around today for proof. Think Google's Doodle, Nike's Swoosh, Apple's…well…. Apple. They're the front-facing image of an entire company ethos. A philosophy. A lifestyle.
But let's not forget that, behind every carefully crafted brand logo or company graphic, there's someone hard at work. Someone carefully selecting color palettes and double checking visual concepts. Someone staring for hours at every little detail. Taking the time to elaborate an entire aesthetic that has the potential to encapsulate a company's very essence.
We're looking at you graphic designers.
It's no understatement to say that we live in a world obsessed with images, and alongside the rise of the Internet a whole new world of graphic design has opened up. What was once a job confined to real-world flyers, banners, and brochures is now the fuel for countless online portals—from company websites through blogs to email marketing campaigns.
So, this one goes out to all the hardworking graphic designers out there. To all those talented souls crafting engaging logos, developing branding that really pops, bringing a little color and design into our lives. Here's why you need Spike Notes in your life—we promise it will change the way you work for good.
Brainstorming and Mood Boarding with Notes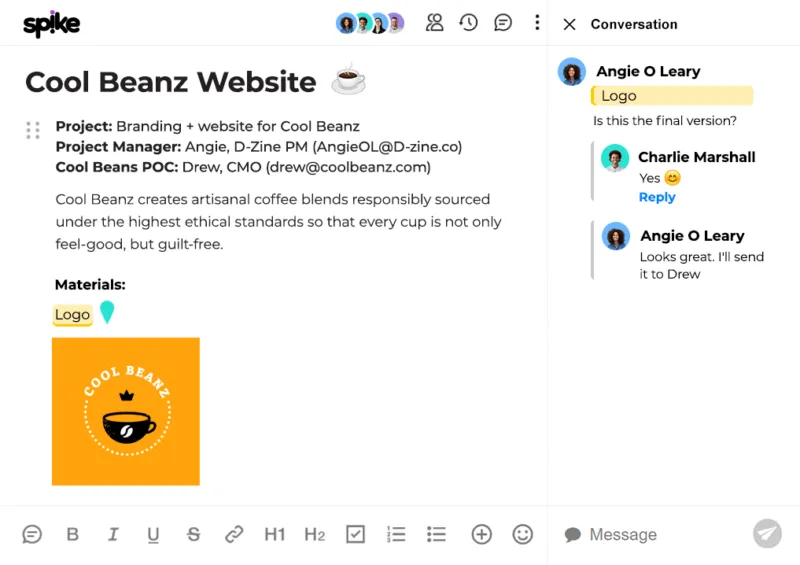 Whether working with a client, with your in-house team, or on your own pet project, brainstorming and mood boarding is a crucial first step in the process to good design. You need to get an idea of how things are going to look, what influences and inspiration you want to draw from, and what the competition is up to.
Notes from Spike is the perfect mood boarding tool. You can pull together all kinds of visual and text-based ideas, including images, videos, GIFs, memes, tables, bullets, and tick boxes, as well as all kinds of documents and, of course, links to inspirational websites or blogs.
However, the real beauty of Notes as a brainstorming and mood boarding tool lies in its ability to work seamlessly with others. All of your Spike Notes are entirely collaborative, and everything you add is easily shared with anyone.
For other Spike users, all Notes are found conveniently and directly within your inbox—so you can give the app switching a rest. However, non-Spike users are also catered for, and your coworkers or clients can access your collaborative Notes either through their email or using a web browser with a link that you provide.
Getting Moody with Notes
Let's say you've got a new client who wants an entirely fresh website design. Getting the project off the ground couldn't be easier and setting up a Note to use as a mood board takes just a couple of clicks. Simply click on the little arrow next to the "new message" button at the bottom of your Inbox, give your Note a name such as Client XXX – Mood Board, and you're ready to go.
Now, you can invite your clients or colleagues to contribute to your collaborative mood board simply by inviting them using their email or by sending a link. Ask your clients to post links to designs they like, contribute yourself by suggesting rough sketches, color palettes, design elements. Discuss each item with your client and narrow down your pool of influences. It's that simple.
Editing and Refining with Notes
Once you've generated a bunch of ideas, discussed them with your client or team, and begun to pull together some early designs, you can use Notes as a centralized hub for feedback and development of your work in line with the brief.
You can set up a Note for your designs and add them once they are complete, getting feedback with real-time comments and conversations. Both you, your clients, and colleagues can leave targeted comments on each design, discussing what you like, what you don't and what needs more work.
All of your discussions are stored right there in the Note, and anyone can continue to add supporting resources, ideas, and inspiration as you refine your designs and work towards the finished product. That means you can trace back the development of a concept in future, giving you a wealth of useful information as you expand your theme or aesthetic to different parts of the project.
Nailing Your Ideas with Notes
Once you've narrowed down your ideas and influences, you can begin tentatively designing, quickly and efficiently sharing your work with the client so you can edit and refine the final product. Set up a separate Note such as Client XXX – Drafts, add your designs and start getting feedback from your client.
Whether it's a single contact or an entire team, everyone can join the party and comment on your best designs. Comments can be as simple as a thumb's up emoji or a detailed analysis of the individual elements of your design. Everything is recorded so you can always refer back when you're lost in Photoshop or InDesign, and you can also ask questions and get clarification simply by replying to individual comments.
Client Approval and Beyond
When you're delivering visual concepts, you need a reference point, you need to contextualize your ideas, you need to add technical and placement details for when artwork is uploaded or integrated into a website. In short, you need to show your work!
The client approval process depends on this back and forth, and a clear record of this type of information is required to ensure the required resources are easily available when needed. Luckily, you can also use a Note to present, store, and add information to your final designs so everything is consolidated in one place.
Add your final designs to a dedicated Note, leave a comment on each asking for approval from the client, alongside the technical information such as file size and format, and its intended placement. Once the client or colleague has approved, everyone will have a written record of all the information you need, if anything needs to be changed or updated, then you can simply delete it and head back to the development stage.
---
File organization – Use case:
"Before Spike, finding a specific attachment was really like finding a needle in a haystack – impossible, frustrating and a huge waste of time. Now, [with Spike] all the files are organized and I can preview them right there in the email thread – it's is absolutely amazing!"
Read more about Freelance Graphic Designer Inna, that uses Spike to make collaboration easy so her clients get the best results.
---
Getting Technical with Notes
Now you've got your final designs finished, using Notes to share and store them for later reference is simple. Set up a Note like Client XXX – Final Designs, add your logos, banners, and other artwork and clearly label each using comments. Here, you can add as much information as you need, such as the file name, size, date of creation, plus other important info such as the resolution and Image Alt text for SEO purposes.
Now you have a single, centralized space for all of your work, and the client has a centralized hub for all the website's graphic resources. All your designs are previewed directly within the Note, making it simple to identify individual files, and any of the participants can easily find what they are looking for with a simple keyword using Super Search.
At Spike, we're excited about the future of communication and collaboration, and we're designing a set of inclusive tools to give everyone an opportunity to be a part of that future. Whether you're a graphic designer, a coder, a writer, or a project manager, we've got all the tools you need to push your flow to the next level. Stay tuned to the Spike blog for more information on our latest developments or Tweet us @SpikeNowHQ and tell us how Notes works for you!
You may also like